When will Kyle Dubas be just a general manager?
Opinions on the first-year GM of the Toronto Maple Leafs seem to be decidedly split, polarised between the camp who believes he's a young, math-obsessed disrupter and that which views him as a certified genius who can do no wrong.
Certainly, he's considered young and new-age for this specific role, but it's not as though he doesn't have the background for it. And yes, he's shown rather well so far, but not every decision he makes will turn into gold.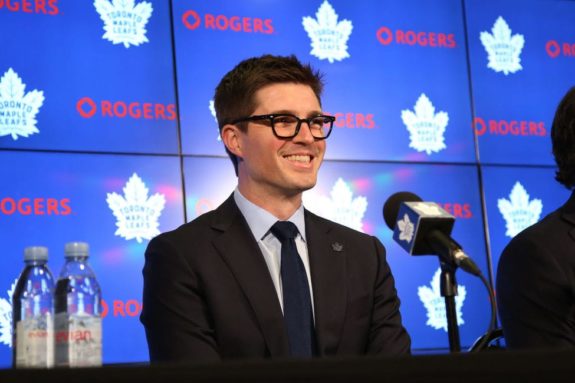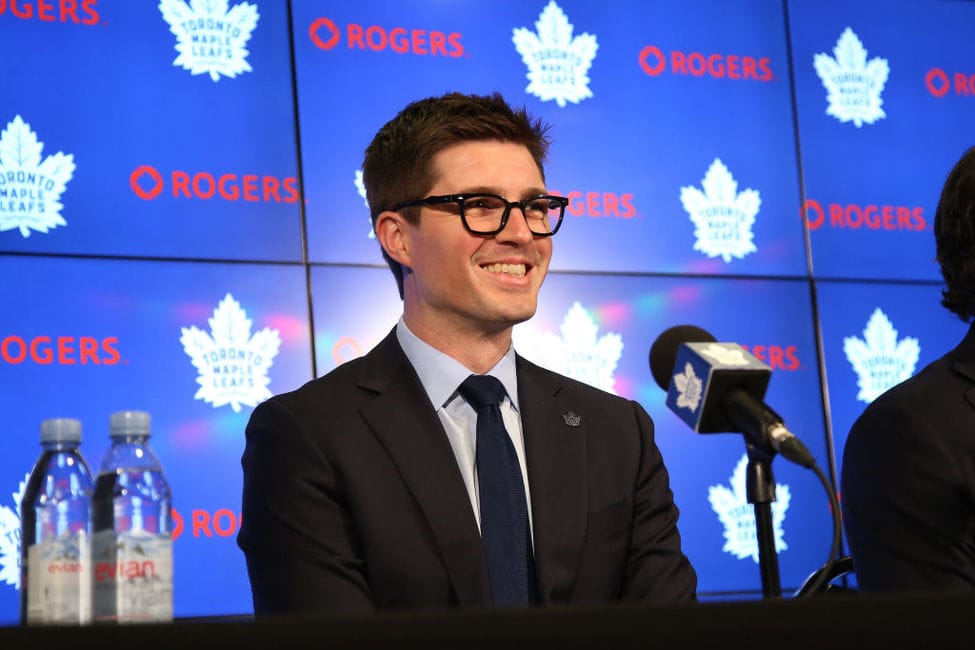 Balance is critical when evaluating anyone, let alone the GM of one of the National Hockey League's most storied franchises – one which plays in one of the world's biggest and most rabid hockey markets.
Dubas deserves such balanced assessment, regardless of the lenses it's convenient or satisfying to view him through.
After all, he's no revolutionary.
Maple Leafs' Dubas Paid His Dues
Dubas turns 33 in November. He's got a wife and kid. He's spent over 20 years working in hockey. He's not some young whippersnapper or hockey neophyte; he's no flash in the pan.
Dubas' History Far From Dubious
Born in Sault Ste. Marie, Dubas joined his hometown Sault Ste. Marie Greyhounds, for whom his father and grandfather both worked, at age 11. He progressed from being a stick boy to working in the locker room, before joining the team's hockey operations department at 14, helping out on the business end, as well.
While completing his degree in Sport Management at Brock University, Dubas started scouting for the Greyhounds. Later, he became the youngest agent certified by the National Hockey League Players' Association, landing a job with Uptown Sports Management.
At 25, Dubas was hired as the Greyhounds' GM, emphasising a focus on "culture" and "grit" – two things he's not exactly best-known for. Sure, that was a long time ago, but this component of his hockey worldview is rarely – if ever – talked about.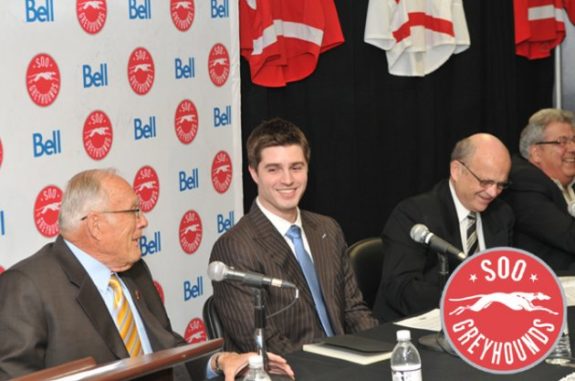 Three years later, Dubas was brought on as an assistant GM in Toronto, and also given the responsibility of running the Toronto Marlies, the Maple Leafs' American Hockey League affiliate.
Now, after four years learning from front-office legend Lou Lamoriello, and fresh of a Marlies Calder Cup win, Dubas is running the show in Toronto.
Dubas More Conventional Than Portrayed
With two decades of hockey experience under his belt, including in business development, hockey operations, player representation, scouting and management, Dubas deserves a lot of runway to implement his plan for the Maple Leafs.
Certainly, he's following in the footsteps of a giant in Lamoriello who, despite his teams' mixed on-ice results following the 2004-05 lockout, certainly knows how to implement an organisational culture. All eyes will be on Dubas – and rightly so – to see how his approach differs in this regard from that of his predecessor, who was able to both shore up a notoriously leaky Leafs' organisation and instill professionalism in nearly all facets of the franchise.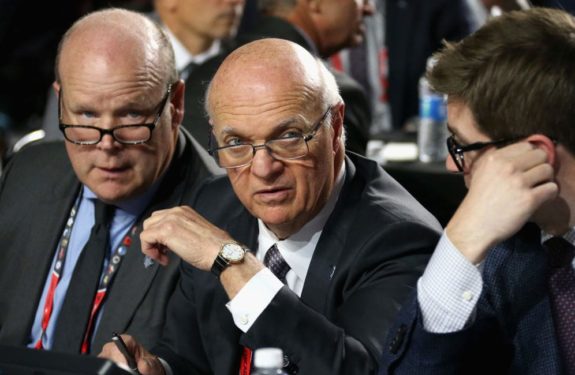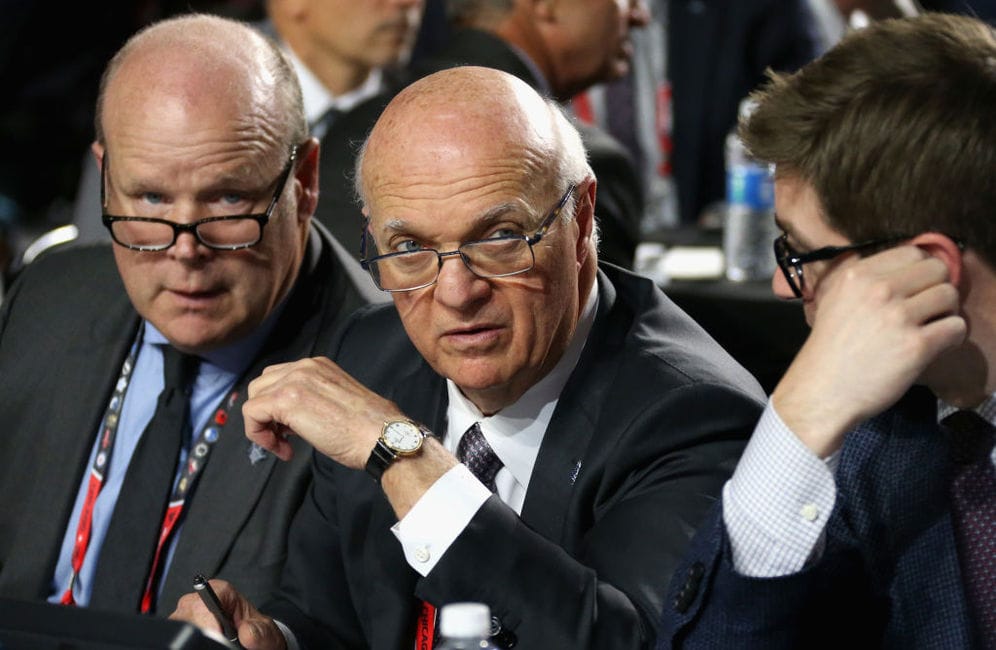 And yes, Dubas beat out the well-respected Mark Hunter, also an assistant GM in Toronto (he's since left the team), for the Maple Leafs' top job. An experienced and well-regarded scout and developer of talent, Hunter will certainly be scooped up by an NHL team sometime soon.
Fair or not, Dubas will be forever compared to his former coworker and, until the Maple Leafs experience significant, sustained success, there will always be whispers questioning whether they made the right decision.
Still, from his experience to his education, Dubas has paid his dues and has nearly every single qualification one would expect a team to traditionally look for when selecting a GM.
Maple Leafs' Dubas No Miracle Worker
On the other hand, don't expect Dubas to be turning water into wine anytime soon, either.
The best example of this has to be with regards to the Maple Leafs snagging the prized fish in unrestricted free agency, signing John Tavares to a seven-year, $77 million contract.
Yes, Dubas is the GM of record when it comes to this momentous signing. Whatever the outcome of Tavares' tenure with the Maple Leafs, his signing is sure to be a defining moment of Dubas' career – more than likely for the better.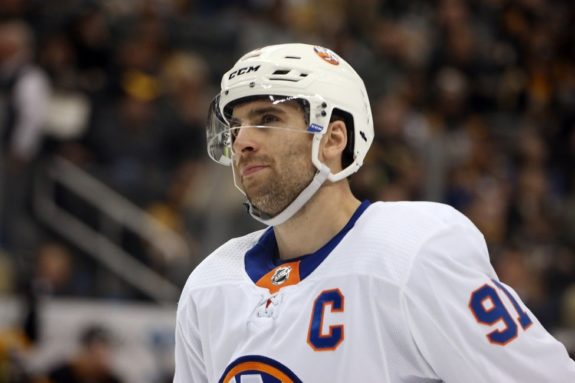 And credit where credit's due; the Maple Leafs haven't always had the easiest time attracting big-name free agents, while this iteration had the added disadvantage of having Mike Babcock as their head coach, who is rumoured to have his own player-repelling qualities.
However, it's not as though Dubas practised some sort of black magic to make it happen.
How Much Did Dubas Do to Land Tavares?
Tavares' former team, the New York Islanders, have done nothing but spin their wheels in the nine seasons since his first-overall selection in the 2009 draft, battling constant uncertainty in areas ranging from ownership, to management, to a place to play, and iced mediocre – at best – teams throughout the entirety of his tenure.
The other rumoured frontrunner, the San Jose Sharks, have an ageing core, lots of long-term, high-priced contracts that have the potential to turn ugly and one of the worst travel schedules in the NHL. Despite the Sharks offering more money, not to mention San Jose having beautiful weather and less media pressure, neither Tavares' probability of winning a Stanley Cup, nor the overall window to do so, would have been as large in San Jose as it is in Toronto.
Told the Sharks ended up offering more than $13M per season for Tavares. The Islanders upped their offer from $11M per to $11.25M.

— David Pagnotta (@TheFourthPeriod) July 1, 2018
Meanwhile, the Maple Leafs have a cadre of young stars, a boatload of quality complementary talent and a bountiful pipeline to replenish the team for years to come. They've got a stable administrative side, as well, and Tavares, playing Canada's most popular sport in Canada's most populous city, will have all the exposure and opportunity he needs to ensure his personal brand thrives, both on the ice and off it.
Plus, it doesn't hurt that Tavares grew up around Toronto, played his minor and junior hockey around Toronto, and that the Maple Leafs were his childhood team.
So, even without Dubas, the Maple Leafs still had a heck of a lot going for them.
Tavares' Contract Terms Not Unheard Of
As for the contract itself, it's heavily skewed towards signing bonuses, offering Tavares the vast majority of his salary in one giant chunk each year. Obviously, this is awesome for the player (not the worst thing to wake up to), while also providing de facto protection from an NHL lockout. Interestingly, he was awarded this contract even after commissioner Gary Bettman advised teams to stop issuing such signing bonuses.
The contract looks good, yes; Tavares took a bit of a discount from what he was offered elsewhere to play for the Maple Leafs, which should ensure Toronto has some breathing space when it comes to re-signing their young stars coming off entry-level deals. Dubas deserves massive credit for making that happen.
However, as for the contract's structuring, said strategy is open to any team. Literally any team, many of which could afford to offer Tavares more, could have structured a deal in this way. Any team can structure any contract they sign this way. It's legal. It's within the rules.
Does this make Dubas a genius? Not on its own, no. All he did was follow the letter of the law prescribed by the Collective Bargaining Agreement (no doubt helped by assistant GM Brandon Pridham, an expert on both the CBA and salary cap).
A worrying aside for the Maple Leafs: Bettman and the NHL have cracked down before on unusual salary structures and retroactively punished teams for contracts that were legal when signed.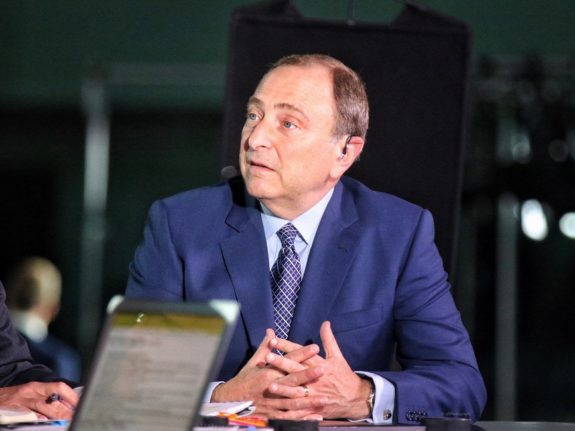 Still, it's a move that looks darned good on Dubas, there's no getting around that. It's just, it shouldn't really surprise anyone, nor is it altogether unheard of.
What Do We Really Know About Maple Leafs' Dubas?
So, what do we really know about Dubas?
From a nuts and bolts perspective, he's well-educated – formal and otherwise – and highly experienced. He knows the business side of hockey. He knows the hockey side of hockey. He knows how to evaluate talent. He knows how to manage talent. He knows how contract negotiations work – from both sides of the table.
He appears to be a good communicator, too, having not only been hired for a number of jobs seemingly reserved for other, older, more well-known individuals, but also having been able to bring his own ideas along to these positions, too. Dubas seems to have made quite the good impression on Tavares, as well, selling him on a plan for the team, and then designing a contract maximally attractive to the superstar.
Finally, and perhaps most significantly, Dubas has shown an encouraging ability to not necessarily produce revolutionary ideas that throw the hockey world asunder (for better or worse), but to simply use the widest-available net to gather ideas, interpretations and practices – and to explore these ideas, interpretations and practices to their fullest.
Whether it's the serious use of analytics (in conjunction with – not exclusive of – other methods of player evaluation), frequently trading down at the draft or the unorthodox structure of Tavares' contract, it's clear Dubas is neither intimidated by the old guard nor bound by convention.
He's everything an NHL GM should be, then.
Maple Leafs' Dubas Deserves Balanced Treatment
So, yes, it might be easy – satisfying, even – to view Dubas through any one of a number of lenses, whether according to one's personal opinions, worldview or whatever the going narrative is.
However, like all GMs, Dubas is a complex combination of his own experiences, opinions and viewpoints, whether they be traditional, progressive or downright experimental.
Sure, Dubas is a bit of an anomaly, but there has to be some middle ground between "revolutionary boy genius" and "revolutionary disturber of hockey order."
The Maple Leafs play in one of the NHL's toughest markets, so there'll be no shortage of scrutiny placed upon Dubas, and his development and stewardship of the most promising Leafs team in decades. And rightly so.
Let's just make sure he's scrutinised with clear eyes.