The Vegas Golden Knights are still in on the Erik Karlsson trade sweepstakes, depending on who you believe. They have the cap space and, potentially, the trade chips available — and adding a generational talent like Karlsson would surely help shore up a back-end that needs some help.
But…at what cost?
Perhaps the reason he has yet to be moved is that the price is HIGH — reportedly as steep as two first-round picks, a high-end prospect, a couple good young players the Ottawa Senators can plug into their lineup right away, as well as the ability to absorb Bobby Ryan's albatross contract in the deal. Not many teams have the ability to do that, but the Golden Knights might be one such franchise.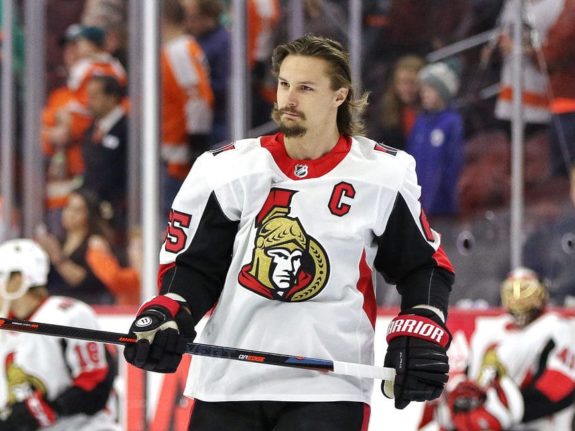 After locking up defenseman Colin Miller, the Golden Knights currently have roughly $15 million in available cap space, with restricted free agents William Karlsson, Shea Theodore, Tomas Nosek, and William Carrier yet to sign. Of course, some of these players might be pieces of the trade, but more on that later.
First, let me say straight away that I am against a trade for Erik Karlsson, gifted as he may be, for a few reasons:
What he will cost.
His injury history.
There's no guarantee he would sign an extension.
THAT COST!
Vegas Could Let Early Success Get to Their Heads
The Golden Knights' inaugural season was undoubtedly one of the best sports stories of the year, and there is reason to believe they can continue to contend this coming season and beyond just by staying the course they're already on.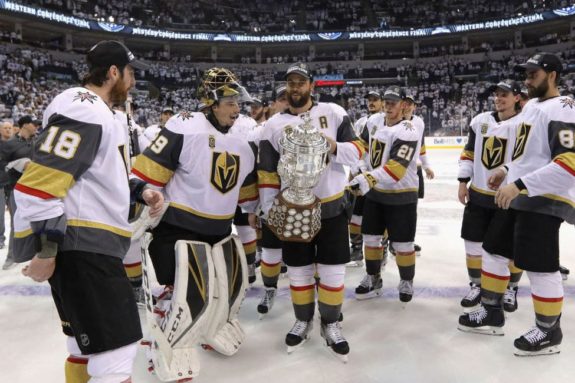 However, they've shown that they aren't afraid to toss plans out the window and go all-in on "win now" mode. They just reached a three-year extension with goaltender Marc-Andre Fleury, who will turn 34 in November, and already made a splash in free agency with the surprising signing of 32-year-old Paul Stastny. Since they let James Neal and David Perron walk, they could use one more top-nine forward, and a top-flight defenseman would certainly be the cherry on top.
Enter Erik Karlsson, the veritable cupcake-topper. Oh, and hey there Bobby Ryan, looking to rejuvenate his career. The two would certainly address a team need and fit the bill for an "all-in" run. The Knights would instantly go from "Yeah, they'll probably be good again, but maybe not that good," to one of the Stanley Cup favorites.
Drawbacks: Karlsson's Health & Price
But Karlsson hasn't always been the healthiest player. He had his Achilles tendon severed in 2012 and had surgery to repair torn tendons in his left foot following the 2016-17 playoffs, forcing him to miss the start of last season. Karlsson himself admitted to having lost a step after his most recent surgery and having to modify his game. But that's what the great players do, and Karlsson still put up 62 points last season despite being on a terrible team with a broken locker room, recovering from offseason surgery, and enduring personal tragedy.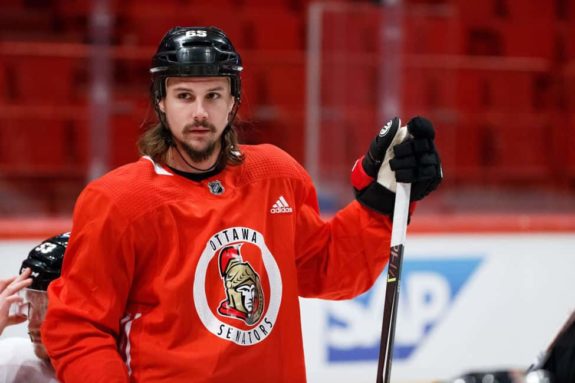 Karlsson certainly wouldn't be blamed if he wanted a change of scenery, and surely won't take a hometown discount to stay, which the Senators have reportedly asked for with their offer of a contract extension. He will command at least the $11-million cap hit Drew Doughty was just given in his new contract, setting the bar for the elite defensemen. That cap hit, plus Bobby Ryan ($7.25 million until 2021-22), is a lot of money to take on, and some would need to be moved off the books to make room.
So with all that being said, I don't mind playing a devil's advocate armchair GM for a bit and entertaining some ideas of what the cost for Karlsson might be. Let's take a look.
Karlsson for Karlsson
Yes, hot-take alert. This one hasn't been mentioned, and I'm not sure why not. The William, or "Wild Bill" version of Karlsson just had an astronomical season, and his value will never be higher. He entered the season with 18 career goals, then went and scored 43 in his first season as a Golden Knight. He had a ridiculous 23.4-percent shooting percentage that he likely won't approach again.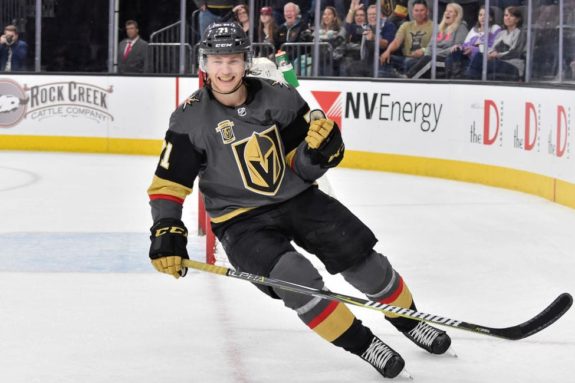 Karlsson (William) had been in a fourth-line role previously in his career, and is clearly a gifted defensive forward with wheels to go with now-tapped offensive ability. But what can you really expect from him year in and year out? There will absolutely be some regression, but 50-60 points per season seems like a reasonable expectation.
Perhaps capitalizing on his breakout season would help alleviate some of the blow from the deal, but it would break up the Golden Knights' dynamic top line and take away their most valuable forward. However, perhaps Paul Stastny can slot into that top line for now until one of top prospects Cody Glass or Nick Suzuki are ready.
Speaking of whom…
The Prospects: Glass, Suzuki, Brannstrom & Hague
While it would make for an interesting law firm, the reality of an Erik Karlsson trade is that Vegas would have to part with (at least) one of its top-tier prospects in centers Glass and Suzuki, and defensemen Erik Brannstrom and Nicolas Hague.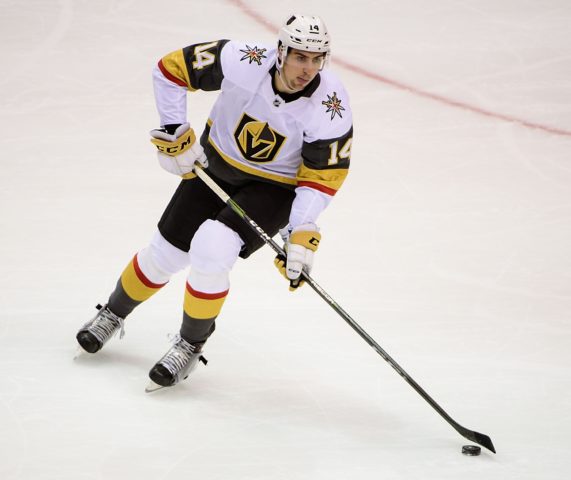 With only two draft classes, the Golden Knights don't have a very deep prospect pool to draw from, especially since this year's first-rounder was sent to Detroit as part of the Tomas Tatar trade. Part of being an expansion team is slowly but surely growing the farm system, and a trade for Erik Karlsson would damage that process. The Senators would in all likelihood want Cody Glass in the trade, but the Golden Knights seem more likely to part with Nick Suzuki. Adding in either the sleek-skating Brannstrom or the monster, Victor Hedman-esque, Nicolas Hague would sweeten the deal.
One might think the Senators would ask for Shea Theodore as part of the deal, but with his skill set almost identical to Ottawa's young stud defenseman, Thomas Chabot, it would make the players redundant and thus Theodore not as valuable to the Sens.
The Bobby Ryan Factor
All along in the rumors surrounding an Erik Karlsson trade is the fact that whoever gets Karlsson might also have to take on Bobby Ryan and his $7.25-million cap hit. But what if Vegas asked for Matt Duchene instead? This would fill the hole left at first-line center with William Karlsson being a part of the deal, and give the Golden Knights a player in his prime to build around.
Yes, he just got his change of scenery last season, but would anyone be upset about getting traded away from Ottawa right now? Like Karlsson, Duchene also has only one season remaining on his contract and would become a UFA at the end of the season. It's a reach, but that's what this whole article is about!
As for Bobby Ryan, he has been an unmitigated disaster in Ottawa, and there is perhaps no player in the league who could benefit from being dealt to a new team more than him. When motivated, Ryan can still be a solid, top-six wing, using his big body and creativity to generate scoring. Remember the 2017 playoffs when he played more like the player Ottawa thought they were getting from Anaheim years before instead of the one who has a total of 58 points over the last two seasons?
Perhaps he too could drink from the fountain of youth at Caesar's Palace and be born again as a Golden Knight, something we've seen happen a bit here in the team's one season of existence.
Draft Pick Issue: The Jack Hughes Sweepstakes
This is a major factor in everything. I've seen some chatter about Ottawa dumping salary, mailing in their season, and loading up for the future. Much of this hangs upon winning the 2019 entry draft lottery and landing blue-chip prospect Jack Hughes.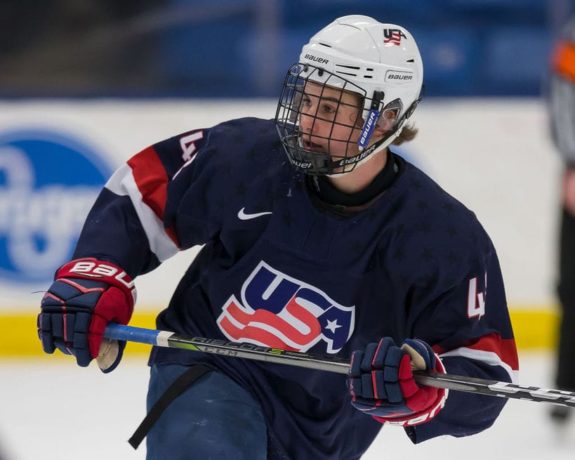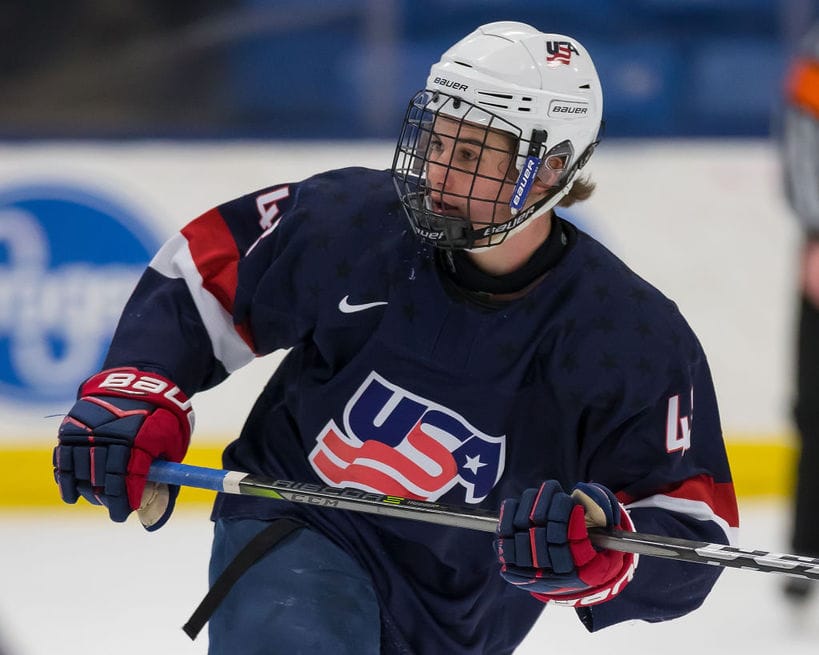 The problem is, the Senators can't go into full tank mode in hopes of scooping up Hughes because they traded away their pick in the Matt Duchene deal last November. Ottawa chose to hang onto their first-round pick in this year's draft, which wound up being Brady Tkachuk, meaning Colorado gets the Senators' first-rounder next year. So if they mail it in and win the lottery? Well, that pick belongs to the Avalanche, and a good young team in the West would get richer.
Since two-first found picks are thought to be the asking price, and with the Golden Knights only making this trade because they want the Cup now, Ottawa would be looking at later picks rather than getting into the lottery. Vegas has a bevy of second- and third-round picks to offer as well, since an expansion team forking over consecutive first-round picks seems outrageous.
But heck, why not?
Finishing Touches
One would think the Senators would also be looking for a defenseman who could slot into their lineup right away in return. Someone like the aforementioned, recently-signed Colin Miller fits the bill here. Ottawa could also use a young goaltender to serve as their heir-apparent to aging Craig Anderson, who himself is rumored to be on the trade block. The Knights have two enticing young netminders in Malcom Subban and Oscar Dansk, each of whom look the mold of a future starter. With Fleury now locked up until 2021-22, one of them is now expendable.
Other pieces may be involved to help with salary cap considerations, This is usually when another team somehow gets involved in the deal, but we're just entertaining the idea of a two-team trade.
Perhaps the Senators would be willing to take on the dead money that is the remaining two years of David Clarkson's contract at $5.25 million per year as part of the deal to alleviate some cap concerns. And someone like Oscar Lindberg, without a real role on this Golden Knights team, may be sent as well for a new opportunity.
So here's this absolute bonkers trade I have put together:
Vegas Golden Knights receive:
Erik Karlsson
Matt Duchene
Bobby Ryan
Ottawa Senators Receive:
William Karlsson
Colin Miller
Oscar Lindberg
Malcolm Subban
Nick Suzuki
1st-round pick 2019
1st-round pick 2021
2nd-round pick 2020
3rd-round pick 2019
Contract of David Clarkson
The Golden Knights' opening night line-up would look like this:
Marchessault-Duchene-Smith
Ryan-Stastny-Tatar
Haula-Glass-Tuch
Bellemare-Eakin-Reaves
McNabb-Karlsson
Holden-Schmidt
Theodore-Engelland
The Senators then re-sign Mark Stone, who becomes their new captain. They hedge their bets on him, Thomas Chabot, Brady Tkachuk, Colin White, Logan Brown, and their new acquisitions and future picks to build a future contender.
So the Question Is…Is it Worth it?
As I said earlier—no! It's not. But it sure is fun to speculate, isn't it?
A Hartford kid, John grew up on The Whale and Brass Bonanza. He first laced up the skates at age 3 and has rarely taken them off since. Now based in Orange County, John is taking his talents to the pond and providing coverage for the Anaheim Ducks as they begin their rebuild.