No doubt in recent weeks, Detroit Red Wings fans have been once again questioning management. Having re-signed Mike Green and Tomas Vanek during free agency, they seemed to be heading in a more "road-worn" direction. Not a moment too soon, Detroit announced they also came to terms with Andreas Athanasiou and Anthony Mantha.
Primarily with the re-signing of Mantha, the Wings are creating a balancing between veteran players and future leaders. Though bringing on the "old guys" even for a short-term contract, seemed to confuse many people, it makes sense. Through Mantha and the other youngsters that are expected to be signed like Larkin, Holland is ensuring the next two seasons are leader-creating.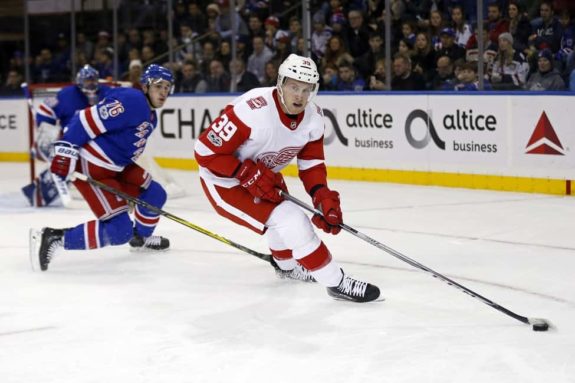 Mantha has had a tricky time treading the NHL waters in recent seasons but is still capable of vast improvement. Jeff Blashill, head coach of the Red Wings, saw Mantha's struggle for a consistent drive and took drastic measures in benching him for several games. A risky move for a player who was then on the top line, Mantha got the memo and upped his game. "Obviously, it's hard not being in the lineup," he told Ansar Khan of MLive, "Obviously, you want to play every single game, you want to be an impact player on this team. For sure, I need to use it in a positive way and come back stronger."
Mantha is Capable of Tangible Contributions
Mantha has the ability to be a very strong two-way player both with technique and size. While with the Grand Rapids Griffins (AHL), he posted 33 and 45 points during his two full seasons, using his large body and fast feet. Mantha has the ability to make his on-ice efforts tangible, but the NHL is a different animal than the AHL. Coach Blashill made sure Mantha understood that during his stay on the bench.
"You have to be on your 'A' game every night in this league. In other leagues, you get to a point where you're just better than people, so even if you're not on your 'A' game you still have success. That never happens in this league. Even the very best players have to be on their 'A' game every night in order to really be successful."
After his disciplinary stent, Mantha worked harder on and off the ice to prove his worth. Vying for the top line spot which he was replaced in by young star, Athanasiou, Mantha saw it as a challenge to embrace.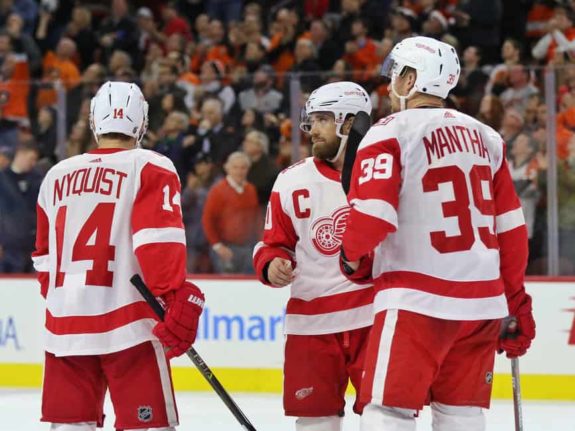 Fast forward to the present and it's clear that the Wings saw the improvement they were looking for in Mantha. Officially called up in the 2016-17 season, Mantha has been working hard to make sure his on-ice efforts continue to show his value as a player. In 2016-17, he posted 36 points in 60 games and 48 points in 80 games during the 2017-18 season. Following his unfortunate time on the bench, Anthony has shown year-over-year improvement almost immediately.
Signing Mantha Creates Future Opportunity
Gaining strength physically and mentally in the last two seasons, Anthony has shown the Red Wings that he can be molded and challenged for the betterment of the team. Detroit's re-signing of Mantha comes at a critical time in his career – which we are now the beneficiaries of. Anthony has a strong disposition to match his physique which is ideal when playing on a top line in the NHL.
Aside from Mantha's abilities, the Wings have positioned themselves in a way that will allow them to comfortably monitor his progress and decide over the next two seasons if he's to become one of the foundation pieces to the new team. Mantha is very young, only 23, and upon entering free-agency at the end of the two season extension, he'll still be young enough to be a feasible long-term contract contender according to Helene St. James of the Detroit Free Press.
"It gives him an opportunity to build his resume in advance of what could next be a long-term deal, and gives the Wings a chance to further evaluate Mantha before deciding how far to extend him past unrestricted free agency."
During this extension period, Mantha has the opportunity to put himself in a leadership role once older players start making their way out. Larkin is likely a front-runner for the captaincy if/when Zetterberg retires, however, Anthony could easily earn the Alternate title.
Mantha Adds Youthful Vigor to Experienced Team
Holland has made a wise choice in getting Mantha to re-sign. He's a young player with the capacity to take instruction, perhaps a little harder than others. Watching him in Grand Rapids and seeing him adjust to the demands of the NHL is encouraging. He has the strength to power through lines and be aggressive along the boards. Combining Mantha's current and potential power with 'Double-A' and ideally 'Larks', the Wings will develop a youthful yet experienced core future leadership group. Mantha also has more experience in the AHL that will come in handy when the Griffins' youngsters are ready to be pulled up.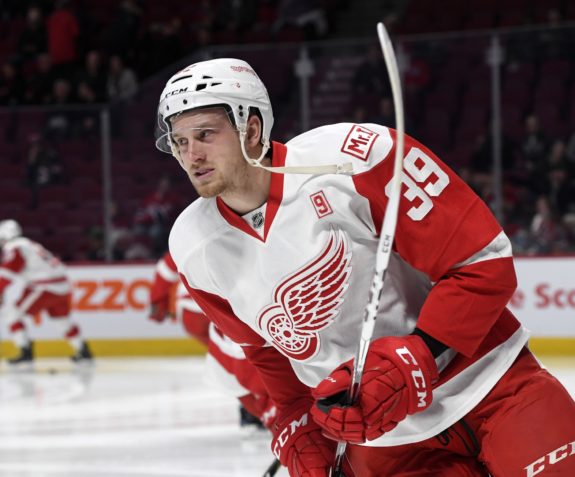 Development is key in these next couple of seasons, adding to the veteran ability of Mike Green and Tomas Vanek with Mantha and Athanasiou will create a healthy balance of talent and experience. Despite a wave of naysayers with the signing of the "old guys," the cost-effective youth options are setting up the future leadership of the Red Wings nicely. Allowing room for growth and observation, signing Mantha will give the Wings versatility and options. He's shown the ability to take criticism, implement change and put in the work to earn a top spot. Mantha's return to the Red Wings will lead to a higher level of expectation from the younger generation and future culture of the team.
I am a Detroit Red Wings prospect journalist for Access Hockey MI covering the Grand Rapids Griffins and Toledo Walleye prospect development. Draft analyst for USHL hockey with the Muskegon Lumberjacks.