Jim Neveau, Managing Editor
Glendale, Arizona – If there was any year that proved conclusively that parity reigns in the NHL, it would be the 2011-12 season. Six of the eight teams that made the playoffs in the Western Conference have never won a Stanley Cup (in addition to three in the East), and out of those clubs, there are still five remaining out of the eight teams who made the second round. Four of those teams play in the West, meaning that there will be a Western Conference team vying for its first championship when the Stanley Cup Finals start.
Before we get to that point, though, we will need to find out which team will win the right to play for (and avoid lifting) the Clarence Campbell Bowl. The teams in the West are all squads with a defensive mindset that happen to have tremendous goalies (Jonathan Quick, Brian Elliott, Pekka Rinne, and Mike Smith), and there have been some folks saying that the games will be relatively boring, especially compared with teams like the Flyers and Capitals who have advanced in the East.
Despite that bias, it is highly likely that we will get some great performances both on offense and defense, and that will be the case in the series between the Nashville Predators and Phoenix Coyotes. The two teams don't really have a lot of common thread through their histories, but their playing styles are so similar that it will be interesting to see which team can break through first.
As the series gets set to begin in earnest here on Friday night, there are a couple of key areas that need to be examined, and their resolution could determine exactly who wins the series.
Is Nashville's Offense Really Superior?
Coming into this series, a lot of folks are giving Nashville a significant edge for several reasons. One of the obvious ones is the skill of their top defensive pairing of Shea Weber and Ryan Suter, but there is also the matter of the team's offensive prowess. Having guys like Mike Fisher and Weber would undoubtedly help in the scoring department, and they did average 2.83 goals per game as a team, which far outpaced Phoenix's 2.56 goals per game.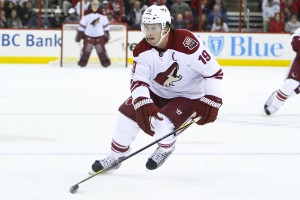 There are a couple of things that those people so quick to write off Phoenix's offense need to keep in mind. For starters, they had two players who outscored Nashville's leading point getter this season. Ray Whitney was the primary catalyst for the team with his 53 assists and 77 points total, and Radim Vrbata was the beneficiary of a lot of that, netting 35 goals to lead the team in that category.
In addition to having a top line that can compare with Nashville, the Coyotes also have a tendency to get more shots on goal than Nashville does. Phoenix outshot the Predators 29.6 to 27.6 during the regular season, and the margin was even better when you look at it from an even strength perspective. The Coyotes averaged 29.8 shots per 60 minutes at 5-on-5, and the Predators were near the bottom of the league with 27.4 shots in the same situations.
Obviously shots on goal don't always mean that a team is getting high quality scoring chances, but when you consider that those factors, it seems silly to conclude that Nashville has by far the more potent offense.
Nashville's Power Play is Supreme, But Will They Get to Use It?
In what is definitely the biggest gap in ability level in this playoff series, the Nashville power play is far and away the superior special team's unit when compared to Phoenix's. The Coyotes only converted on a paltry 13.6% of their power play chances in the regular season, and Nashville nearly doubled that up by scoring on 21.6% of their power plays.
Those numbers may show that Nashville has a huge edge in an area that is often critical to playoff success, but Phoenix does have a couple of things going for it in that department. For starters, they were shorthanded the seventh-fewest times in the NHL, so even though they play an extremely physical game, they were still able to stay disciplined, and that will be key in the playoffs.
In addition, and even in that limited sample size, the Coyotes were still able to ice the league's eighth best penalty killing unit. This shows that even though they weren't short-handed often, they were still able to kill those penalties off, and that ability to erase mistakes, no matter how rare they are, is important.
A Different Take on Mike Smith vs. Pekka Rinne
People have been going back and forth about whether Smith should have been a Vezina finalist ahead of Rinne, but there is one thing that everyone can agree on: these two guys are at the top of the charts in terms of the performances that they put forward this season, and that cannot be overlooked in the discussions about their candidacy for various awards.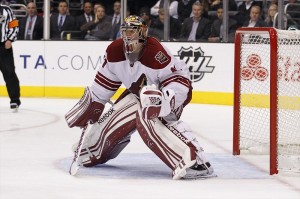 The real question is which one of them will be better in this series. Smith does hold a good sized lead in goals against average this season over Rinne, but their save percentages are a lot closer. Rinne also had more wins and led his team to a better record, and considering he played in 73 games, that cannot be overstated as a quality effort for the season.
Those percentages are all interesting, but there is one metric that shows Smith with a more decided edge. For that, we turn to a statistic developed by The Score's Cam Charron (who also used to write for The Hockey Writers). It is a simple stat used to tell the value of a goalie based on how many saves they make in comparison to what an average goalie in the league would make. The stat is called Saves Over Average Goaltender, and Cam used it quite convincingly in explaining how solid a goalie Roberto Luongo has been for the Vancouver Canucks.
For our sake, we will use the statistic to see just how much better these two goalies in this series were than the average keeper:
The formula for the statistic is as follows: Goalie saves – (league average save percentage * goalie shots faced). The results may surprise you (the higher the number, the better):
Pekka Rinne: 1987 saves – (.914 save percentage * 2153 shots faced) = 19.16 SOAG
Mike Smith: 1922 saves – (.914 save percentage * 2066 shots faced) = 33.68 SOAG
Obviously, no statistic by itself tells the full story of how a goalie is playing, but judging by this metric at least, Smith has been extremely valuable to the Coyotes this season, and he ranks very highly among goalies despite his snub in the Vezina voting.
Who Will Win the Series?
When push comes to shove, this series is a lot more evenly matched than some are predicting. Anyone saying that Nashville will roll in five games or Phoenix will sweep the unsuspecting Predators is overlooking the fact that these teams have similar strengths and weaknesses, and that the differences between the two are so minute that picking one to dominate over the other is pretty silly.
With that in mind, this author's pick will be that the Coyotes will squeak by Nashville in seven games. It will be a hard fought series with plenty of hitting and defensive prowess, and the goaltending duel between Rinne and Smith has the potential to be one for the ages.
Ultimately, however, this series will come down to who is willing to dig deeper, and with that first series win under his belt, it wouldn't surprise anyone to see Shane Doan have a monster series. Couple that with the offensive exploits of Vrbata and Whitney, and the fact that Phoenix has home ice advantage, and you have all the makings of a seventh game overtime series.
But then again, what do I know? Both of my Cup Finalists were both eliminated in the first round.
Like Jim's pick? Hate it? Then you can tweet at him @JimNeveau or email him at jamesneveau@hotmail.com to voice your pleasure or frustration! 
James started out for The Hockey Writers covering the Atlanta Thrashers in 2009, and has also covered the Chicago Blackhawks, served as NHL Correspondent, and is now a Managing Editor and the site's NHL Central Blogger. He also writes for The Golf Writers.