By Wayne Whittaker, Boston Bruins Correspondent
The long season has ended, and today Bruins players picked up their gear and departed the TD Garden.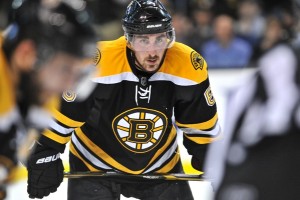 When reflecting on his team's latest playoff performance, Brad Marchand noted that this year's post-season "just felt different."
Indeed it did.
For all of its strengths and weaknesses, the 2012 Boston Bruins will be defined by a number of events. Most notably Tim Thomas and a certain off-ice incident that many media outlets refuse to let die. But as for things that actually matter in the world of hockey, this year's Bruins can be remembered as an exhausted club.
196 games in 17 months. That will wear down any team, particularly one that is at its best when also at its most physical.
Entering the playoffs, it wasn't just the bumps and bruises that began affecting the black and gold. Mentally, the team struggled to go into overdrive at a time when only the most inspired teams survive.
That showed in their performance. The Washington Capitals came into Boston and on three separate occasions successfully outplayed the defending Stanley Cup champions at their own game, on their home ice.
General manager Peter Chiarelli noted that injuries to Nathan Horton and Adam McQuaid took a certain physical edge out of the Bruins game. And while there were plenty of players capable of filling that void (Milan Lucic, Greg Campbell, Shawn Thornton, Johnny Boychuk, Zdeno Chara, etc.), none managed to elevate their play to the necessary level.
This isn't a story of failure, however. This year's Bruins ran out of gas at the tail end of a marathon spanning a year and a half. As history proves year after year, there's a reason it's so difficult to repeat as Stanley Cup champions.
Boston has had the great privilege of advancing to the Conference Semifinals every year since the 2008 season. That streak came to an end Wednesday night. The players, particularly youngsters like Tyler Seguin and Brad Marchand, were being brought up in a franchise accustomed to success. In the rookie year of both Seguin and Marchand, there was no humbling end. Now they've experienced the fate they handed out to Montreal, Philadelphia, Tampa Bay, and Vancouver last year.
There's a great story about the 1983 Stanley Cup Finals that never seems to grow tired. The series was expected to signify a "changing of the guard" in the National Hockey League. The New York Islanders dynasty appeared to be coming to a close, while an up-and-coming Edmonton Oilers club (who had lost only one playoff game en route to the Finals) was set to become the new leaders of the elite. The Oilers were eliminated in four games. Edmonton was suitably stunned. Wayne Gretzky's Oilers exited the ice, walking by the Islanders' locker room fully expecting to be tortured with the sight of a Stanley Cup winning celebration. What they saw instead was a battered group of Islanders, ice packs taped to their bodies, too exhausted to celebrate. Mark Messier said that this experience taught his group just how grueling the "road to victory" can be. In short, the Oilers learned what it took to win by losing. The Oilers would grow accustomed to winning, claiming five Stanley Cup championships in the next seven years.
This Boston Bruins team knows what it takes to win championships. What they're learning now is what it takes to sustain championship-caliber play; and that letting up for even a minute can cut a season short. Moving forward, the Bruins will be forced to pick up the pieces.
The usual off-season questions linger: Who will be re-signed? Which new faces will join via free agency? Which familiar faces will be traded away? But now there's another question on the minds of Bruins players, "What can we do to be better next year?"
A first round elimination hurt Boston. You could see it on the faces of every player. Exhausted, disappointed, and maybe a bit relieved, they didn't reach their potential and weren't about to make excuses.
From a franchise standpoint, this early elimination may be a good thing. Six months of recovery; watching playoff hockey in all of its grit and glory; witnessing another team lift the Stanley Cup this June. This could all serve as motivation the next time around.
Above the door to the Bruins locker room hangs a sign that every player sees before heading onto the ice. It reads, "Demolish the bridges behind you… then there is no choice but to build again".
–