In today's NHL rumors rundown, are the Columbus Blue Jackets open to trading a first-round pick in this summer's NHL Entry Draft to improve their team this coming season? Are any other teams open to dealing first-rounders they picked up in deadline trades?

The New Jersey Devils are starting to talk to Timo Meier about a long-term extension. The St. Louis Blues might try to trade a defenseman. Finally, are the Philadelphia Flyers losing their patience with players who are not giving 100% effort?
Blue Jackets, Canadiens, & Blues Open to Trading First-Rounders from Deadline Trades
TSN's Pierre LeBrun is reporting that Blue Jackets general manager Jarmo Kekalainen is "100 percent" open to trading the 2023 first-round pick he received from the Los Angeles Kings in an attempt to land a top-four defenseman. Noting during the recent TSN Insider Trading segment that the Blue Jackets want to improve their team right away, the organization figures that the pick they got when they traded Joonas Korpisalo and Vladislav Gavrikov to the Kings won't be high enough to worry about keeping.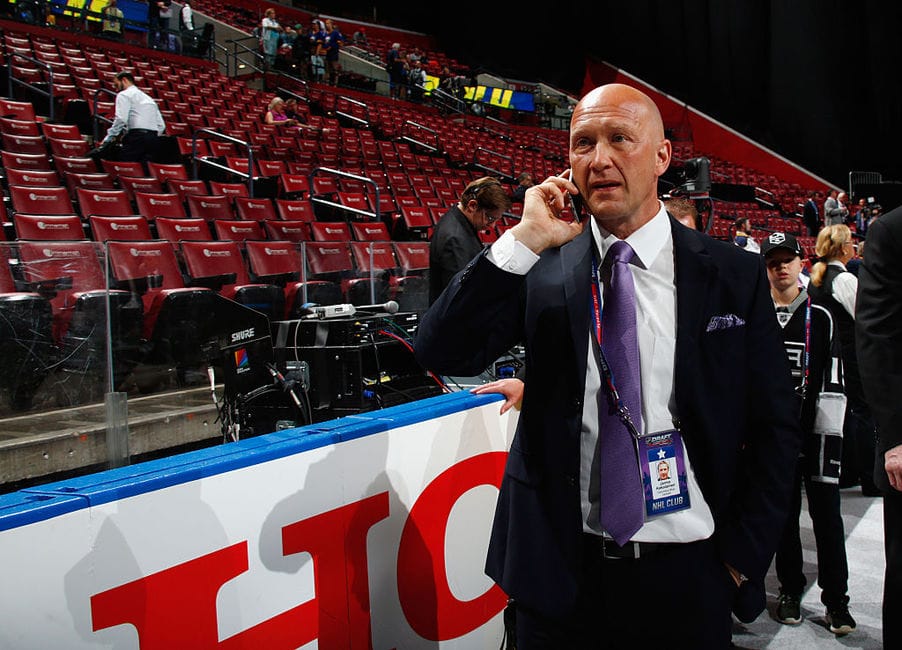 LeBrun figured the St. Louis Blues and Montreal Canadiens might also be open to trading first-round picks. The Blues got firsts in the deals that sent Vladimir Tarasenko to the New York Rangers and Ryan O'Reilly to the Toronto Maple Leafs. The Montreal Canadiens still have the 2023 first-rounder they received last year in the Ben Chiarot deal.
Could the Blues Also Move a Defenseman?
Also with the Blues, Jeremy Rutherford of The Athletic believes that the team would be open to trading a defenseman and notes that one of Torey Krug, Colton Parayko, or Nick Leddy could be moved this summer. He writes:
I think the Blues would move Krug if they could, but from what I'm hearing, there's not a lot of interest, if any, around the league….With Parayko, my sense is the Blues would trade him in the right situation. … if they came up with a way to cover his minutes and there was a team willing to give the Blues some value for him, I think the Blues would strongly consider it. Keep in mind, though, he does have a no-trade clause.

source – 'Why the Blues failed in 2022-23, from Montgomery to D moves to Binnington: Mailbag, part 1 – Jeremy Rutherford – The Athletic – 04/03/2023
Leddy's contract might be tough to move considering it has three seasons left at a $4 million cap hit.
Devils Talking With Meier About a Long-Term Deal
LeBrun is also reporting that the New Jersey Devils are talking with forward Timo Meier about a long-term extension. GM Tom Fitzgerald has met with the forward to talk about a new contract as they would like to keep him on the roster and build around him a few other core pieces.
---
Latest News & Highlight
---
LeBrun suggests the serious conversations will take place after the playoffs. Meier has started to get comfortable with his new team and has gone on a run of high production in the last few games. He's now got 10 points in 17 games with the Devils.
Flyers Coaching Staff Fed Up With Floaters
Flyers' assistant coach Rocky Thompson said following the team's 4-2 loss to the Blues: "It looks like some guys in here don't even care. They're just not trying." He noted that he didn't call out players individually, but he told the team their teammates know when they aren't trying and they know and that in the future, they won't be on the ice.
Related: Flyers Offseason Trade Candidates: Kevin Hayes
He said he typically doesn't have that power to affect the lineup as an assistant coach, but at the end of the day, "black is black and white is white" and it sounds like all coaches are in agreement.
There has been talk that the Flyers will shop a number of players this offseason and that both forward Kevin Hayes and defenseman Travis Sanheim could become trade options.