In today's rumor rundown, there is some late news regarding the NHL Entry Draft, teams that are looking to move contracts with some of the speculated trades and Ilya Kovalchuk may be closer to a decision between two teams that are the front-runners for his services.
Rick Nash In or Out In Boston?
Joe Haggerty of NBC Sports has mentioned that while the Bruins are still actively pursuing Ilya Kovalchuk, they are hedging their bets by talking with Rick Nash. Nash is an unrestricted free agent who has interest in staying with the Bruins but would be on the outs if Kovalchuk joined the team first.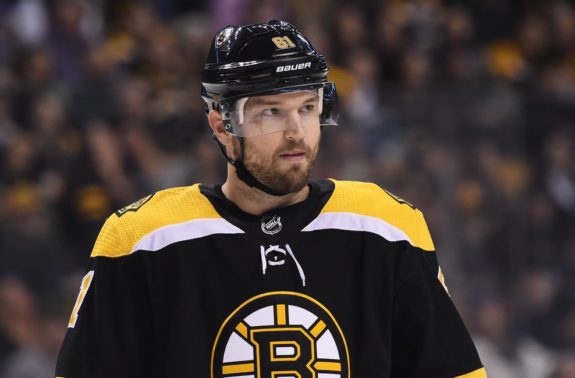 Haggerty writes:
"We continue to talk to Rick, and he's going to continue to take some time to make the decision that he wants to make," said Sweeney. "Time is on his side. He gets to make that into looking at that. Obviously, we close the door if we were fortunate enough to sign Ilya, but you're kind of jockeying simultaneously. He will have options as well."
As for the Bruins and Kovalchuk, they have competition as the Kings have made it a priority to try and land the scoring forward who is returning from Russia this season. The Kings too have a backup plan and his name is Jeff Skinner. Dreger believes the Kings have already offered Kovalchuk a contract and are hoping he decides prior to the draft so they can make other arrangements around him.
Expectation is that J.P. Barry, agent for Ilya Kovalchuk, will meet with the top four contenders for the UFA's services today _ Boston, L.A., SJ and Vegas _ to advance proceedings along.

— Pierre LeBrun (@PierreVLeBrun) June 22, 2018
Wild Trying to Dump Tyler Ennis' Contract
The Minnesota Wild are doing what they can to dump the contract of Tyler Ennis onto another team in hopes that they can free up cap space to take into free agency on July 1. Some teams have called about wingers Charlie Coyle, Jason Zucker, and Nino Niederreiter and almost every deal has included Ennis as part of the package reports Sportsnet's Elliotte Friedman.  Michael Russo of the Athletic also discussed Ennis who has struggled with the Wild and could be a buyout candidate. Russo said:
The Athletic has learned that last weekend before Max Domi was traded from the Arizona Coyotes to the Montreal Canadiens for Alex Galchenyuk, Fenton and Coyotes GM John Chayka did talk about a framework that would send Niederreiter and Zucker to Arizona for Domi and another forward believed to be center Christian Dvorak. One caveat: It's likely that the Coyotes would have had to take Tyler Ennis, who has one more year left on his contract at a $4.6 million cap hit.

quote from "Sources: Zucker, Niederreiter, Coyle all in the middle of ongoing Wild trade talk" – The Athletic – Michael Russo – 06/22/18
Russo also said the team has received offers for their pick in the first round at No. 24 but is not interested in moving it. One of the proposed deals came from Montreal and included Max Pacioretty. That shows just how much the Wild value that pick if they are turning down an opportunity to get Pacioretty in the deal. Russo also said the team is hesitant to move defenseman Jonas Brodin despite the rumors they might.
Related: NHL Rumors: Lindholm, Kessel, O'Reilly, More
Pacioretty Wants 6-8 Years
Speaking of Pacioretty, it is being reported by TSN's Frank Seravalli that he is seeking a six- to eight-year term if he is going to sign an early extension with the Canadiens. Montreal is not eager to give him that type of a deal and he's moved up the trade bait board as a result. The Kings and Sabres might be front-runners to land him in a deal.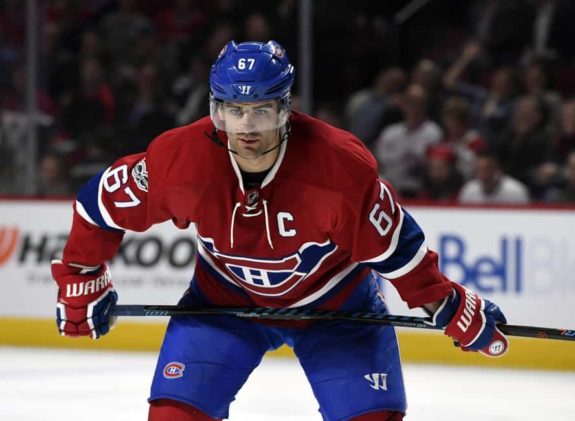 One thing that is slowing down the trade talks surrounding Pacioretty is the speculation that the Canadiens are insistent that Henrik Borgstrom is included in any trade. David Bernstein writes, "Canadiens an interesting team to watch over next 36-60 hours. Lots of activity on Pacioretty, 3rd overall pick, team wanting a C & a top-3 D, and chatter on Schlemko & Lehkonen. Lots of balls up in the air."
Related: NHL Rumors: Tanev, Karlsson, Kessel, More
Draft Notes:
If the Vancouver Canucks move the No. 7 pick they want a 20-23-year-old player in return notes Jason Botchford of the Vancouver Province. It doesn't have to be an NHL-ready player but the idea is that he will mesh with their younger core.  If they keep the pick, look for them to select a defenseman.
The Blackhawks are eager to move up in the draft but not down. Mark Lazerus of the Chicago Sun-Times reports GM Stan Bowman admitted that given the uncertainty of who will be picked starting at the number three selection, teams thus far have been hesitant to move down and Chicago doing better than No. 8 could be expensive.
TSN's Bob McKenzie reported the Edmonton Oilers have been looking to deal the 10th overall pick for the right d-man and they were hoping it would be Ryan Ellis out of Nashville. "The guy they really want, I think, is not available. His name is Ryan Ellis of the Nashville Predators. A year left on his contract. David Poile's number one priority is to extend him this summer. If he doesn't get extended then he could perhaps become available but not in time for this weekend." Ryan Rishaug reports the Oilers are still being aggressive trying to find a defender with that pick.
Pierre LeBrun reports the Senators GM Pierre Dorion when asked about the No. 4 pick and if they'll keep it or give it to the Avalanche:  "Most likely we'll be keeping the pick and picking at No. 4."