In today's NHL rumors rundown, the Edmonton Oilers are likely going to lose Nick Bjugstad to free agency, according to one report. Meanwhile, it sounds like the New York Rangers have shifted gears in their coach search with news that John Hynes is now available.

Brad Treliving is set to meet with the media on Thursday, there are already hints about what it is he's going to say. Finally, are the Vancouver Canucks and Elias Pettersson's camp already having discussions about his next contract?
Oilers Expecting to Lose Nick Bjugstad
Considering he's projected to earn more than $2.2 million per season on the open market, as Oilers Now announcer Bob Stauffer put it on the radio Wednesday, "I don't see how they bring back Bjugstad." Stauffer was referring to the idea that the Edmonton Oilers could lose Bjugstad to unrestricted free agency, especially because the NHL market will be for a large centre who scored 17 goals isn't deep.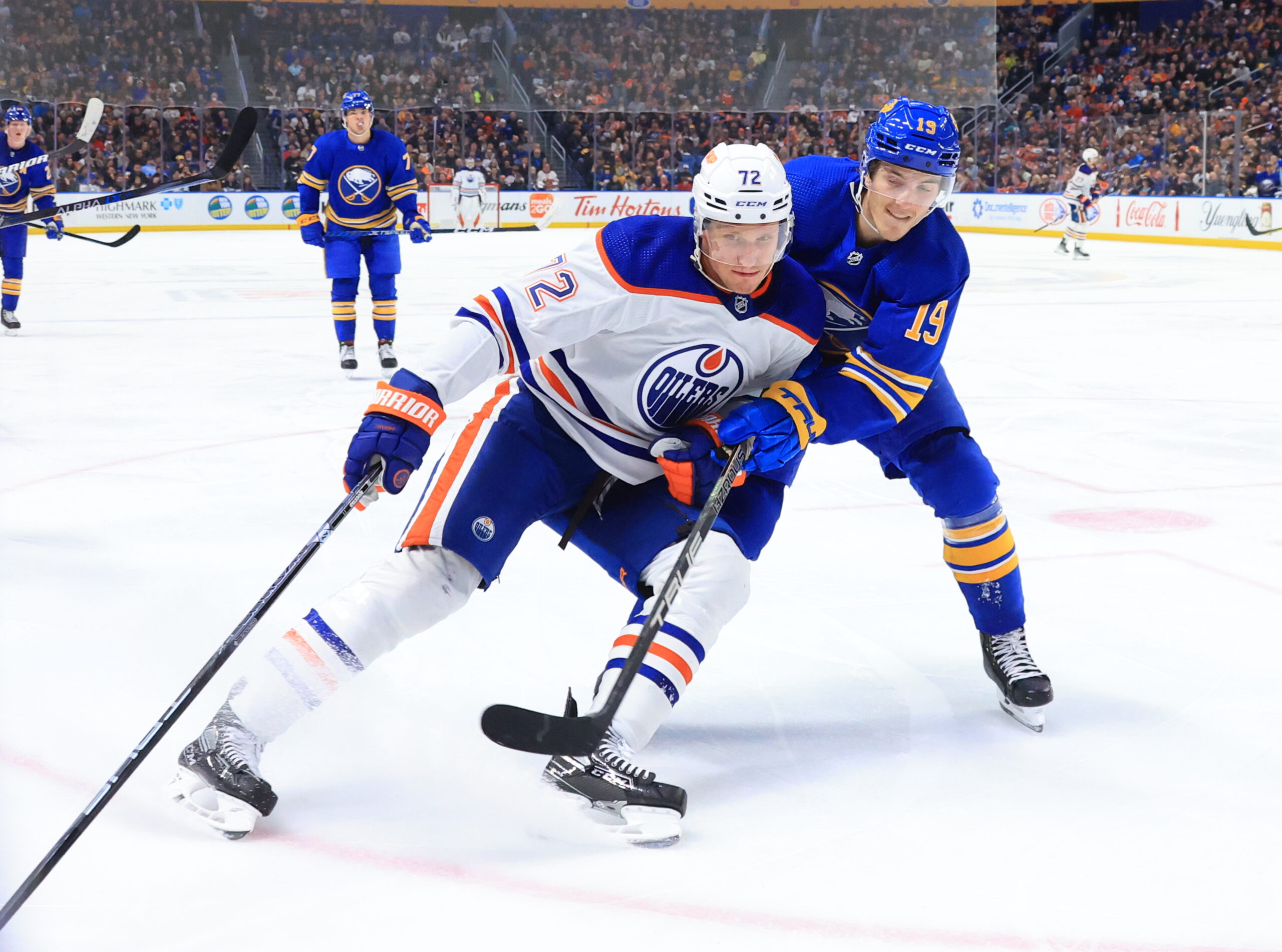 That will mean Edmonton will have to find depth in other ways and with that in mind, also according to Stauffer, it is likely Derek Ryan and Mattias Janmark will be returning to the team next season.
Rangers Shifting Gears Toward John Hynes
Mollie Walker tweeted on Wednesday, "Rangers has been granted permission to speak to ex-Preds coach John Hynes, The Post has learned." Not long after that, NHL host Jonny Lazarus writes, "It's no longer a secret, but from what I've heard it sounds like things have moved in a very positive direction between #NYR and John Hynes." This comes after news that the Nashville Predators had fired Hynes to replace him with Andrew Brunette and following rumors that Peter Laviolette had interviewed twice for the vacant coaching position in New York.
Related: Oilers News & Rumors: Nugent-Hopkins, Yamamoto, Signing & a Trade
Trotz talked about letting Hynes go and said it was more about getting "my guy" and noted that if he wasn't able to land Brunette, he was very comfortable retaining Hynes as the Predators coach.
Treliving Was Always The Guy in Toronto
News keeps coming down following the announcement that Brad Treliving was named the new general manager of the Toronto Maple Leafs. According to Andy Strickland, "Those close to the former Flames GM indicated this was Brad Treiliving's job from the very beginning of the process, as long as he wanted it." The Leafs might have spoken to other candidates, but apparently not in a way that would have suggested the Leafs were not treating Treliving like the priority. He also notes that the Maple Leafs never reached out to the St. Louis Blues to ask about speaking with Doug Armstrong.
---
Latest News & Highlight
---
Elliotte Friedman noted on Sportsnet that he doesn't think Treliving wants to make any changes to the core four, and that he definitely doesn't want to move Mitch Marner. Instead, Friedman believes that Treliving wants to make adjustments around them, especially on defense, noting that the new Maple Leafs' GM has a history of drafting and trading for defensemen. "Among the issues Toronto is still trying to finalize is whether or not Treiliving can participate in the draft at the Toronto table next month," notes Strickland.
Friedman also said that the sincerity behind comments by Matthews, Marner, and William Nylander are all real and that the trio does want to stay.
Canucks Want to Talk to Elias Pettersson Early
Elias Pettersson's agent, J.P. Barry of CAA Hockey, spoke with Pierre LeBrun on the Got Yer Back podcast and discussed his client's plans heading into a potential contract extension negotiation. He noted that they would be watching what restricted free agents are doing this summer and getting a feel for the market.
He noted they've had discussions with the Canucks and will meet again this summer. He added:
"We've stayed in contact. Elias is thinking about it. I think it's going to happen, we're going to sit down this summer. We're going to talk about staying there long term. That is the plan right now."

source – 'LeBrun rumblings: What's next on the NHL coaching carousel, plus free agent updates and more' – Pierre LeBrun – The Athletic – 05/31/2023