The New Jersey Devils are an organization that likes to find value on the trade market, specifically when it comes to targeting cap-strapped teams. General manager Tom Fitzgerald has done so in the past, most recently by acquiring John Marino from the Pittsburgh Penguins in exchange for a 2023 third-round pick and prospect Ty Smith. 
Marino was the Devils' best defensive defenseman during the 2022-23 season, so the move paid off. There's no doubt Fitzgerald would like to pull off a similar move this summer if he can, but which team could he look to target? One club that has to clear cap space is the Boston Bruins since David Pastrnak's cap hit will rise to $11.25 million for eight years starting next season. 
Per CapFriendly, the Bruins project to have only $4,937,500 in cap space with 15 players under contract. They have to fill out their roster but need to find the money to do so. Even though the Devils have to re-sign Jesper Bratt and Timo Meier, they have $34,282,500 in cap space to work with this summer. Based on an article from Fluto Shinzawa in The Athletic, here are some names that could intrigue the Devils from the Bruins (From "Bruins trade categories: Who stays and who goes in the chase for cap space?" – The Athletic, 5/27/2023). 
Matt Grzelcyk
The Devils' defense looks to be in a pretty good spot for the foreseeable future. Jonas Siegenthaler, Dougie Hamilton and Marino have multiple years left on their contracts. Luke Hughes recently signed his entry-level deal and impressed during his few playoff appearances. Kevin Bahl came into his own over the final two months of the 2022-23 season and looks ready for a regular role. 
There's also Brendan Smith, a reliable depth defenseman who can play regular minutes. And don't forget about Šimon Nemec, the second overall pick in the 2022 draft, who the Devils are hoping can compete for a roster spot during camp in September. There's no doubt about Nemec's long-term upside, and he will likely play NHL games at some point next season. But half a blue line consisting of Hughes, Bahl and Nemec is quite a bit of inexperience. 
Related: Devils Can Replace Brunette From Within
---
Latest News & Highlight
---
The Devils are in win-now mode, so it wouldn't surprise me if Fitzgerald looked for a stop-gap option for one year while giving Nemec one more regular season in the AHL with the Utica Comets. That's where Matt Grzelcyk could be an option. Shinzawa listed Grzelcyk in the "Let's Talk Trade" section of his article, so he's probably a strong candidate to get moved for cap purposes this summer. 
Grzelcyk has one year left on his contract at a cap hit of $3,687,500, something the Devils shouldn't have trouble fitting in, even with re-signing Bratt, Meier and some of their other restricted free agents. Grzelcyk's usage fell under new head coach Jim Montgomery this season, but he's played top-four minutes in the past. He's put up solid results over the last three seasons, specifically on defense at even strength: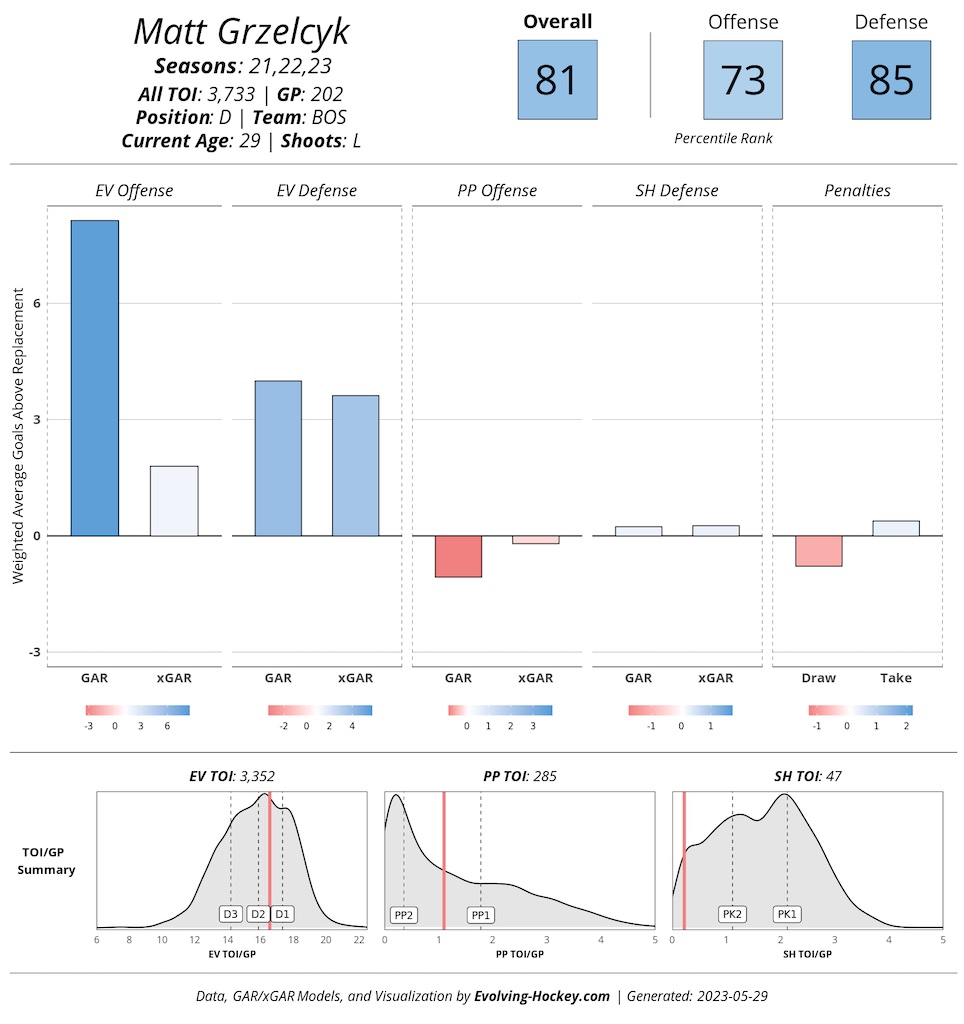 Grzelcyk has overperformed his offensive metrics, but on a team that will have Hughes and Hamilton as its primary facilitators on the back end, he won't need to be an offensive dynamo on the Devils. He's still a solid player, so this shouldn't be a scenario where the Bruins attach a sweetener for the Devils to take on his contract. But nor should Fitzgerald have to give up his best assets for one year of Grzelcyk; think a similar price to the Marino trade, maybe a touch less.
The only issue I could see materializing is Grzelcyk's size, as he measures 5-foot-10, 176 pounds. Fitzgerald built a blue line with defenders all 6-foot-2 or taller this past season, so it's clearly something he values defensively. Perhaps he makes an exception for Grzelcyk, especially since it'd only be for a year until his staff is comfortable giving Nemec a full-time role. 
Jake DeBrusk
One thing the Devils might want to do this offseason is add more top-nine talent. It doesn't need to be a star player since they already have Nico Hischier, Jack Hughes, Bratt and Meier, but a complementary piece wouldn't hurt. That's where DeBrusk could be an option through a trade. 
After a tough COVID-shortened 2020-21 season, Jake DeBrusk has returned to being a consistent 20-25 goal scorer. He finished the 2021-22 campaign with 25 goals and had a career-best 27 tallies and 50 points in 64 games this past season. His underlying metrics were impressive, as he finished with a total goals above replacement (GAR) of 19.8, ranked third on the Bruins to Pastrnak and Hampus Lindholm in 2022-23. 
DeBrusk isn't just an offensive player, though. His two-way game stands out as a winger, with his overall defense ranking in the 91st percentile over the last three seasons in Evolving-Hockey's GAR player cards. The Devils like forwards who play a strong two-way game, so he could be a fit on the trade market; Darren Dreger reported back in Dec. 2021 that he expected Fitzgerald to check in on DeBrusk at the time he requested a trade from the Bruins.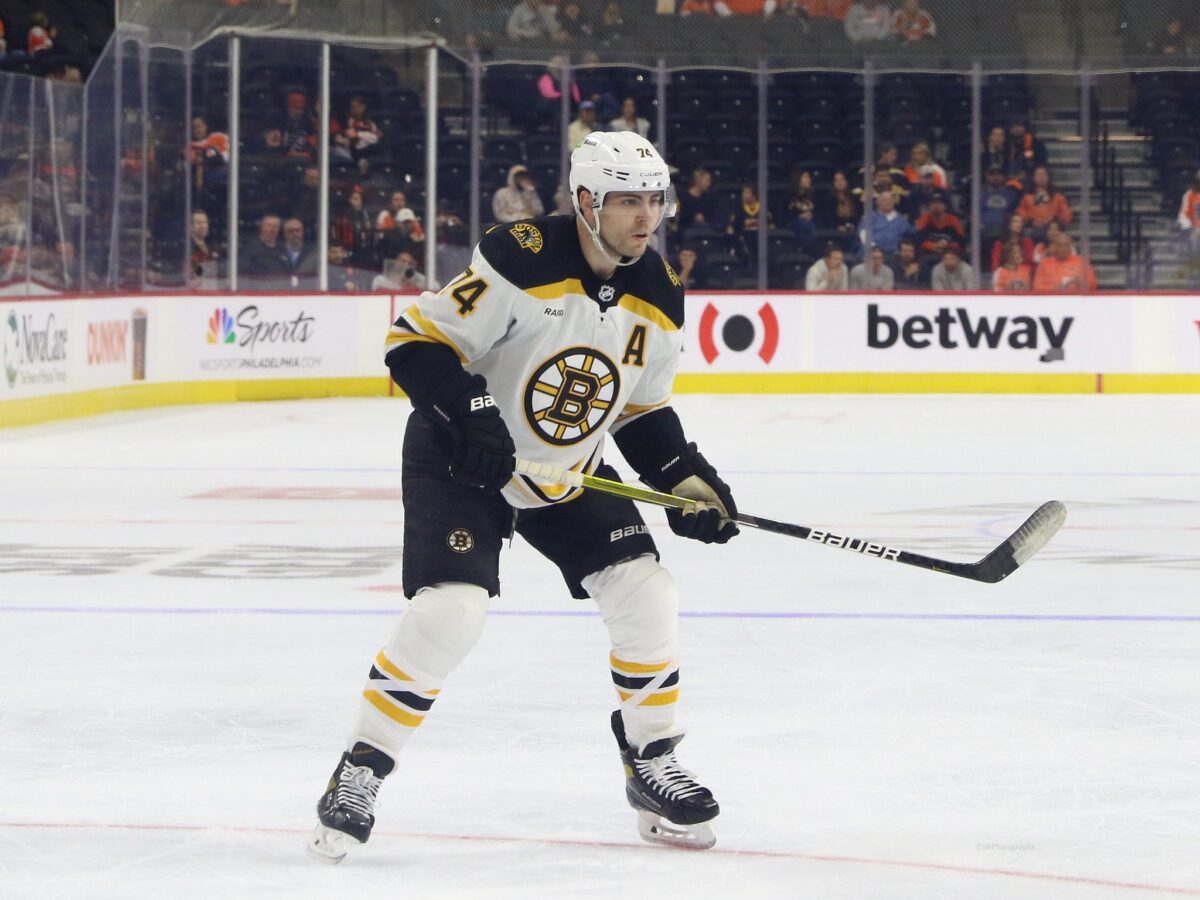 The question is, what will it cost to acquire DeBrusk from the Bruins? The Kevin Fiala deal — a first-round pick and a prospect — might be one comparison. But there are some differences. The Minnesota Wild didn't have cap space to keep Fiala, similar to the Bruins, but he was a restricted free agent with arbitration rights. DeBrusk has one year left on his contract at a cap hit of $4 million and will be a UFA next summer. 
Not having term on his deal should lower his value, especially since everyone knows the Bruins must clear cap space. The Devils acquired Marcus Johansson from the cap-strapped Washington Capitals for second and third-round picks in 2018 after he came off a career-best 24-goal, 54-point season, and he had term on his deal. 
DeBrusk would probably cost around that, perhaps with a prospect instead of a third-round pick. Shinzawa had DeBrusk in the "Listening More Seriously" section of his article, so he's certainly not the first person the Bruins would like to move if they trade someone for cap relief. But if he does become available, it wouldn't be a surprise if the Devils checked in. 
Could Devils Target a Bruins Goalie? 
Joining DeBrusk in the "Listening More Seriously" section were the Bruins' goalies, Jeremy Swayman and Linus Ullmark. Swayman is an RFA with arbitration rights this summer, while Ullmark has two years left on his deal at a cap hit of $5 million. The Bruins have a promising prospect in Brandon Bussi coming up their pipeline, meaning they could be willing to part with one of their goalies this offseason. 
Ullmark is coming off a career-best season in which he finished with a .938 save percentage, earning him a nomination for the Vezina Trophy. He has a 16-team no-trade list, so it might not be the easiest to move him. That could lower his value a bit, but he is coming off the best season of his career. This would more likely be a case of the Bruins selling high, and it's unlikely the Devils want to pay a premium for a goalie who'll probably regress next season.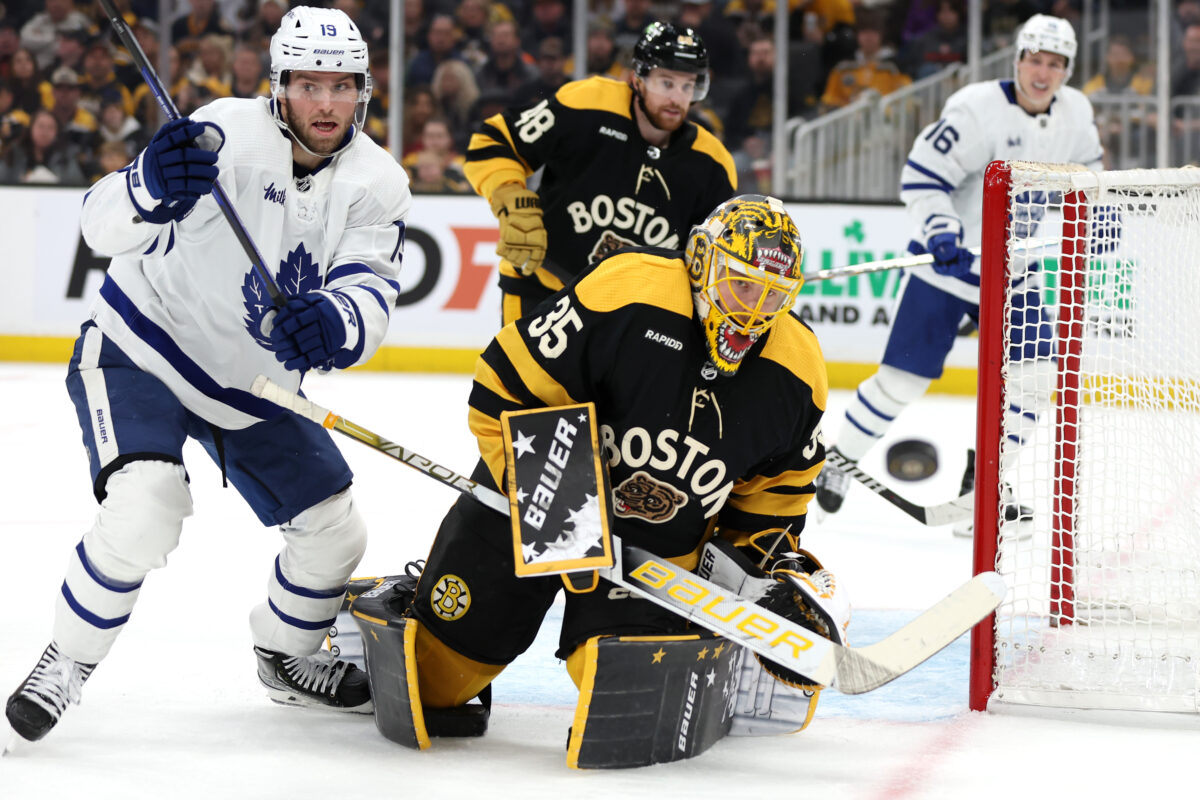 Swayman is the more interesting of the two for the Devils. He's a 24-year-old netminder with a career SV% of .920, so he'd fit perfectly with the Devils' core. But I'd be very surprised if the Bruins parted ways with him this summer. They'd have to be at such an impasse in negotiating a new contract for them to deal him, and that's probably not happening. They'll find a path to an extension and move another player or two to free up the necessary cap space.
Still, there are a couple of worthy trade options for the Devils from the Bruins. DeBrusk makes the most sense if Boston decides to move him because they figure they can't re-sign him beyond the 2023-24 season, while Grzelcyk could be a stop-gap until Nemec is ready for full-time action in the NHL. And they could come at lower-than-expected values because of the Bruins' cap situation, leaving a potential opportunity for the Devils to take advantage. 
* * *
Advanced stats from Evolving-Hockey