** The following article was written with inspiration from the song "Livin' on a Prayer" by Bon Jovi. You can find the lyrics to the song here.
"Once upon a time, not so long ago, Tommy Kyle used to work on the docks clock…"
After time ran out on his contract and he wasn't able to realize his vision with the team he'd built based on elite skill, loyalty, and analytics, Kyle Dubas has moved on. Whether he takes a job in Pittsburgh or waits for the Ottawa Senators, he's no longer the general manager of the Toronto Maple Leafs. That job now goes to Brad Treliving who was hired officially on Wednesday by President Brendan Shanahan.
"He's down on his luck, it's tough. So tough."
The reason Dubas and the Maple Leafs split was because Dubas had made it public that he wasn't sure he wanted to continue on as the team's GM. Specifically, the job and the duties that came with it were very taxing on his family. It was that indecision that led to Shanahan deciding that his GM might be, perhaps, unmotivated and that the rigors of the job were too tough for him to be fully committed to doing what was needed to get the organization over the playoff hump it continued to find itself in.
Related: Maple Leafs GM's First Question Will Be About Core Four
In other words, Shanahan seemed to suggest the answer wasn't necessarily going to come from in the locker room, it was going to come from the leader who put the players in that locker room.
Is This Maple Leafs Roster Being Rolled Back One More Time?
"She says, "We've gotta hold on to what we've got. It doesn't make a difference if we make it or not. We've got each other and that's a lot for love. We'll give it a shot.""
While Treliving will give a better indication of his plans during Thursday's media avail, early speculation is that the big changes a few fans are expecting won't be coming.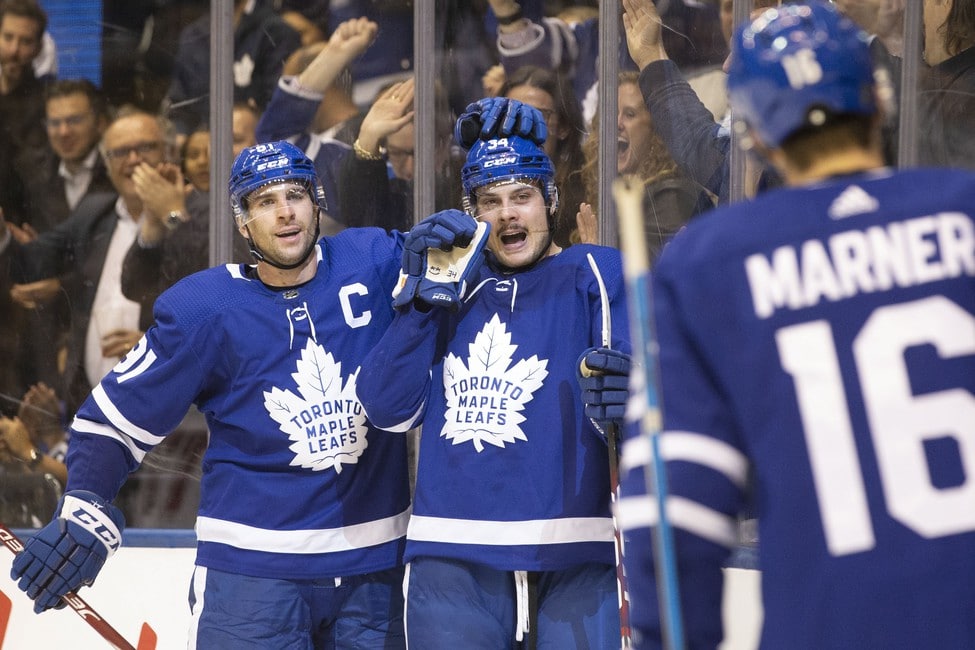 Another part of the reason Shanahan was likely uncertain about Dubas was that the former GM made it clear he was putting every option on the table if he were to return to the organization next season. Shanahan will presumably never admit it factored into his decision to go a different direction, but reports that Shanahan called each member of the 'core four' after Dubas cited the Matthew Tkachuk trade as how to make a good deal probably freaked everyone out.
Auston Matthews, Mitch Marner, and William Nylander don't want to leave Toronto, as per a number of insider accounts. And, if Dubas was thinking about breaking up the trio, Shanahan probably wasn't having it. The President seemingly wants the Maple Leafs to give it one more shot with the star players they have. It's a risk, especially considering that the combination of players hasn't worked.
Is this about winning? Or, is it about keeping your big guns happy? Can it be both?
"We're Halfway There, Whoa, Livin' on a Prayer"
Shanahan's answer was to bring in a new GM. The Maple Leafs are praying that he's able to do something no other GM has done before him. The team is only halfway to potentially making overall changes, but it's a start. The other half might be the firing of head coach Sheldon Keefe, or it might be the removal of Shanahan, who seems to be the constant in all of this. For now, if Treliving keeps Keefe and if Shanahan isn't going anywhere (which he isn't yet), the organization is halfway to doing what it needs to.
---
Latest News & Highlight
---
And, if the other half isn't changing the core, it's building a team around that core. It's changing the bottom six, or improving the goaltending. It's finding a better mix on the blue line or adding a slightly different element. Unless one of the core four says they want out, whatever Treliving does around the star players will have to be enough.
"Take my hand. We'll make it I swear."
The idea behind hiring this particular GM is that he's been through the drama of big contracts and potential departures before. He's seen it all in Calgary and despite their losing record this season, he came out pretty well on the other end. He's learned a lot and with that experience comes both knowing what to do, and what not to do. If he needs to build around the core, he'll try. If he needs to trade a star, he'll get the best deal he can. Shanahan is asking Leafs fans to trust in Treliving and have faith that this is the man to navigate what could be some murky waters over the next two seasons.
"Ooh, we gotta hold on, ready or not. You live for the fight when that's all that you've got."
If the Maple Leafs don't make big changes and the core is determined to stay together, there are two big fights this organization will have to prepare itself for. First is on the ice, where this core group will need to prove they can do what they've been unable to prove thus far: that they can win as a unit. That will take a lot more determination, grit, and playoff perseverance. There will be no half-hearted attempts, no sometimes on and sometimes not. No coasting. Second is in the negotiating room where Treliving is going to have to convince these players to give it their all and to stay for what will likely be less than they can make on the open market.
Treliving on a Prayer
One thing is for certain, this better work. Some fans aren't convinced, while others are. Regardless of where one sits with news that Treliving is going to work in tandem with Shanahan to make things happen in Toronto, there will be a lot of praying and crossing fingers from the fan base that doesn't know what else to cling to.
Is Treliving the guy to right the ship? Is he the Godsend that this organization was been waiting for, even though many thought they'd had their miracle in the former general manager? If it doesn't the next step is for the union (Maple Leafs fans) to go on strike and stop supporting this franchise as much as they habitually do.