In today's NHL news and rumors rundown, did the Philadelphia Flyers brass unanimously decide to let Chuck Fletcher go and hire Daniel Briere? It doesn't appear that way, which will be a fascinating story to watch unfold as the Flyers make other hiring decisions.
---
---
Meanwhile, could any decision Ryan O'Reilly makes about his future in Toronto affect what the Maple Leafs are willing to give Michael Bunting? Are the Pittsburgh Penguins open to keeping goaltender Tristan Jarry? Finally, it sounds like the minimum asking price for the Ottawa Senators has been set.
Flyers Alumni Weren't Consulted on Fletcher's Firing
Marcus Hayes of the Philadelphia Inquirer reported today that Flyers Chairman and CEO of Comcast Spectacor, Dave Scott didn't consult Bob Clarke, Paul Holmgren, or Bill Barber before firing Chuck Fletcher last week and hiring Daniel Briere as interim GM. Apparently, that isn't going over terribly well in Philadelphia where it is being reported that all three of them wouldn't have approved of firing Fletcher or promoting Briere.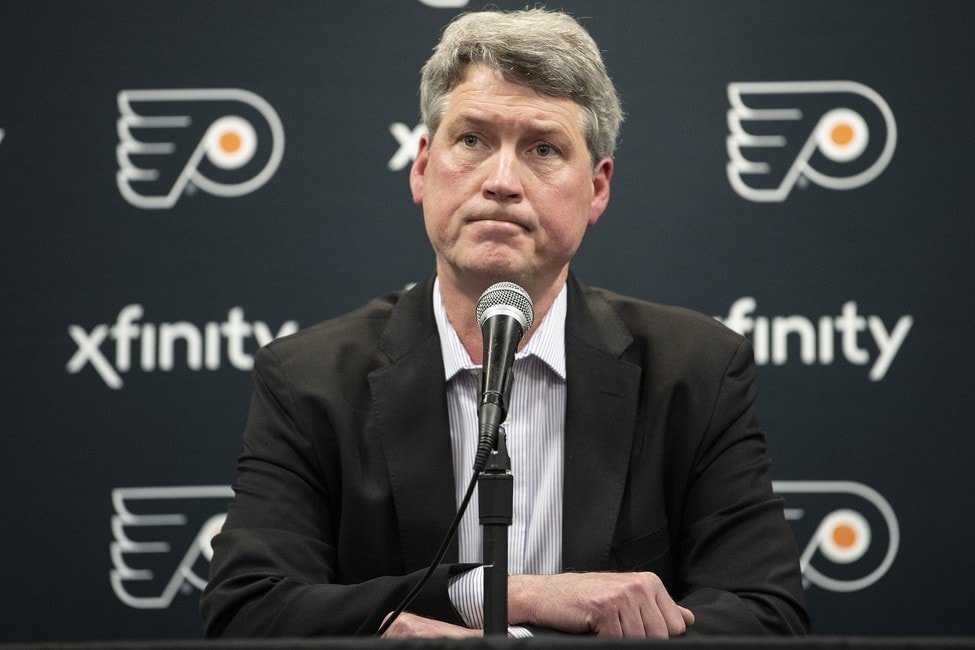 The report notes that Dave Scott already knew this was going to be a hurdle so he didn't ask. The reputation among those that often help make key decisions in that organization is that Briere is not the right guy for the job. Hayes writes that Briere isn't seen in the same light as former Flyers greats. He explains:
"Brière might be a former Flyer, and he's close to Holmgren, but he is no Golden Child in the eyes of the Three Wise Men. In 2017, Holmgren sent him to run Spectacor's ECHL team in Maine, but it was Valerie Camillo, president of Spectacor's sports wing, who in 2020 sent Brière to the Wharton School of Finance at the University of Pennsylvania, which is something of a GM factory. Brière has spent the last year or so tailing Fletcher, but he always was an interloper."

source – 'Sources: Three Flyers legends had no say in Danny Brière's promotion or Chuck Fletcher's firing' – Marcus Hayes – Philadelphia Inquirer – 03/18/2023
Could O'Reilly Signing in Toronto Mean the End of Michael Bunting?
While the word is the Toronto Maple Leafs are open to signing Michael Bunting to a long-term extension, there are two factors holding off those talks right now. First, Dubas wants to see playoff improvement from Bunting and his other free agents. Second, Dubas is interested in finding out what Ryan O'Reilly wants to do this offseason.
Related: Remembering Maple Leafs Tough Guy Jim Dorey
Luke Fox of Sportsnet wondered if the Leafs' acquisition of O'Reilly would make re-signing Bunting less of a priority. If O'Reilly is open to staying, there is only so much money the Leafs can spend on expiring contracts, even with Jake Muzzin potentially on LTIR next season.
Jarry Has Lots Riding on This Season's Playoffs
While the Penguins making this season's playoffs is not yet a lock, if they get in, a lot of that will depend on the play of goaltender Tristan Jarry. Jarry has been pulled in multiple recent starts and the oft-injured goaltender's future with the Penguins could depend on his performance in the playoffs, writes Fox. He's never won an NHL postseason series and if he's unable to do so again this season, he may not get another opportunity.
---
Latest News & Highlights
---
Fox writes, "GM Ron Hextall isn't rushing to take care of Jarry's business and said in July that his preference is to not negotiate such deals in-season."
Senators Bidders Need to Up Bids to $900 Million
Elliotte Friedman reported that the talk is that anyone who wants to be considered a serious buyer of the Ottawa Senators franchise needs their bid to come in at no less than $900 million. Friedman added that some bids came in at a lower number and that if these buyers want to be taken seriously, they need to up their initial bids to stay in the running.