In today's NHL rumors rundown, there is talk about what kind of deal Michael Bunting might get on his next contract. Will he get that deal in Toronto? Meanwhile, Jonathan Toews spoke with the media about his future in Chicago and it is believed he's trying to get into at least one more game before the end of this season.
---
---
The Boston Bruins have a salary cap situation on their hands as Taylor Hall nears a return and are the Washington Capitals having second thoughts about Peter Laviolette?
Teams Interested In Offering Michael Bunting Term
Amidst speculation that there might be a rift between the coach and the player, Mike Johnson said during TSN Overdrive this week that he's talked to other clubs who have said they would love to have a guy like Michael Bunting on their team. He noted, "I've talked to teams around the league that like Bunting and would give him term… I think if he goes to market him getting a 6-year $24M contract is not out of the question."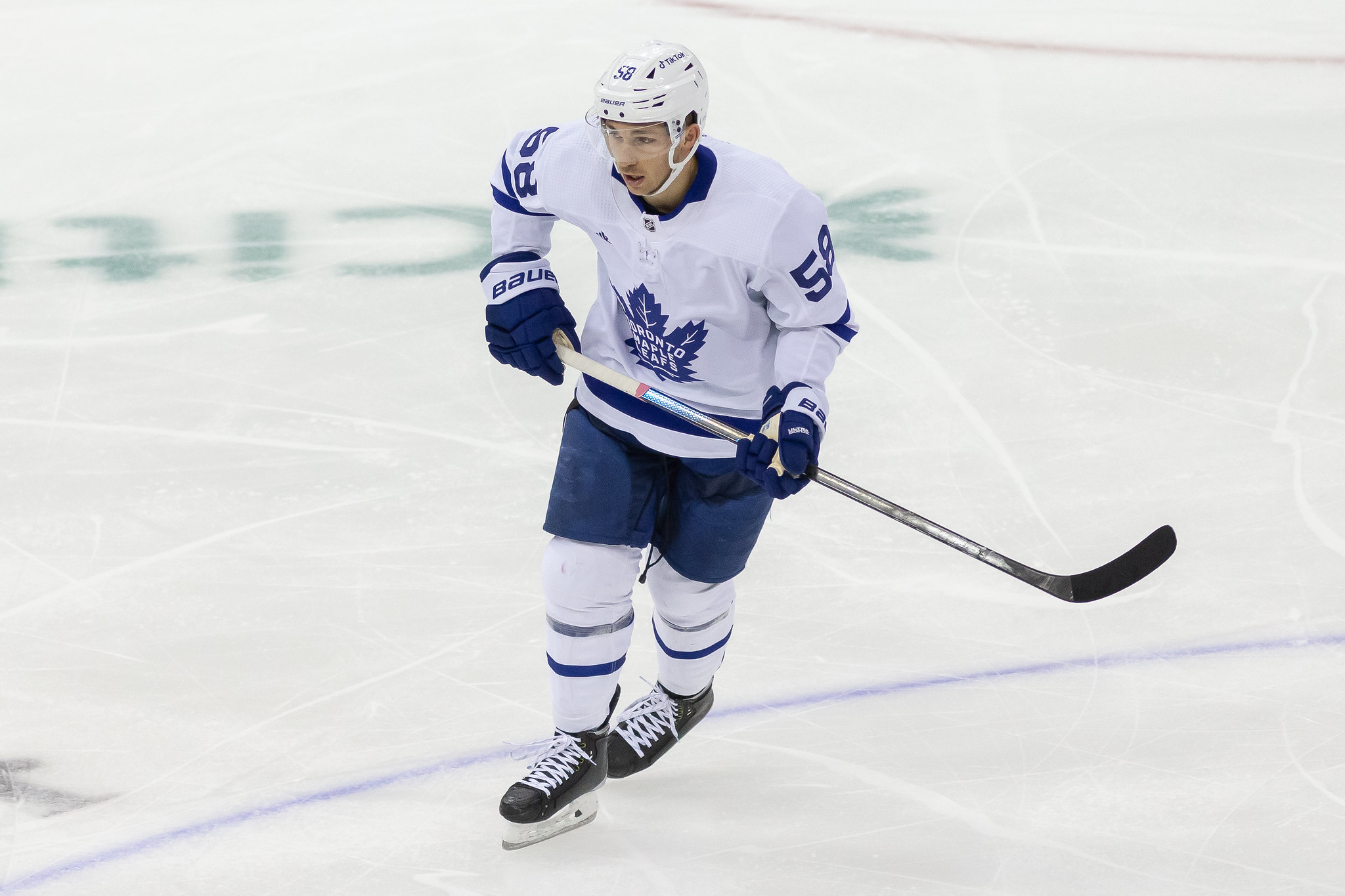 Jamie McLennan asked if the team who is signing him is going to play him in their top six and if will he play first power play or top-six minutes. Johnston said not necessarily, but that Bunting has shown enough to get 20 goals and 40 points every year. And, GMs like players who are involved in games (which Bunting almost always is). Johnston then wonders if the Leafs can get him on a discount of around six years and $3.5 million. At that rate, he wouldn't need to be a top-six producer.
Jonathan Toews Trying to Play a Couple of Games to End Season
Jonathan Toews spoke with the media on Tuesday after taking the ice with the Blackhawks and discussed what could be his last run with the organization. Toews didn't play on Tuesday night but he is looking to get back into good enough game shape to have what might be his "swan song" in Chicago. He noted that it is definitely on his mind that this could be his "last few weeks here in Chicago as a Blackhawk."
---
Latest News & Highlights
---
Chris Johnston of TSN reported that while the club doesn't have much else to play for, the Blackhawks want to play for their team captain. They are well aware that Toews' future with the team and perhaps in the NHL is unknown. Toews mentioned that he's feeling good about the potential to play in at least one game before the end of the season.
Bruins Running Into Cap Issues
According to TSN's Darren Dreger, the Boston Bruins are running into issues with their salary cap as forward Taylor Hall is nearing an on-ice return. Dreger noted during TSN Insider Trading that "Sources say that he feels that he is ready. The problem is the Bruins don't have the cap space to activate Taylor Hall."
Related: Ducks News & Rumors: Drysdale, Nesterenko & More
Dreger noted that other clubs are paying attention to what the Bruins do here as Boston might try to stretch out Hall's injury until the end of the regular season, in much the same way the Tampa Bay Lightning were rumored to have done a few seasons ago with Nikita Kucherov. That may not go over well, especially if Hall is public about his desire to play.
Dreger noted that Nick Foligno is also nearing a return and that it will be fascinating to see how the Bruins deal with all of this.
Are Capitals Rethinking a Laviolette Extension?
Elliotte Friedman noted recently on the Jeff Marek Show that the Washington Capitals might be having second thoughts about offering head coach Peter Laviolette a contract extension. He noted, "I think the other thing that's really happening there in Washington is all of a sudden there's a little bit of uncertainty about Peter Laviolette." He adds, "He's in the last year of his contract and I thought that it was going to be a situation where he was going to get an extension because they were talking about it early in the year and that trail has gone cold."