In today's NHL rumors rundown, Kyle Dubas addressed the media on Monday and spoke about his future. Unclear about staying in Toronto, what would he do with the team if he is back? Meanwhile, the Pittsburgh Penguins have begun their interviews for a new GM. Who have they spoken to? The Ottawa Senators received four solid bids to purchase the team, and both the Seattle Kraken and Edmonton Oilers have offseason contracts to think about.
Dubas Says He's Got Some Thinking To Do
When asked if his desire is to return to the Toronto Maple Leafs as general manager next season, Dubas responded, "My family is a hugely important part of what I do." He noted he wanted to have a conversation with them before answering because last season was extremely taxing on them. He did acknowledge that he doesn't see a scenario where he pops up somewhere else as GM.
---
Latest News & Highlights
---
As far as what he would be open to doing with the roster if he did return, he noted "I would take nothing off the table at all." He discussed the idea of trading one of his "core four" and suggested that he would be open to it, citing the calculated trade between the Florida Panthers and Calgary Flames involving Matthew Tkachuk as example of how those trades do happen.
---
---
When asked by the OverDrive panel if he believes Dubas' comments mean that there is a big change coming to Toronto, Chris Johnston of TSN said, "We should be bracing for a bomb and potentially multiple bombs." He then went on to say that he's been around a lot of locker room clean-out days in Toronto and this was by far "the most unusual day I've spent down there."
Penguins Interviewing GM Candidates
Pierre LeBrun of TSN and The Athletic notes that the Pittsburgh Penguins have begun their process and are interviewing a number of potential candidates for the GM opening. He tweeted, "Penguins were aiming to interview 10-12 GM candidates as part of 1st wave via Zoom. Marc Bergevin, Eric Tulsky, Jason Karmanos, and Peter Chiarelli confirmed as being among those 10-12 candidates who interviewed. Now comes 2nd phase for some of them."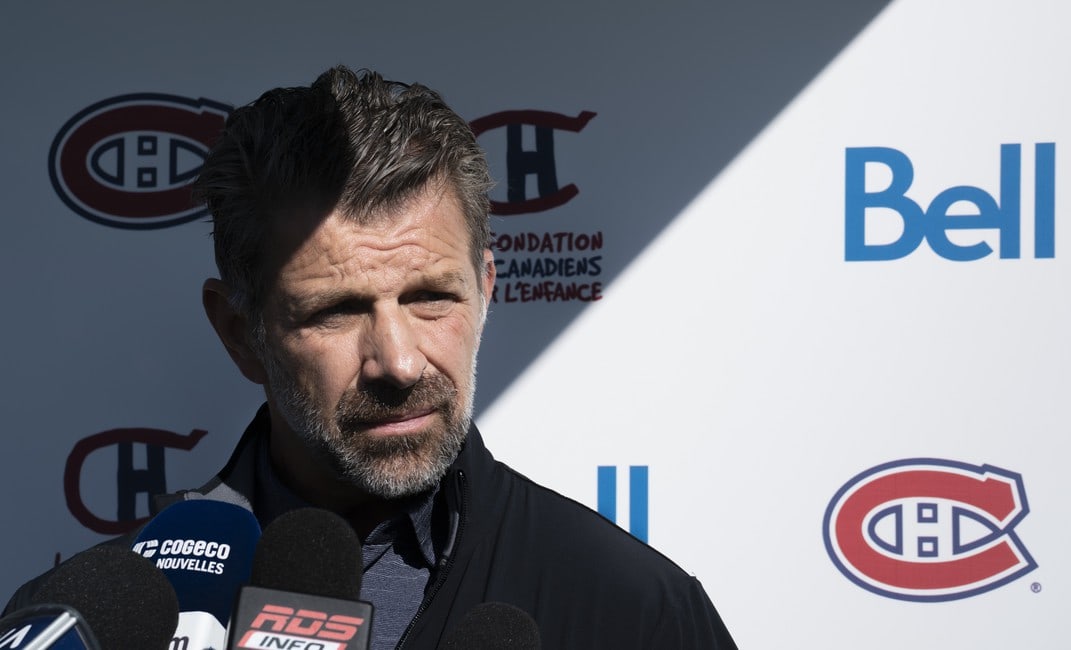 Rob Rossi of The Athletic adds:
A Penguins source and a league source, each speaking on the condition of anonymity, said the Penguins are leaning toward keeping a two-person structure atop their hockey operations department, though it's unclear which position will hold top rank. Under Hextall and Burke, GM was the top position in hockey operations, with Burke serving in more of an advisory role on personnel matters.

source – 'Penguins GM search: Kyle Dubas is out, so who could be hired? – Rob Rossi – The Athletic – 05/15/2023
Frank Seravalli also identified former Sabres GM Jason Botterill, former Coyotes GM John Chayka, Lightning assistant Mathieu Darche and Rangers assistant Ryan Martin as possible candidates.
Senators Ownership Bids Come In
Bruce Garrioch of the Ottawa Sun tweeted out a list of the bids to purchase the Ottawa Senators. He noted, "Sources say these are your bidders for the #Sens s in no order: – Toronto's Steve Apostolopoulos. He bid on the Washington Commanders – Michael Andlauer, a minority owner of the Habs – Jeffrey and Michael Kimel, former minority owners of Pens – Neko Sparks, LA-based producer." One of the bids came in at a rumored $1B, sources say.
Related: Today in Hockey History: May 16
Garrioch writes:
If one bid is head and shoulders above the rest, then this process could be over quickly, but the reality is it may take a week or more to enter final negotiations with the winning bidder.

source – 'GARRIOCH: Four bids for Ottawa Senators submitted, including one at $1B, sources say' – Bruce Garrioch – Ottawa Sun – 05/15/2023
What Does the Offseason Hold for the Kraken?
ESPN.com's Ryan S. Clark looked at the potential offseason plans for the recently-eliminated Seattle Kraken and noted that some key players are restricted free agents this summer. Among them, Vince Dunn, Will Borgen and Morgan Geekie need new deals and Dunn could be expensive to re-sign considering he just posted a career-best 64-point season.
The Kraken have a projected $18.5 million in cap space for 2023-24 but they also need to talk to unrestricted free agents Ryan Donato and Carson Soucy. 
Could Evan Bouchard Get an Offer Sheet?
Frank Seravalli of Daily Faceoff noted that the Edmonton Oilers need to look after a contract extension for Evan Bouchard and while he's unsure if it will be difficult to get that deal done — Bouchard doesn't have arbitration — another team could throw a wrinkle into negotiations by tendering an offer sheet.
He doesn't expect it will happen, but Bouchard did have a solid season and with a tight salary cap situation, the Oilers don't want to lose him.