The last time the Dallas Stars were involved in a Game 7 was on May 15, 2022, when All-Star netminder, Jake Oettinger, made 64 saves in a 3-2 overtime loss to the Calgary Flames. Interestingly, a year later, the Stars avenged that loss with a 2-1 victory over the Seattle Kraken, advancing to the Western Conference Final for the second time in three seasons.
---
---
Considering how high-scoring the entire series has been, combined 49 goals through six games, it was surprising to see the goalies shut it down in this crucial game. However, from the beginning, it was clear that the Stars were gunning for a victory, maintaining pressure on the Kraken all night while testing Phillipp Grubauer (26 saves) with every shot.
Related: 4 Reasons Why the Dallas Stars Will Win the Stanley Cup
Thanks to the win, Dallas improves to 8-9 in Game 7 contests while earning a shot to play the Vegas Golden Knights in the next round, a 2020 Western Conference Final rematch. Although that series starts on Friday night at T-Mobile Arena in Las Vegas, there are still a few things to discuss from this game, so let's get to the takeaways.
Roope Hintz Capalutes to the Top of the Conn Smythe Conversation
After eliminating the Minnesota Wild in Round 1, Stars' forward Roope Hintz led all playoff scorers with 11 points. Interestingly, that was more than the Edmonton Oilers' Connor McDavid and Leon Draisaitl, betting favorites to win the Stanley Cup and the Conn Smythe Trophy this year.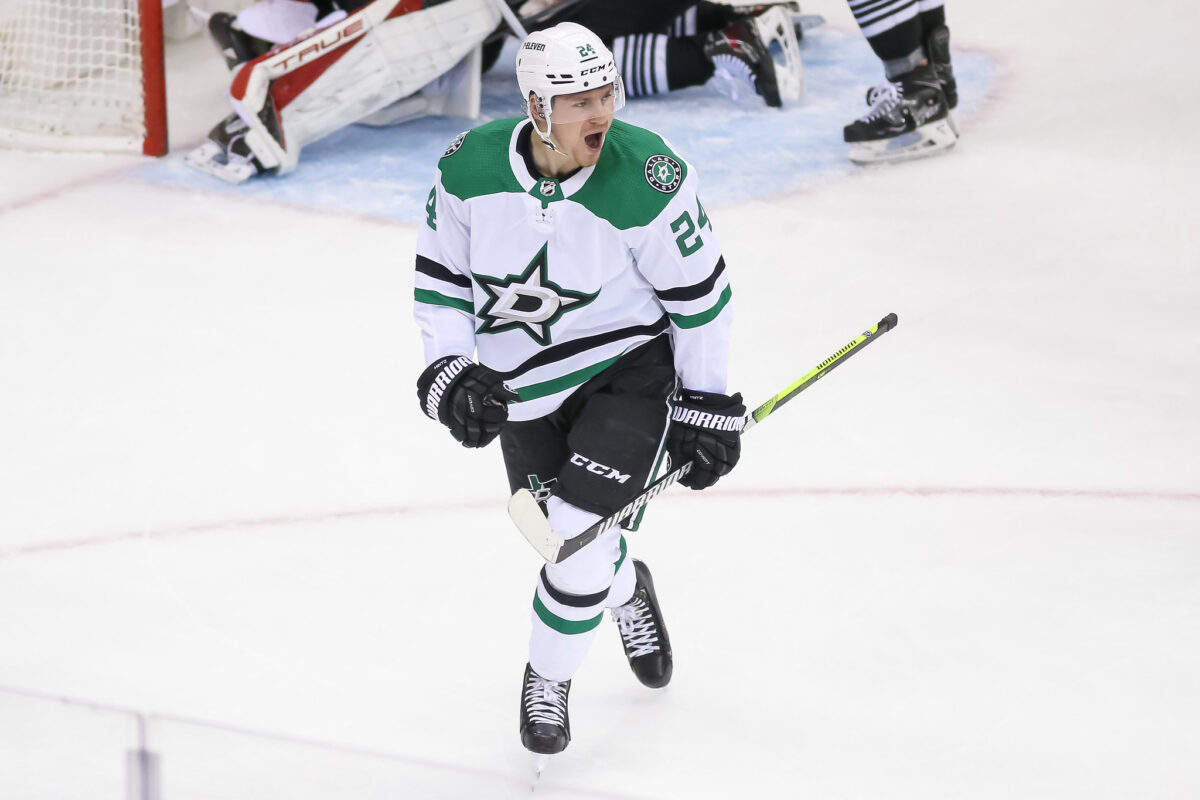 However, their seasons are over, allowing Hintz to continue his quest to win the playoff scoring race, which he inched closer to on Monday night with the game's opening goal. Considering the Stars are currently leading the playoffs with 18 goals off the rush, it was only fitting that Hintz created a turnover with a few minutes left in the second period, then streaked in to pot the game's first goal over Grubauer's right shoulder. 
Since the Stars are 7-1 in the postseason when scoring first and 38-9-4 during the regular season, Hintz scored a timely goal that set his team up for success heading into the final 25 minutes. Now, with 19 points, he sits only one point behind McDavid in the scoring race and remains the only member of the Stars' lineup sitting amongst the top ten playoff scorers. 
As the Golden Knights prepare to welcome the Stars for the next series, they may want to figure out how to slow down Hintz, who is averaging 1.46 points per game in this year's Stanley Cup Playoffs. 
Jake Oettinger Builds Upon Historic Game 7 Legacy
As mentioned, during the first Game 7 appearance of his professional career, Oettinger stonewalled the Flames by turning away 64 shots; the second-most saves in a Game 7 performance in NHL history. Despite having another outstanding regular season with a 37-11-11 record and a 2.37 goals-against average (GAA), and a .919 save percentage (SV%), he struggled mightily against the Kraken in the second round, with a .865 SV% and being pulled twice after giving up four or more goals. 
Shockingly, Oettinger gave up five goals in two of the first four games, performances that gave the Kraken a window of opportunity to take the series lead on both occasions. Although many questions surrounded his ability to bounce back after being pulled (again), he saved one of his best playoff performances for Game 7, picking up his first victory in a winner-take-all contest. After last night, he has stopped 86 shots in his first two Game 7 appearances, which ranks second all-time.
---
Latest News & Highlights
---
Even though Oettinger only faced 15 shots through the first two periods, he looked calm and poised, making saves and never feeling the pressure like in previous games. Ultimately many analysts wondered if the Kraken had found a way to break him mentally, but he didn't show any signs of fatigue and handled a late surge in the dying minutes confidently. Unfortunately, he lost his shutout in the final seconds, but earning a huge one-goal victory and silencing critics is one reason he will play in his first Western Conference Final. 
Wyatt Johnston Sets New NHL Record With Game-Winning Goal
In previous recaps, we pointed out that the Stars were looking for offensive contributions from Jason Robertson and Tyler Seguin while relying too much on Joe Pavelski and Hintz to keep putting up points. Meanwhile, no one talked about Wyatt Johnston, who has six points in 13 games, including back-to-back series-clinching goals. 
Interestingly, Johnston celebrated his 20th birthday on Sunday, a day before becoming the youngest player in NHL history to record a Game 7 winner, edging out the iconic Jaromir Jagr by 75 days. Additionally, Johnston is the youngest player in this year's Stanley Cup Playoffs, born four years (2003) after the Stars won their only championship in June 1999. 
Even though Johnston finished eighth in team scoring during the regular season with 41 points, the former first-round pick surpassed the 20-goal mark for the first time and gave fans a preview of exciting things to come. Despite only six points thus far in the playoffs, he's proven during this run to the Western Conference Final that it is not about how many goals and points you score; it's the timing of when they happen. 
As a vital piece of the Stars' future continues to impress in his first postseason, many of us should appreciate how cool and collected this young player is and how impactful his performance was in Game 7, one of the most intense games anyone can play. 
Related: Revisiting the Dallas Stars' 1999 Stanley Cup Run
After finishing the regular season with 108 points, the Stars will concede home ice for the Western Conference Final to the Golden Knights, who collected 111 points, meaning that Game 1 will take place on Friday night in Las Vegas, with puck drop scheduled for 8:30 pm EST.