The Edmonton Oilers were eliminated from the Stanley Cup Playoffs by the Vegas Golden Knights on May 14 and to many, it's considered a huge disappointment as the path to the Stanley Cup was and is wide open as some of the NHL's elite teams have been eliminated. That said, Edmonton's early playoff outing in a season where many hockey experts considered them to win it all should be a big learning experience for Connor McDavid and company because there are several lessons they'll likely learn from this postseason.
---
---
The Oilers learned that they couldn't and shouldn't rely on just a rookie goaltender for them to go the distance and that they needed to score more goals at 5-on-5 because they were outscored 18-9 at even strength by the Golden Knights. They also learned they cannot simply rely on their captain and Leon Draisaitl to drive the offence up front and ultimately, Edmonton needed more out of their other top six forwards, like Ryan Nugent-Hopkins, Zach Hyman and Evander Kane in the playoffs.
The trio, who scored a combined 89 goals in the regular season, scored only two goals between them in the second round versus Vegas. However, shifting our focus to Kane, who's battled injuries throughout the season, his three goals and two assists in 12 playoff games this year stand out noticeably because of his outstanding output from last year where he led the playoffs with 13 goals in 15 games. Because of that, he was a big part of the Oilers' lengthy run in reaching the Western Conference Final, which prompted Edmonton to eagerly sign him to a four-year $20.5 million contract last July.
---
Latest News & Highlights
---
Yet, despite being one of the Oilers' most physical players up front this postseason, his lack of offence was a concern and it led to former NHL goaltender Mike McKenna, to wrongfully suggest that Kane may not have been motivated in the playoffs because he did not have a contract to play for.
Kane Was Reportedly Playing With a Broken Finger in the Playoffs
Despite a disappointing offensive output in the playoffs, Kane was engaged the entire postseason (sometimes too engaged), leading the team with 52 hits, yet, the Daily Faceoff's McKenna expressed his disapproval of the power forward's playoff performance by saying, "Evander Kane was just invisible in the series with just one assist, I mean, he doesn't have a contract to play for this year and maybe that has something to do with it." Now, we're not making excuses for the Oilers' forward, but it's worth noting that he battled injuries all season, with his biggest one occurring on Nov. 8 when he suffered a severe wrist injury; however, he recovered ahead of schedule and returned to the lineup on Jan. 17. He also suffered broken ribs late February, and missed a total of 41 regular season games.
Related: 4 Oilers Who Raised Their Stock in 2023 Playoffs
Taking all of this into consideration, it's reasonable to assume that he was not 100% heading into the playoffs and we also recently learned on the "Oilers Now" show with Bob Stauffer that he was struggling with another injury that affected his shooting, with the Oilers' colour commentator saying, "Evander Kane, it'll be at some point within the next 48 hours confirmed, but he was playing with a broken finger on the hand [opposite of his wrist injury]. He was getting consistently hacked and whacked and slashed." He added, "I wanted to specify with Kane because it was clear to me that he could not shoot the puck and he was nowhere near as voluminous of a shooter as he had been."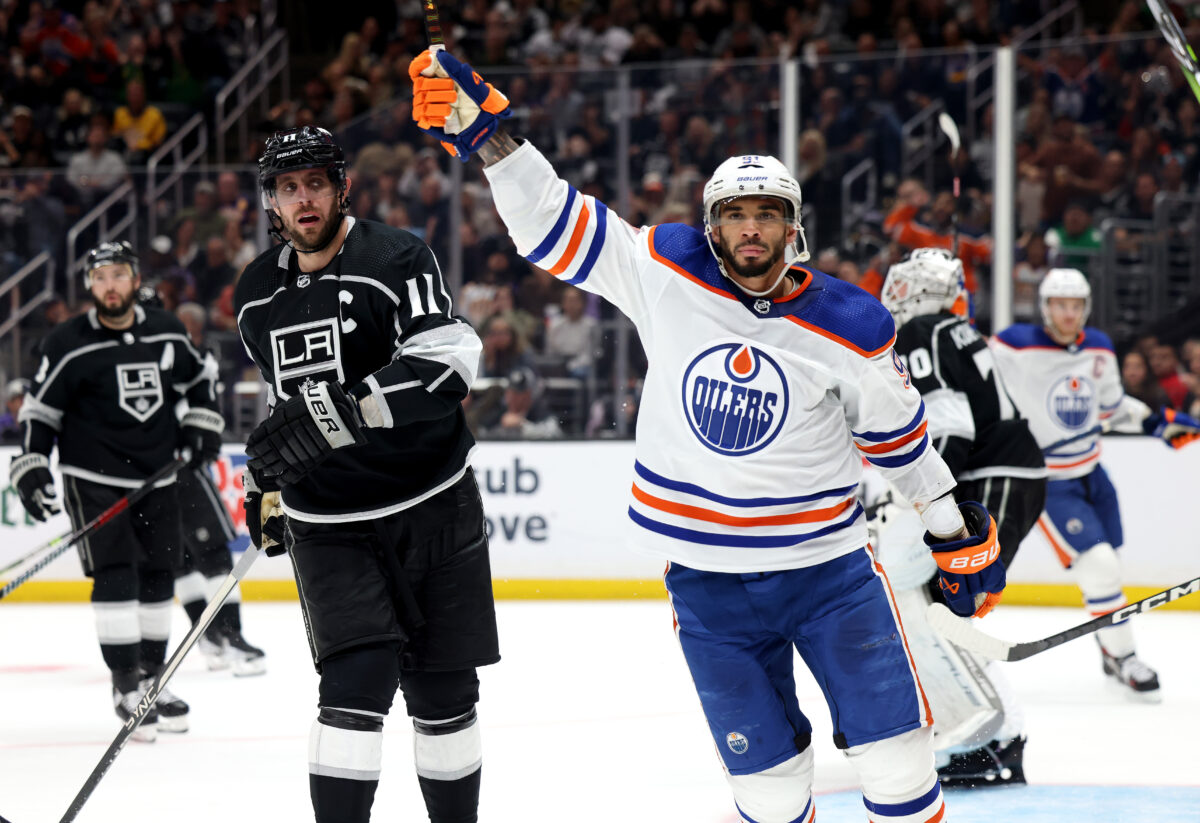 Now that we have a clearer understanding of the issues that Kane was dealing with, it was a misguided claim by McKenna to say that the Oiler wasn't playing up to par, due to a lack of motivation to play for a contract. That said, it was definitely noticeable that his play seemed off because he wasn't shooting with conviction or burying his grade-A chances like Oilers fans saw last postseason. Also, even if we didn't know about the broken finger he was playing through, he shouldn't be accused of playing unmotivated, because despite not scoring, he put his body on the line, engaged physically every shift, and brought his team into the fight each and every night.
Kane Had Some Bright Spots for the Oilers These Playoffs
Still, he had some big moments these playoffs, like the crucial goal he scored in the first round against the Los Angeles Kings when he buried the game-tying goal with three minutes left in Game 4 to send the game into overtime. Moreover, he played with passion the entire playoffs with his willingness to create a disturbance and energize his team, especially with his altercation with forward Keegan Kolesar, where he landed a series of body blows and riled up Golden Knights fans at T-Mobile Arena in Game 2.
When Kane is at the top of his game, he's a unicorn in the NHL because of his combination of being a one-shot scorer, that will also engage physically with some of the toughest players in the NHL. Did he need to play better this postseason? Absolutely, but the fact that he was dealing with injuries all season, in combination with a broken finger that we recently learned he was playing through, he gets a small degree of leniency. Hopefully, he takes time to heal this summer and returns to his regular scoring form next season.
On a scale of 1 to 10, how would you rate Evander Kane's performance in the playoffs? Have your say in the comments below!