In today's NHL rumors rundown, every day there seems to be more news regarding the GM search in Pittsburgh. Have they switched gears now that Kyle Dubas is potentially available? Were the Ottawa Senators interested in Dubas? Meanwhile, a bombshell was dropped on Saturday that Auston Matthews isn't going to sign an extension with the Toronto Maple Leafs by July 1. What now? Finally, it sounds like the Calgary Flames are hiring Craig Conroy, but will they bring in anyone else?
How Close Are They in Pittsburgh to a New GM?
There are more updates coming out of Pittsburgh where reports suggest they are close to finding a new GM, but wanted to first chat with Kyle Dubas. Elliotte Friedman noted on the latest 32 Thoughts podcast, "I think they were getting really close." He also noted that he believes Mathieu Darche — the Assistant General Manager and Director of Hockey Ops for the Tampa Bay Lightning — was one person they were taking a real hard look at. "We'll see where it goes," Friedman said.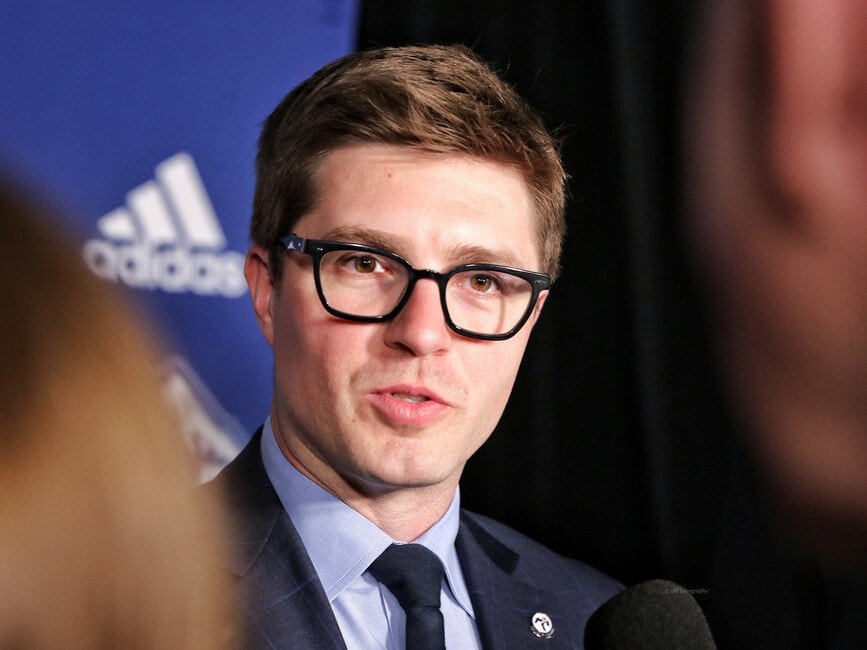 The Penguins did ask for permission to talk to Dubas and they received that permission. If there's any chance he's hired on there, that information should leak rather quickly. Clearly, Dubas becoming available has changed the team's timeline.
Were the Senators Interested in Dubas?
Friedman also noted, "I had people who were kind of telling me that the whole idea of Dubas maybe going to Ottawa at some point and spicing up that rivalry with Toronto definitely appealed to some people but I think Pittsburgh is going to make their pitch, and see if that appeals to Dubas."
Related: Contract Snag Means a Matthews Trade Most Likely in Next 40 Days
In other Senators news, Bruce Garrioch of the Ottawa Sun reports that the ship has sailed on Ryan Reynolds being a part owner of the Ottawa Senators. He writes:
Sources close to the Vancouver-born actor told Postmedia Monday other groups involved in the bidding process have reached out to Reynolds in the last week and he's turned down offers to be part of other groups.

ource – 'GARRIOCH: It's time for bidders for the Senators to put their money where their mouth is' – Bruce Garrioch – Ottawa Sun – 05/22/2023
Auston Matthews Won't Sign Before July 1
It was reported on Saturday that Matthews would not be signing with the Maple Leafs before July 1, which poses a huge problem for the team. It's one of the reasons the Leafs might be looking for a GM with "some bite" and Friedman noted on the podcast: "I did have one [Leafs] player reach out to me and say they weren't sure if Matthews would've signed on July 1st even with Dubas. But the Leafs he felt would have been very confident that he would've signed. Now nobody's really sure."
---
Latest News & Highlights
---
It makes sense that both Matthews and William Nylander might be hesitant to sign without a clear indication of what the path in Toronto is. There are clearly more changes coming and both want to know what they'll be committing to.
Armstrong Does Not Have an Out-Clause With Blues
Andy Strickland followed up on tweets regarding the Maple Leafs' potential interest in Doug Armstrong and rumors he might have an out-clause in his contract that would allow him to pursue other opportunities. Strickland tweeted on Monday, "Contrary to some reports and speculation out there, according to a source close to the #stlblues, Doug Armstrong does NOT have an "out-clause" in his contract." He adds, "This is a huge off-season for the Blues with three first-round picks. Armstrong has three years remaining on his deal."
As for who the Leafs might be looking at, Darren Dreger noted on That's Hockey! that they are looking at some experienced candidates including Brad Treliving, Ray Shero, Peter Chiarelli, and Marc Bergevin. Dreger also said that Scott Mellanby might be on their radar even though he doesn't have GM experience. Friedman adds Mark Hunter is a name to keep an eye on.
Flames to Hire Craig Conroy
Multiple reports note that it is expected the Calgary Flames will name Craig Conroy as their next general manager. Friedman added that it's possible the Flames make other additions and the name he's hearing closely tied to Calgary is Dave Nonis. "I think it's possible there's another experienced individual, like Dave Nonis interviewed for the GM job in Calgary, I'm curious to see if he could be joining their front office as well."
There is also talk that Jarome Iginla could be part of the upcoming management team. He wants to coach his son for one more season in the WHL but noted, "…it is believed that Iginla will, at some point, be a part of this too." Once that is settled, the Flames will focus on a coach, and names mentioned in connection with that job are Kirk Muller, Ryan Huska, Mitch Love, Travis Green, and possibly Alex Tanguay.