With the 2023 NHL Entry Draft just over a month away, final rankings have started to come in. Hockey Draft Insider Craig Button recently made waves by moving Axel Sandin Pellikka into the top five of his rankings. Sandin Pellikka has consistently been ranked between 10th overall and 17th on most lists.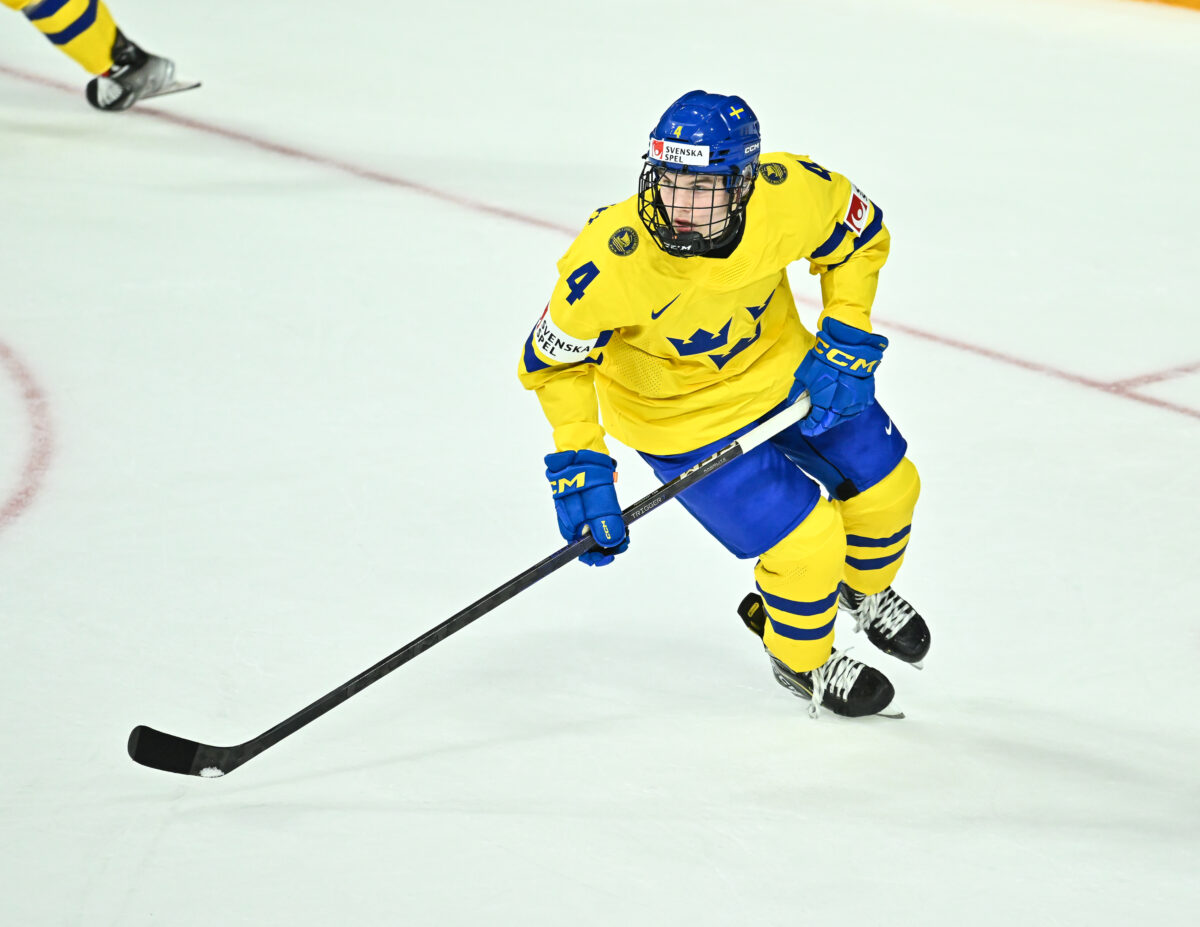 Sandin Pellikka has fantastic offensive instincts, a high hockey IQ, elite-level puck skills, and good skating and edges. He isn't the typical size that NHL GMs covet, but he makes up for that with his ability to weave his way around, avoiding contact. How likely is it for him to be drafted by any of the top five teams in the 2023 Entry Draft? Here's a look at those teams and their prospect pools to assess if there is a need for an offensive defender.
Chicago Blackhawks
The Chicago Blackhawks have the 1st-overall pick, and there is no way they use it on Sandin Pellikka. If he is still on the board when they pick at number 19, they will be screaming his name before they leave their draft table. They could definitely use his skill in their organization.
Related: 2023 NHL Draft Guide
The Blackhawks drafted Kevin Korchinski in the 2022 Draft, 7th overall. He immediately became their best defensive prospect. A year later, his team, the Seattle Thunderbirds are Western Hockey League (WHL) champions. In the 2022-23 season, he scored 73 points in 54 regular-season games and added 14 points in 19 playoff games.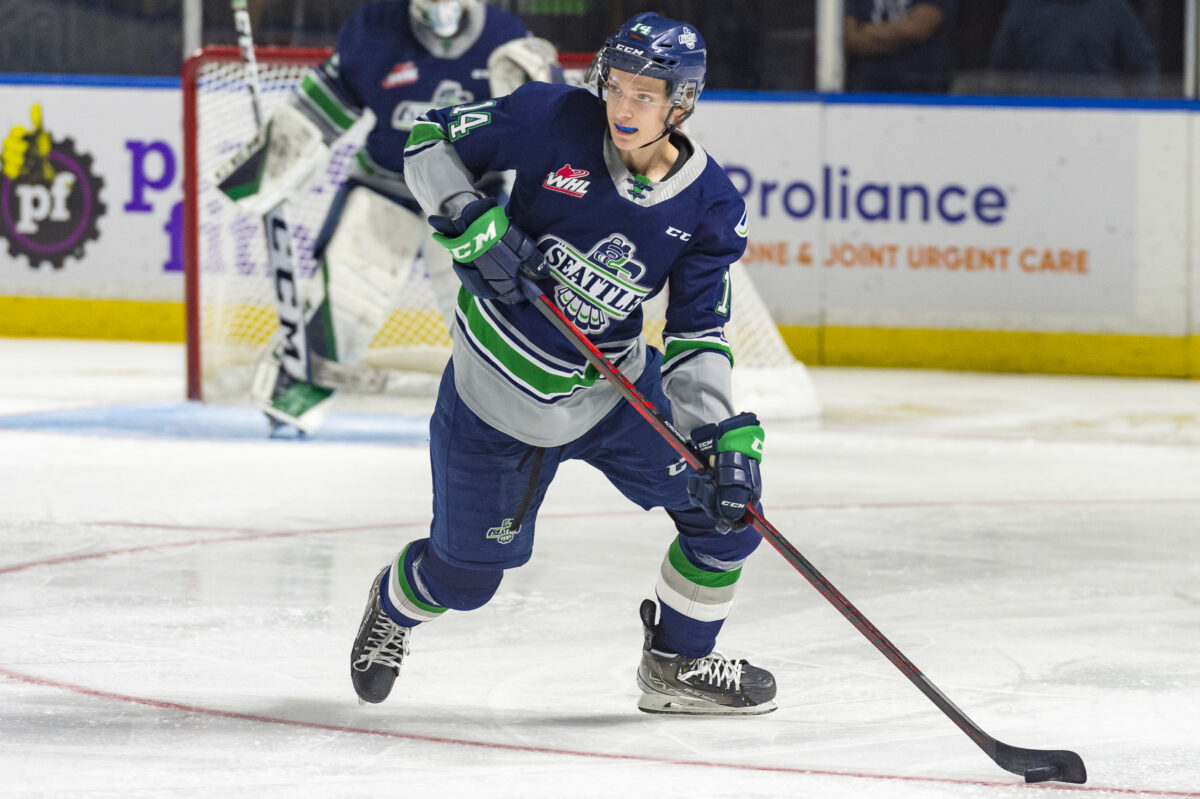 Aside from Korchinski, the next best defender is Sam Rinzel or Ian Mitchell. Rinzel isn't particularly offensive, and Mitchell is 24 years old and played 35 games for the Blackhawks this season. There is a need for an offensive defenceman, but not at first overall when a generational talent is on the board.
Chances of drafting Sandin Pellikka: Only have eyes for Connor Bedard.
Anaheim Ducks
The 2nd-overall pick belongs to the Anaheim Ducks, and they have the second easiest decision. If the Blackhawks select Bedard, the Ducks will take Adam Fantilli. If the Blackhawks surprise the hockey world and take Fantilli, then the Ducks will take Bedard. There is no losing scenario here.
Related: Top 5 NHL-Ready Prospects Available in the 2023 NHL Entry Draft
Unlike the Blackhawks, the Ducks have more firepower coming up through their prospect ranks. Pavel Mintyukov, Olen Zellweger, and Jamie Drysdale project to be the future of the Ducks' blue line. Mintyukov tore up the Ontario Hockey League (OHL) with 88 points in 69 games split between the Saginaw Spirit and the Ottawa 67's. Zellweger made his presence felt in the WHL this season, adding up 80 points in 55 regular-season games to go with 29 points in 14 playoff contests. Zellweger was also traded from the Everett Silvertips to the Kamloops Blazers before the deadline.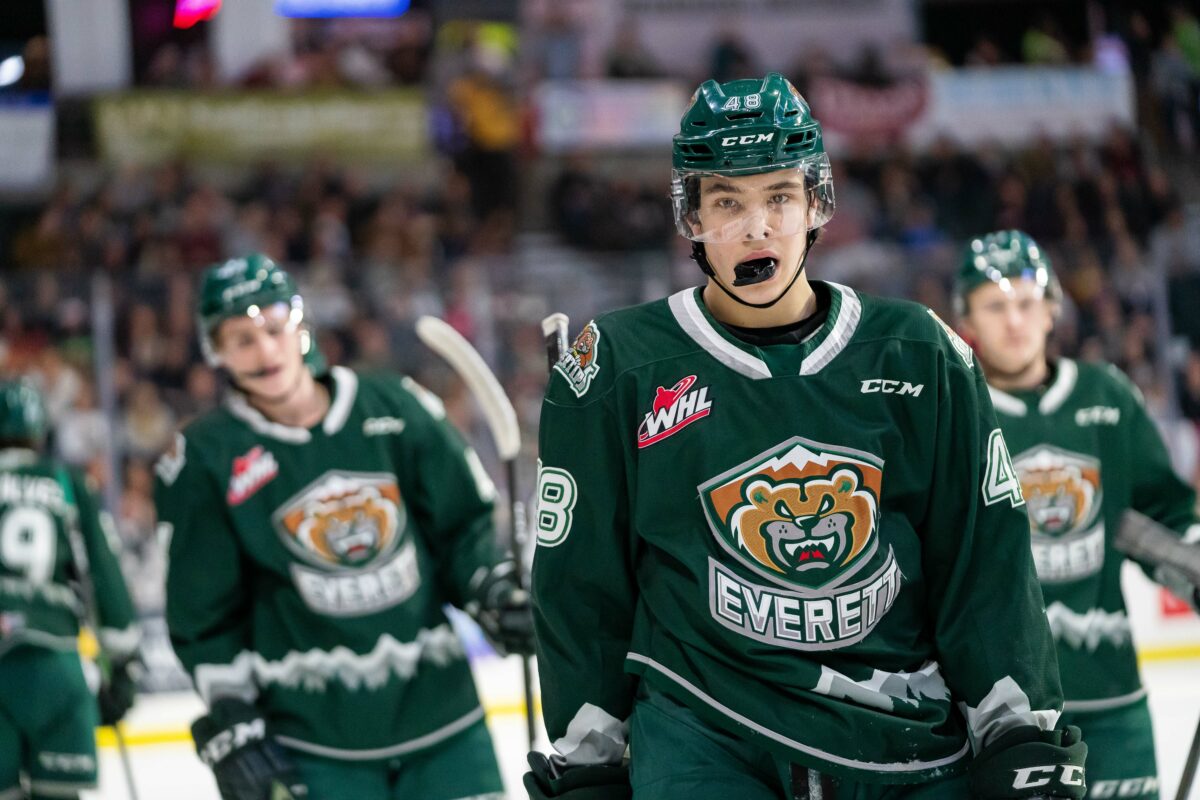 The future of the Ducks' blue line does not need another offensive dynamo (although it wouldn't hurt). So there is no real need to add Sandin Pellikka to the mix here. If the Ducks had more than one pick in the first round it might happen, but that's not the case at this moment in time.
---
Latest News & Highlights
---
Chances of drafting Sandin Pellikka: None, there is no need.
Columbus Blue Jackets
The Columbus Blue Jackets hold the 3rd and 22nd overall picks. In such a forward-heavy draft, it is unlikely they use their 3rd-overall pick to select a defender. In the 2022 Draft, they selected David Jiricek at 6th and Denton Mateychuk at 12th overall, respectively.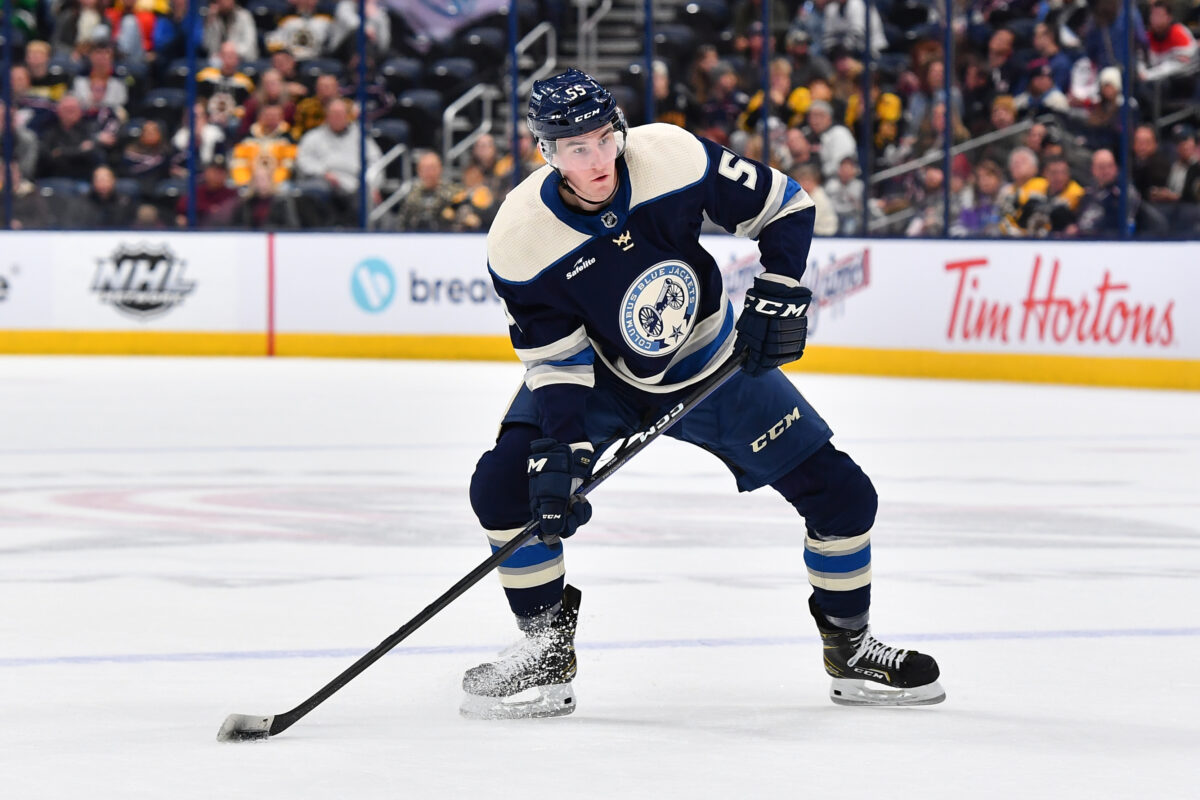 Jiricek impressed everyone with an American Hockey League (AHL) All-Star game appearance on the back of 38 points in 55 games. He also suited up for the Blue Jackets for four games averaging 18:04 of time on ice (TOI) in those contests. With a full summer of training and conditioning, plus the AHL and NHL experience he gained, it would be no surprise to see him win a spot on the NHL roster for the 2023-24 season.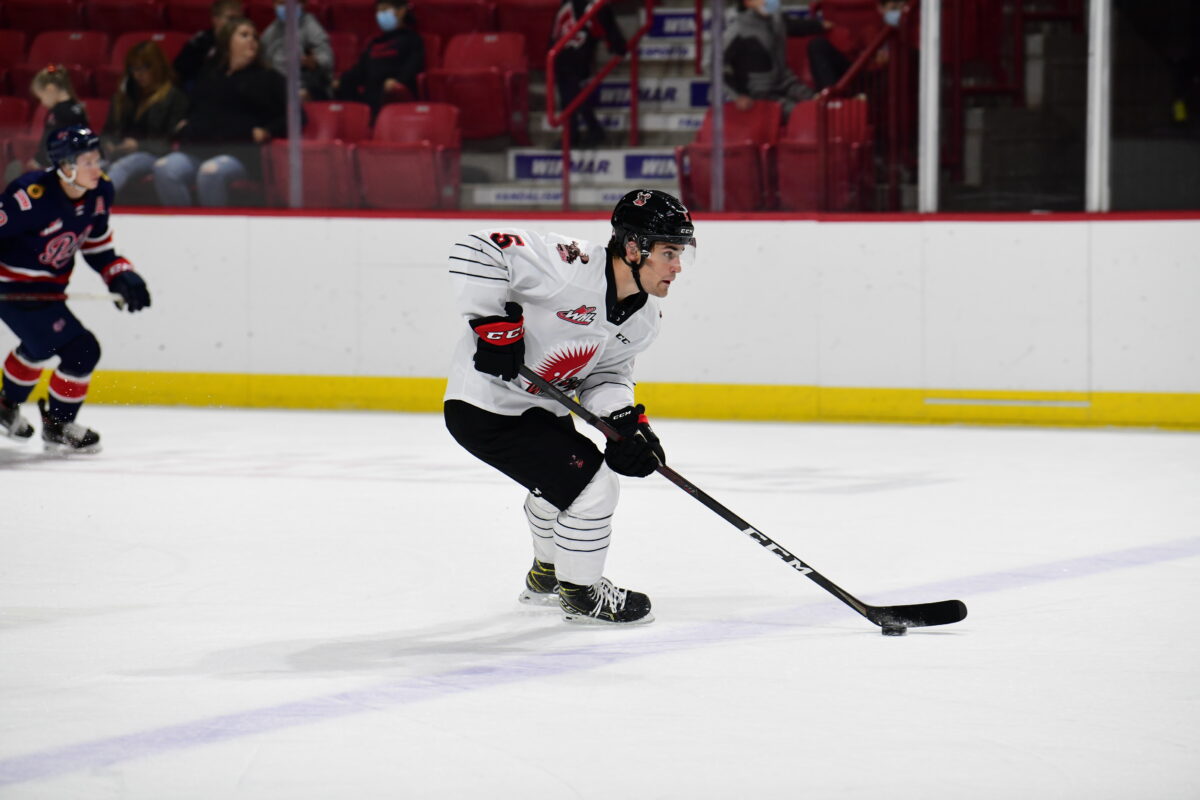 Mateychuk had another point-per-game season with the WHL's Moose Jaw Warriors this year. Serving as their captain, he led them to a postseason berth, despite not winning the championship. Mateychuk and Jiricek are not alone as far as defensive prospects go with Corson Ceulemans and Stanislav Svozil also in the mix. This is another team where their defense prospect depth where there is less room for Sandin Pellikka to make the NHL roster, but if he's still on the draft board at 22nd overall, they won't think twice about snagging him.
Chances of drafting Sandin Pellikka: None.
San Jose Sharks
The San Jose Sharks have the 4th and 26th picks in the upcoming draft, and they should be rebuilding, even if they haven't come right out and said it. Their best prospects on the blue line are Henry Thrun, Shakir Mukhamadullin, and Mattias Havelid.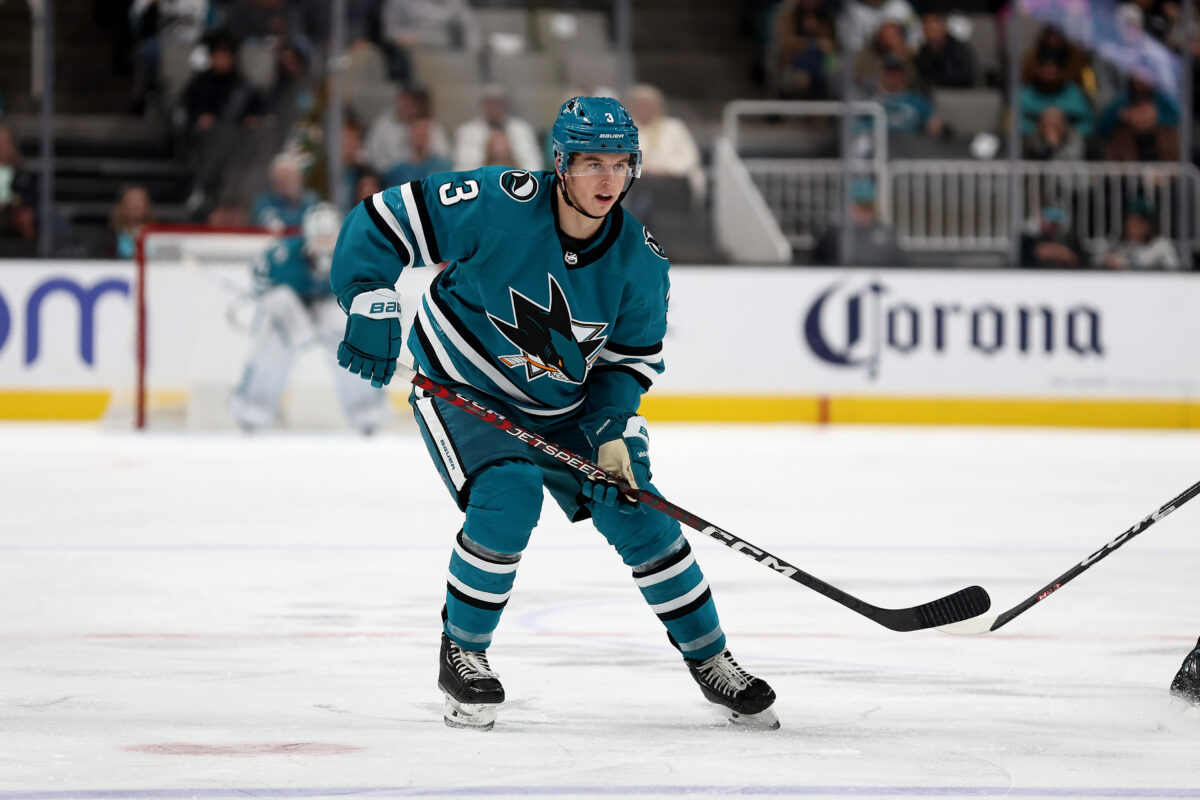 Thrun played eight games for the Sharks at the end of the season, with two assists. He was impressive in his third National Collegiate Athletic Association (NCAA) season, collecting 31 points in 33 games. Mukhamadullin had an equally successful season split between the KHL and the AHL. In Russia, he had 25 points in 67 games after scoring seven points in 34 games last season. He played 12 games for the Sharks' AHL affiliate, the San Jose Barracuda, where he produced 10 points in 12 games. The 6-foot-4 defender looks close to being ready for NHL action.
Havelid is further away from NHL action than the other two prospects, but like Sandin Pellikka, is a bit undersized. All three aren't blowing the doors open offensively, but there is a lot to like about these prospects.
Chances of drafting Sandin Pellikka: Slim, but if any team in the top five should do it, it's them.
Montreal Canadiens
The Montreal Canadiens have the 5th-overall pick, and the Florida Panthers' first-round selection (which will be between 29th and 32nd overall). The Canadiens are still rebuilding, so there is always room for prospects at any position, but they have one defensive prospect who could be a superstar.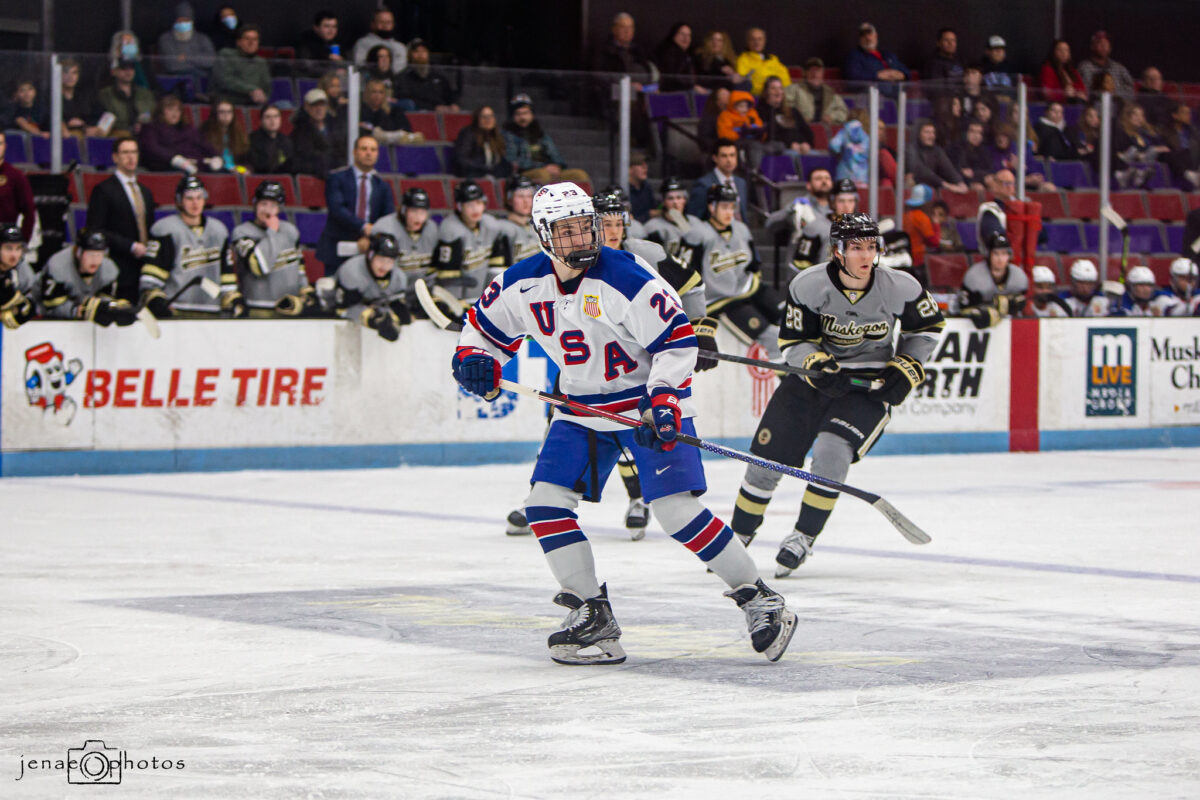 Lane Hutson had a fantastic NCAA regular season. He blew up with 48 points in 39 games. He broke the record for points in a single season by a defenceman, which was held for 35 years by Brian Leetch. There is always room for more than one star on a team, and given that Hutson is left-handed, they could use a right-handed offensive blueliner in their prospect pool.
Chances of drafting Sandin Pellikka: Slim.
Despite the high praises for Sandin Pellikka in this upcoming draft, it's tough to see any of these five teams actually select him that high. Stranger things have happened at the draft and we will have to wait until June 28 to see where Sandin Pellikka lands.