The Montreal Canadiens have one of the deepest prospect pools in the NHL, setting up for a future that could see them becoming a serious competitor. The one knock against them is that their cupboards are full, but no player possesses superstar potential. That is until Lane Hutson joined the fold.
Related: Canadiens Must Consider 3 Offseason Options With Mike Hoffman
In 2022, Montreal drafted Juraj Slafkovsky first overall before taking Filip Mesar 26th and Owen Beck in the second round, at the 33rd spot. Nearing the end of the second round, the Canadiens selected Hutson 62nd overall, making him the first defenseman taken by the team. Undersized but offensively talented, Hutson has quickly shot up the ranks as one of the most promising defensive prospects in the league.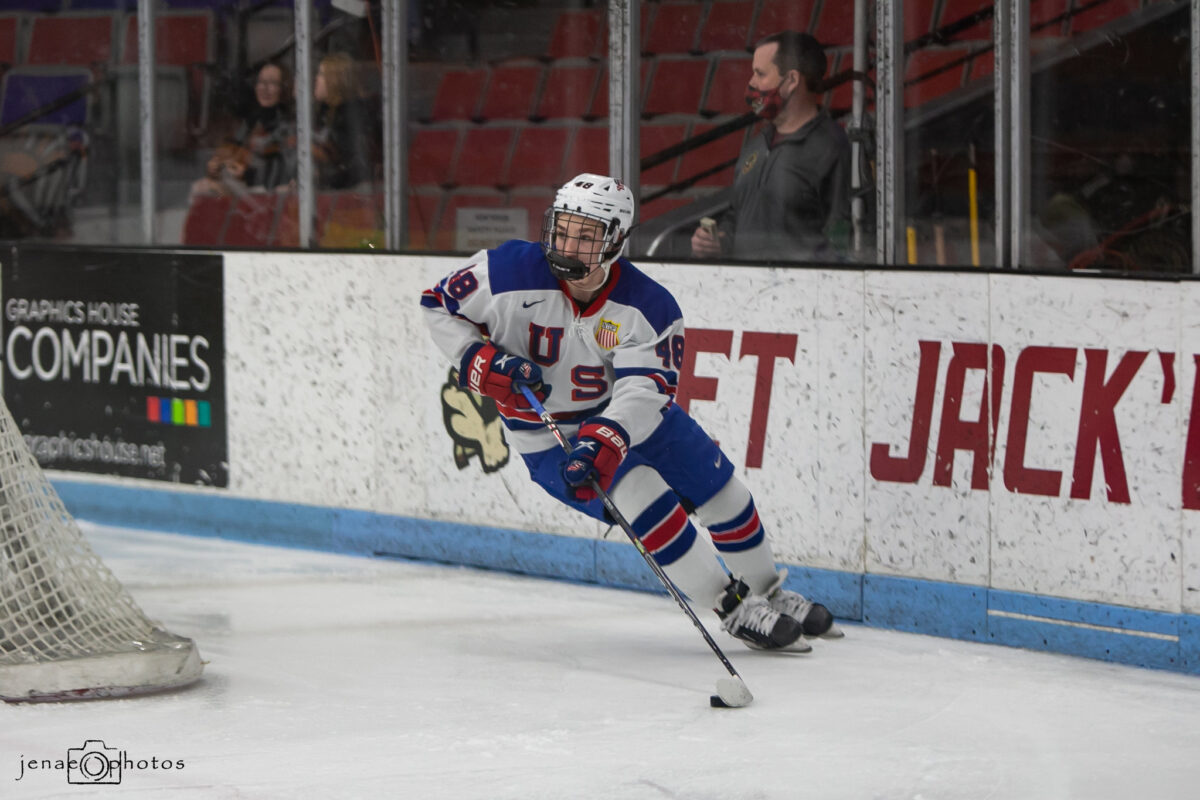 If the IIHF World Hockey Championship is a window into the Canadiens' future on the blue line, fans should be ecstatic about what they're witnessing. Hutson has the ceiling to stand out among the mix of young and promising defenders already established. He may be the biggest star on Montreal's blue line since P.K. Subban.
Hutson Making an Impact with Team USA
As part of Team USA's roster, Hutson is the youngest defender and one of only two players under the age of 20. Standing at 5-foot-10, he's also one of the smallest, but his play in five games has made him appear larger than life. Leading all defensemen on the team in points with four in five games, Hutson has showcased high-level play at both ends of the ice, regardless of whether the puck is on his stick or not.
Canadiens fans would prefer to see Hutson in control of the puck, as his shifty skating allows him to dodge opposing players while his acceleration leaves them in his dust. It's as clear as day that he has the potential for game-breaking play, and his set of tools that combines speed, a high-level IQ, and offensive awareness makes him a unique talent. Arguments of him being too small or skinny are quickly fading as it becomes evident that he has all the makings of a star.
Canadiens Eric Crawford Knew Hutson's Potential
Scouts have an incredible job of traveling around the globe in hopes of finding diamonds in the rough, but it takes a keen eye, deep knowledge of the game, and an incredible hunch to select them. Canadiens' director of pro scouting Eric Crawford may be the one to thank for Hutson's draft, as he couldn't say enough good things about the American blueliner. A tweet went viral of Crawford discussing Hutson as a prospect and declaring how much he believed in the youngster.
---
Latest News & Highlights
---
"In professional hockey, the percentage of defenseman that do what he does is extremely rare," Crawford said. "In our prospect pool, there is no one." Crawford couldn't be more right, as the Canadiens' depth of defensive prospects contains many notable names but none that compare to the projected potential of Hutson. "Each team that is a contending team in the National Hockey League has this player."
Who is "this player" exactly? Think of Cale Makar, Quinn Hughes, and Adam Fox, all young defensemen who stepped in and immediately impacted their team's growth. The Canadiens discussed taking Hutson in the third round, but plans changed, and they scooped him up earlier than expected. His size may have affected his draft position, as it did with Cole Caufield in 2019, but Canadiens management is hoping that he's another example of why it's time to put that criticism to rest.
---
---