With the Draft Lottery in the rearview mirror and the 2023 NHL Entry Draft rapidly approaching, many non-playoff team fans are looking at which draft-eligible players would be the best fit for their team. Some fans want grit and size, while others want speed and finesse. All of these attributes are great to have in prospects, and even better if a single player embodies all of these qualities.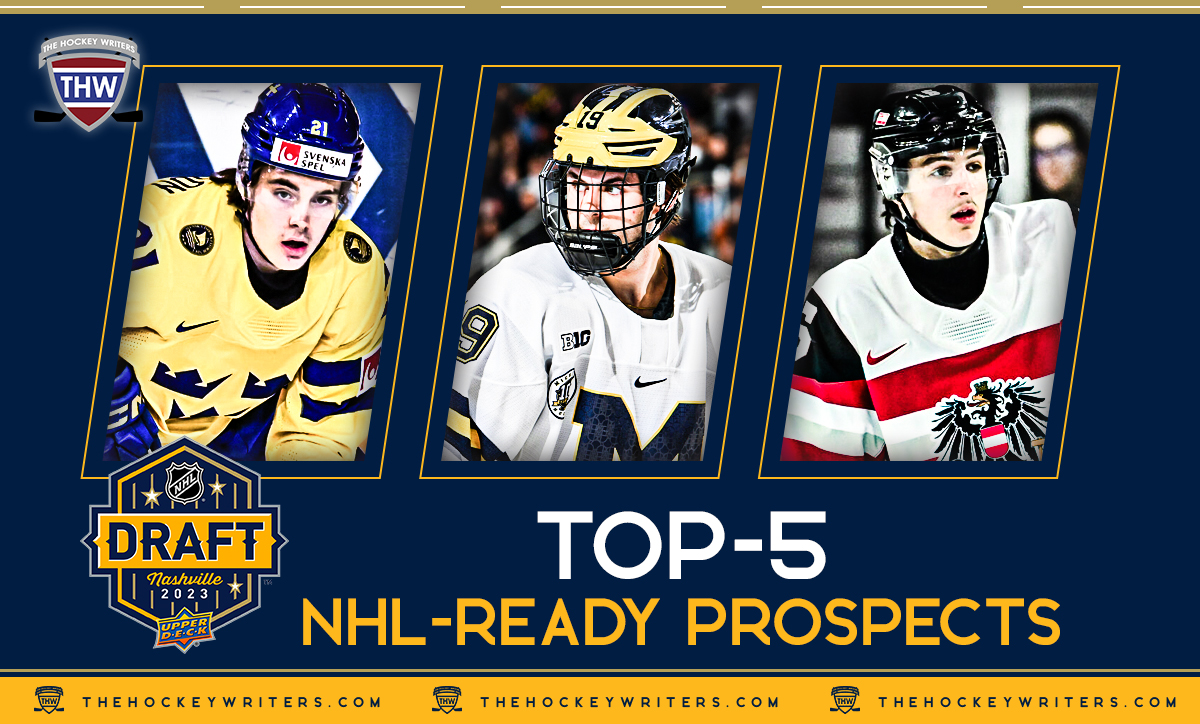 But who of these fine young men available will be able to jump into the NHL immediately and make a strong impact? I believe these five players can play for an NHL club in the 2023-24 season. Some will be able to pitch in 50-60 points, while others will have fantastic defensive habits that will appeal to their team's coaches and earn them a spot on the opening night roster. Of course, none of these are guaranteed, as anything can happen. I will list them in order of how NHL-ready I believe they are, however, the top three in this list are interchangeable, and each player brings something to the table.
5. Brayden Yager – Center
Brayden Yager has two defining attributes to his game, his shot, and his defensive awareness & positioning. While his shot is something that any NHL team would love to have on their roster, it's his defensive prowess that will earn him a roster position on opening night. Yager is a legitimate two-way threat who fits the mold of a Phillip Danault or Bo Horvat type of player.
Related: THW's 2003 NHL Draft Guide
---
Latest News & Highlights
---
Yager could find himself filling the role of third-line center very comfortably right out of the gate. Because of his eligibility to play in the WHL once again, it's highly probable that the team that selects him opts for that route instead. I think that would be a mistake, as his defensive play is at a high enough level to impress most NHL coaches. If Yager is put on a third line and given the easier quality of competition to play against, he could excel in that role and come out of the year with 30-40 points.
4. David Reinbacher – Right-Handed Defence
There is no other defender who is immediately ready to step into the NHL from the draft room floor than David Reinbacher. His combination of size, handedness, defensive IQ, and offensive contributions are tough to ignore. All of these tools combine into a package that could see him be the first defender taken off of the board in Nashville.
Reinbacher has enough offensive IQ to anticipate when to make timely pinches when to go down low to become a viable passing option, and when to straddle the blue line and get a shot to the net. He is reliable defensively and played his entire draft year in the National League (NL). The NL similarly to other European Leagues features rosters primarily made up of other men. These men are a combination of career European players, former NHLers, and other young prospects like Reinbacher. While his physical maturity and defending will help him break into the NHL, don't sleep on his offensive potential. Reinbacher isn't flashy, but the last NHL defender to come out of this league was Roman Josi and Reinbacher tallied 14 more points than Josi in 11 more games played.
3. Leo Carlsson – Center
The Swedish Hockey League (SHL) has birthed many NHL stars and Leo Carlsson could be the next one. He's a center with a nose for the net. Carlsson's best attributes are his playmaking ability and drive to get to the net with the puck on his stick. He's very much similar to Logan Cooley in that respect from the 2022 Draft Class.
Related: 2023 Draft Eligible Leo Carlsson Is NHL Ready
Carlsson will stick with the NHL team that picks him if they require his playmaking services in their top six. He has elite passing skills, with a knack for finding open teammates. Carlsson has played 79 games in the SHL over the past two years and the experience of already playing against grown men in that span of time will give Carlsson a leg up on other draft eligibles.
2. Connor Bedard – Center
Connor Bedard is a generational talent and will (more than likely) go first overall at the 2023 Draft in Nashville. He will be an elite player at the highest professional level either out of the gate (like Connor McDavid) or a few years into his career (like Jack Hughes). Regardless of the outcome, the team that drafts him is getting a special player.
Bedard has the puck skills of McDavid and the shot of Austin Matthews all wrapped up in a single package. He has a slight frame than those NHLers at 5-foot-10 and 185 pounds. What he lacks in size, he makes up for with amazing skill and vision. But the last player on this list has the size and physical maturity that puts him at number one on a list focused on NHL readiness.
1. Adam Fantilli – Center
The (probable) second-overall pick can do it all. Adam Fantilli can skate, shoot, hit, and make plays. His high hockey IQ helps him make solid reads and create plays out of nothing. Fantilli is highly competitive, which will earn him a spot on the opening night roster.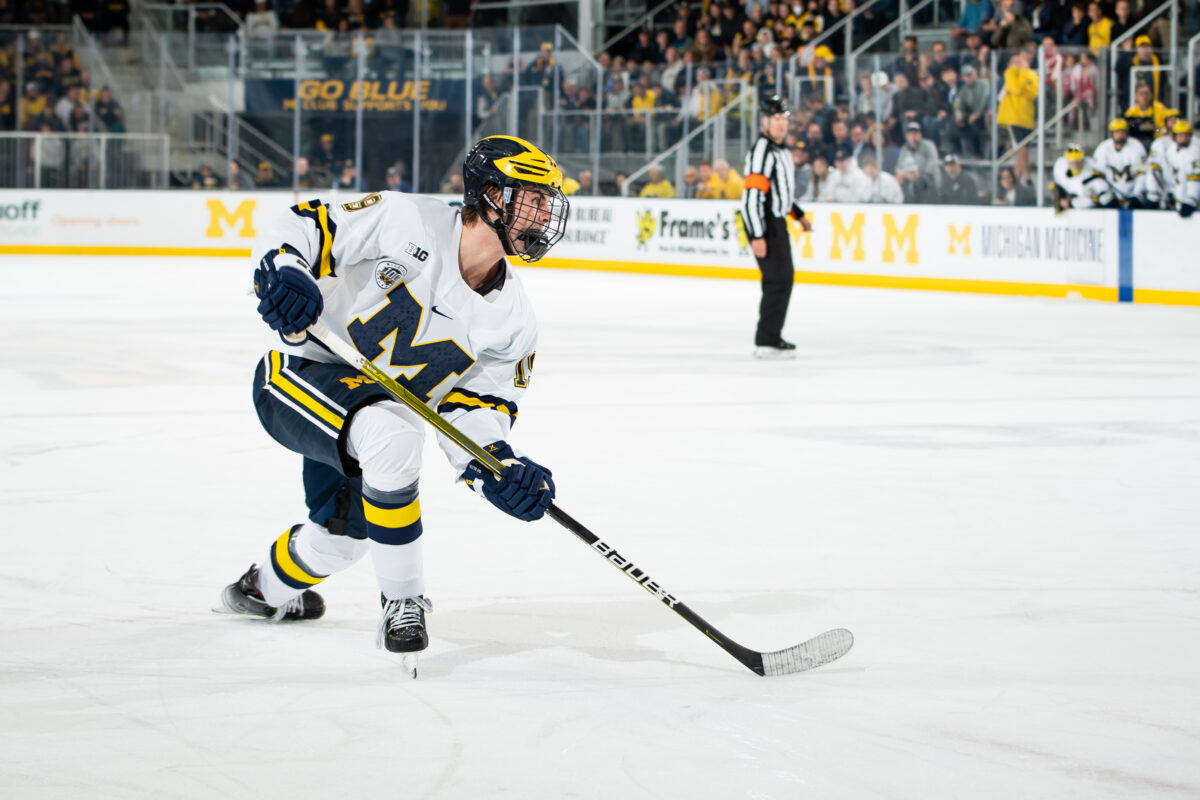 Fantilli is hardly a consolation prize in this draft. The entire package he possesses would make him a first-overall selection nine times out of 10. Fantilli will immediately slot into a top-six role. That line should get softer matchups than the top line and do very well offensively.
Fantilli, Carlsson, and Bedard have skill for days, while Yager and Reinbacher have the defensive chops to cut their teeth into the NHL next year. In a draft with a high-end skill level, such as this one, these five players have the best chance of joining the NHL team that drafts them.
---
---