Heading into an elimination Game 4 where the Toronto Maple Leafs are on the verge of going home from this season's playoffs, there is a ton of emotion floating around Leafs Nation on Wednesday. Sean McIndoe of The Athletic called it the "end of an era", while Elliotte Friedman said he was told "anything can happen" if the Leafs lose. Mitch Marner is villainizing the media, Sheldon Keefe is stacking his stars on the same line and putting the pressure on them to finally get it done, and fans are worried about what happens in the city if the team flops hard out of a second round they waited so long to see their team see finally compete in.
Related: With Joseph Woll in Goal, Maple Leafs' Future Is Now
At this point, the doubt is real and the anger is bubbling over. The game hasn't even happened yet and there's a major sense of frustration surrounding this team, with many already calling for heads to roll.
Only One Thing Saves This Maple Leafs Core
Falling short of a comeback to eliminate the Panthers from the second round, there is little, if anything that keeps this group of players together next season. Sure, we've heard this all before. The Leafs have had multiple disappointing playoffs and fans have called for the core to be broken up. It hasn't happened, so why would this be any different?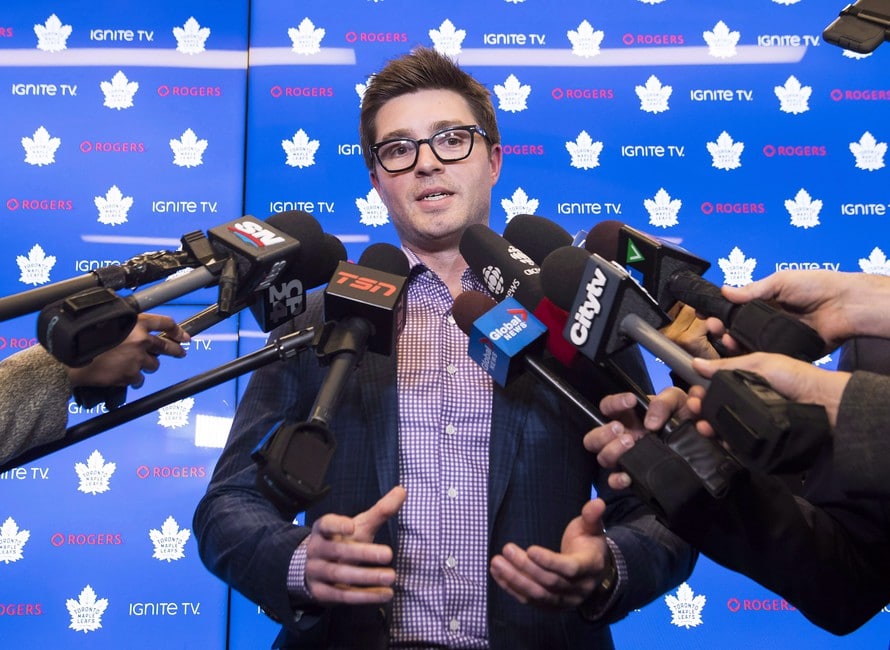 According to Friedman, this is the first year in which so many contracts are coming due or in their final year that the organization will have no choice but to make those decisions they've hesitated to make or failed to make in the past. This is the first year where the Leafs can't really push off big decisions and kick the can down the road. Tough calls have to be made and some players will have to go.
At this point, only winning four games in a row and getting to the Eastern Conference Final gives the organization the right to say, 'We like this team, we believe it has the makeup to win a Stanley Cup.' Losing means it doesn't, plain and simple.
Big Decisions Have to Be Made Regardless
Whether the Leafs win or lose, there are pressing decisions the organization will need to make. When it comes to coaching and management, GM Kyle Dubas doesn't have a contract for next season. He'll need one and what happens in this series could dictate what MLSE or Brendan Shanahan (if he's still in charge) decides to do. Sheldon Keefe has a deal that runs through to the end of the 2023-24 season. While the Leafs have learned from the firing of Mike Babcock and don't like to fire coaches with term left, Keefe is in a window now where one more season on his deal won't save his job if a change feels needed.
Both earned some goodwill with their first-round victory over Tampa Bay. Now, a sweep could mean that both guys go.
---
Latest News & Highlights
---
On the ice, Alex Kerfoot, Ryan O'Reilly, David Kampf, Noel Acciari, Michael Bunting, Wayne Simmonds, Zach Aston-Resse, Justin Holl, Luke Schenn, and Erik Gustafsson are all pending UFAs, while Ilya Samsonov is a pending RFA. Every player's future on this team could depend on what happens Wednesday night. For Samsonov, he won't even have a say if the Leafs lose as he's not well enough to play.
Meanwhile, Auston Matthews has only one more season on his deal and can't likely head into next year with the uncertainty of a long-term extension looming over the player and the team. If he fails to produce again when the Leafs need him most, is Toronto really prepare to give him what could be the biggest contract in the NHL? The same goes for William Nylander. Do the Maple Leafs have faith that he's consistently the guy who shows up and wows everyone? Or, is he the player who disappears for two periods before finally turning on the jets? Next season is the final one on his current contract and a big raise is coming if the Leafs feel he's the guy.
The Fans Have Run Out of Patience
With all of these players, the fans have been waiting and watching. In some cases, they've grown tired and there's a real lack of goodwill that these names will ever do more than they've done in the past, which is show up one game late and only in the regular season.
Frankly, only one thing might be worse for Toronto than a four-game sweep. That would be winning decisively on Wednesday in Game 4, then coming home and wetting the bed in Game 5. To do so in front of hometown fans will mean the anger and frustration will do more than boil over. This fan base would potentially explode.
One or two wins just won't cut it now. The Maple Leafs need to win four in a row to save this core.