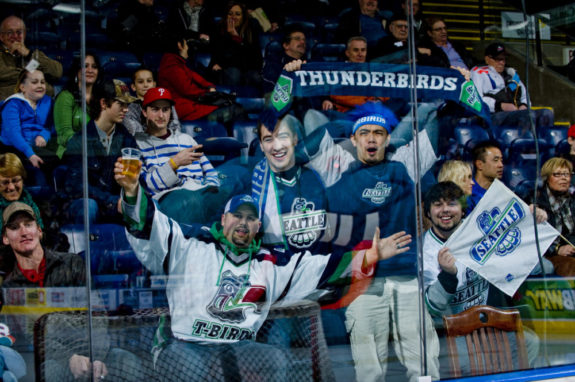 With reports of the National Hockey League relocating the Phoenix Coyotes to Seattle, concern has risen for one of the Canadian Hockey League's western markets.
The Seattle Thunderbirds have been a weak team on the ice in recent years. But with incoming elite talent such as Mathew Barzal, Seattle is now looking to make the playoffs for the second straight season.
Their only potential problem: the NHL.
Everyone familiar with hockey knows the Coyotes are in a pile full of manure  in terms of where they stand at the moment, but their issues aren't on the ice. An unstable ownership situation has led to tonnes of relocation talk.
Seattle has now taken over the lead in the race to be the Coyotes' new home.
Chris Daniels of KING-5 TV has pointed out that Seattle does indeed hold the right cards to bring in an NHL team very quickly.
The team would have to play at Key Arena, which would only seat roughly 11,000 for hockey. (Daly has indicated in the past that it would be a suitable short term home for a franchise.

Deborah Daoust, a spokesperson for Seattle Center and Key Arena, said Tuesday night that the ice making equipment and chilling system are still operational and have been used in the past for events like the Ice Capades and Disney on Ice. However, she said there had been no discussion, that she was aware of, concerning use for a hockey team. The arena recently freed up the dates that were held for an NBA franchise.
That all sounds fine. But does that mean the Thunderbirds are about to lose their market?
Those in the loop in the Seattle area are confident Washington can support both teams.
@WHLFromAbove Seattle WHL franchise in trouble if this happen ?

— Jérôme Bérubé (@Jerome_Berube) June 16, 2013
@WHLFromAbove @Jerome_Berube I think both Seattle and Everett would be fine with NHL here. — Andy Eide (@AndyEide) June 16, 2013
@Jerome_Berube @WHLFromAbove shouldn't be, T-Birds play in Kent, which is like 20 miles south of Seattle. NHL team would be in city center.

— Dan Shrader (@ShraderD) June 16, 2013
All settled? Not quite. However, with those such as Eide knowledgeable about the situation, the T-Birds should be fine for at least another playoff run.
Jeff Angus wrote about hockey in Seattle in September. Given their passion for pro sports, Angus said that the average fan would be surprised to hear about the large amount of hockey supporters in the northwest state.
For now, the Thunderbirds are expected to stick to their guns and keep their wings in motion. There's even a chance NHL relocation could increase northwestern CHL attendance.
Frankly, the Thunderbirds should want an NHL team in their area. It could be great for fans, provide player motivation, and has the potential to drive revenue. The flip side of the coin is negative, as unfortunately, opposite effects could be felt as well.
It would be a trial and error scenario, but with coyotes on the ground, there's no reason for birds to not remain in the air.
________________________________________