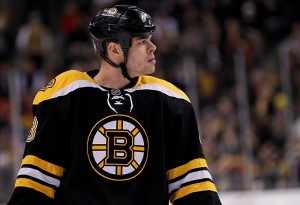 With anywhere between three to five games left in the 2013 season remaining, Montreal Canadiens brass has undoubtedly began planning what moves to make in the off-season to better their club. The changes will begin on June 30th at the NHL entry draft and continue with possible trades leading up to free agecny which begins on July 5th.
Free agency seems to be the most likey way the team will make changes aside from the draft. Unless GM Marc Bergevin trades one or more of his multiple draft picks, the Habs don't have very many tradeable assets that could fetch a valuable return. Defenseman Yannick Weber could bring back a late draft pick at best but other than him the Canadiens roster is full of core players, prospects or players past their prime or too banged up to garner any attention around the league.
There are a few players about to hit the market who could help the Habs, and today I'm going to focus on one in particular. Nathan Horton of the Boston Bruins.
I'm not Horton's number one fan seeing as how he is on the Bruins and has adopted the typical Bruins mentality of "everything we do is fine and the rest of the league are a bunch of dirty players and divers". Horton is also one of the last players who I could see coming to Montreal by choice seeing as he has never been one to enjoy being anywhere in the vacinity of Norris Trophy winner, P.K. Subban.
At the end of the day however, money talks. If Bergevin made the right offer it wouldn't be the most shocking signing in hockey history if Horton became a Hab. Horton is on the last year of a six year $24 million deal he signed in 2007-08 with the Florida Panthers with an annual cap hit of $4 million. In those six years, he tallied 125 goals and 147 assists for 272 points in 383 games. During that time, Horton also accumulated 346 penalty minutes and a +39 rating.
As for playoffs he notched 17 points in 21 games in 2010-11 when the Bruins *shudder* won the cup and is currently second in scoring with 18 points in as many games while leading the league with a +22 rating.
His success in these playoffs assures two facts. One being that the Bruins will do what they can to re-sign him, and seeing as how he has one Stanley Cup ring and a second Stanley Cup final appearance in the three years he's donned the black and gold he may lean towards staying in Beantown. Secondly, he's looking to make more money on  his new contract.
After buying out Tomas Kaberle, the Canadiens will have some money to spend, it's just a matter of how much they would be willing to give to Horton who plays a rough game and has had injuries in his past. In game one of the 2011 Stanley Cup Finals he suffered a concussion and missed the remainder of the series. Horton also left early in game one of these Stanley Cup Finals but returned for game two.
Horton may be worth the risk if signed to a three to four year contract at $5 million. He is only 28 years old and adds size with his 6'2″ 229 pound frame. Players with his size and skill aren't easy to find and so Bergevin should jump on the oppurtunity to add him to the roster.
Writer for www.HabsAddict.com, MontrealHockeyTalk.com and TheHockeyWriters.com