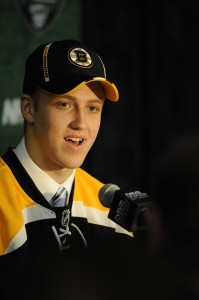 Defenseman Dougie Hamilton returned to the Ontario Hockey League's Niagara IceDogs Sunday night when they visited the Oshawa Generals following a 10-game suspension. The Boston Bruins prospect, drafted ninth overall in 2011, was suspended after hitting Michael MacDonald of the Sudbury Wolves in the head during a game on January 13, with Hamilton receiving a four-minute double minor on the play. MacDonald, the Sudbury captain, remains out indefinitely  with a concussion.
Hamilton played well in his return, recording an assist on each of Niagara's first two goals and finishing the game with a plus-1 rating to bring his season totals to 13 goals and 39 assists for 52 points and a plus-20 in 35 games. He also picked up a two minute minor for interference at the end of the first period, bring his season PIM total to 43.
Even with the 10-game absence, Hamilton remained the highest scoring defenseman in the OHL and now has a four point lead over Cody Ceci of the Ottawa 67's despite playing 14 fewer games.
Elsewhere in the OHL, the 67's will spend the 2012-13 and '13-14 seasons sharing Scotiabank Place with the NHL's Ottawa Senators as their arena, the Ottawa Civic Centre, is renovated as Lansdowne Park, a 40-acre sports and entertainment facility, is redeveloped.
There are some concernes the 67's will lose some fans to the Quebec Major Junior Hockey League's Gatineau Olympiques as noted on Yahoo! Sports Canada. The Olympiques play at the Robert Guertin Centre, just 4.5 miles (7.2 kilometers) away from the Ottawa Civic Centre right across the Ottawa River separating Ontario and Quebec. Meanwhile, Scotiabank Place is 15.7 miles (25.3 kilometers) down King's Highway 417. The distance isn't much, although traffic on the 417 does have to potential to make the commute even longer.
Jeff Hunt, owner of the 67's understands the concern, but believes team loyalty will keep the fans coming regardless of where they play. As Hunt said in the article:
I'm sure there's a very small minority of people who go to Gatineau games, just like I'm sure there's a small minority of Gatineau fans who come over to the odd 67's game. For the most part, our fans are very, very different. They're not the same people. People go to watch their team play because they're a fan of that team. I don't think you can just instantly change your affiliation because it's a 15- or 20-minute longer drive than what you're used to.
The 67's are currently leading the East Division and are second in the OHL's Eastern Conference with a 33-14-5-1 record for 72 points.