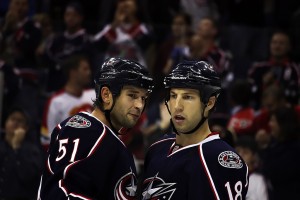 Tonight the Columbus Blue Jackets dropped a 5-3 decision to the Anaheim Ducks at the Nationwide Arena. It was their 16th home loss in the 2011-12 season and 35th loss overall. Through 57 games played, the Blue Jackets have managed to muster up just nine wins at the Arena District and the home woes continued this evening.
To the ice we go, where Anaheim Ducks forward Corey Perry found the back of the net under a minute into the game for his 24th tally of the season. Columbus was looking for the fast start at home, but certainly paid the price early on.
A little over midway through the first period, Corey Perry would score again, this time on the power play giving the Ducks a commanding 2-0 lead.
Columbus would find the score sheet though with under three minutes to go in the 1st as defensemen Fedor Tyutin buried his fourth goal of the season on the power play. Forwards Jeff Carter and Vinny Prospal picked up the helpers on the goal.
Things spiraled downhill quickly in the second period as the Ducks added two goals in the first three minutes. Forward Jason Blake picked up his fifth goal of the season and Bobby Ryan added his 21st. It was Corey Perry's hat trick goal though that stung the most and put the Ducks ahead by a four-goal margin.
"It's just the way it bounces, I guess," Perry said. "I had a lot of shots. They were bound to find a way in. I played with a couple good linemates tonight, too. They were finding me. We had a lot of chances together."
Things started to heat up as Blue Jackets forward Derick Brassard exchanged punches with Ducks defensemen Lubomir Visnovsky. Visnovsky received two minutes for roughing, five minutes for fighting and a game misconduct. Brassard served five minutes for fighting.
The Blue Jackets added a late second period goal off the blade of defensemen Aaron Johnson. Johnson's third goal of the season had helpers from defensemen James Wisniewski and forward Derek Mackenzie. The Jackets trailed 5-2 heading into the final 20 minutes.
Antoine Vermette hit the score sheet at 5:27 of the 3rd period to give the Blue Jackets another power play goal. Assists from Rick Nash and Fedor Tyutin on the play. It was the lone goal of the third period though, as the Blue Jackets fell 5-3 to the Ducks and 16-35-6 on the season.
"We were given a bit of a clinic by 15 (Getzlaf), 10 (Perry) and 9 (Ryan) tonight, especially on their power play," Columbus interim coach Todd Richards said. "They executed extremely well and we made some mistakes and then ended up paying for them."