December 30th, 2013 is a day Nic Petan won't forget anytime soon. He was the hero for Team Canada at the World Junior Championship and hours later agreed to his first NHL contract with the Winnipeg Jets.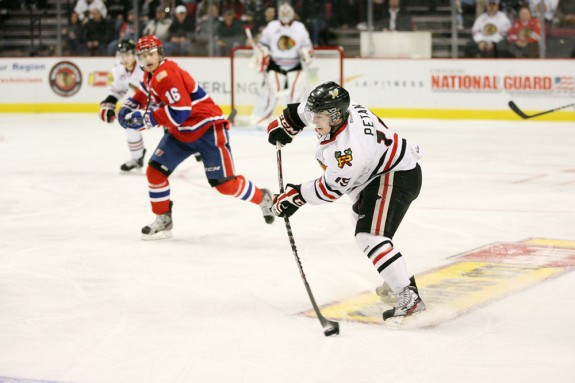 Canada was trailing Slovakia 3-2 heading into the third period and Petan already had one assist from Curtis Lazar's goal in the first. After Jonathan Drouin scored late to tie the game, Canada appeared to be headed to overtime for the second consecutive game. A late power play opportunity changed that.
Petan showed great patience at the side of the net, stickhandling and waiting for a Slovakian defender to take himself out of the play. Petan made no mistake shooting low, blocker side to give Canada a 4-3 lead. Minutes later he would finish things off with an empty netter, giving him three points in the game and four for the tournament.
Jets prospect Nic Petan on his game-winning goal: "It felt amazing. There's really no words to describe it."

— Mark Masters (@markhmasters) December 31, 2013
Later in the day word got out that Petan and the Jets had agreed to a three-year, two-way, entry-level deal worth $925,000 per season (per TSN.ca). The Jets selected him in the second-round, 43rd overall in the 2013 NHL draft.
Petan is an incredibly gifted offensive player. He has great speed, stickhandling ability and a very quick release. His passing and playmaking skills are impressive as is his hockey sense. The knock on Petan is his size. The 18-year-old is 5'9″ tall and weighs just 173 pounds. In order to make an impact in the NHL he will likely need to bulk up considerably.
His small stature hasn't prevented him from dominating with the Portland Winterhawks. With 46 goals and 74 assists for 120 points, Petan finished tied with teammate Brendan Leipsic for the most points in the WHL last season. In 32 games this season he's racked up 20 goals and 46 assists for 66 points, the second most in the league.