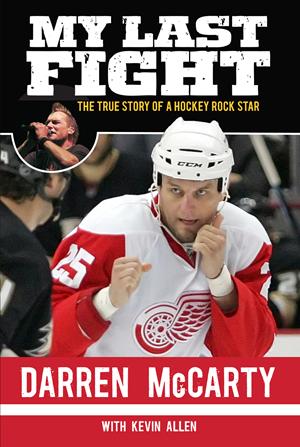 When hockey fans drive their way to watch games every night throughout the winter they are often drawn to the arena by a simple love of watching goals, fast paced action, amazing saves, or in some cases fighting.  For those that loved watching the fighters and hard nosed players, who love to go in to the corners there were few who were as appealing to watch as Darren McCarty.
For parts of 15 different seasons Darren McCarty lined up for the Detroit Red Wings and the Calgary Flames with the intent of pummeling his opponent.  Of course as a player that was not especially skilled with the puck or a flawless skater, McCarty became accustomed to this role, and after playing 758 games, picking up 1477 penalty minutes and winning four Stanley Cups, it can be said the enforcer had a magical career.
[Also: More Hockey Book Reviews]
But while this was all going on in the thick of the action, and as people saw the hard nosed and rugged maniac who was afraid on no one, McCarty was still a real person with real problems.  In the book My Last Fight: The True Story of a Hockey Rock Star
the former Red Wing (with the help of Kevin Allen) takes a look at his on ice exploits and the issues that he faced both within locker rooms and off the ice.
Focusing on Hockey
Throughout the book Darren McCarty takes you through his life as a hockey player from being a youngster in bantam and junior hockey, through minor league hockey and finally into the pros.  As a youngster McCarty was a sort of hot-shot prospect, leading nearly every team he played on and being the guy that would be looked at to score goals.  In fact he was so good–or at least he thought–that in his final year of junior hockey with the Belleville Bulls he led the Ontario Hockey League in goals and was going to be a stud moving foward.
But once McCarty entered the realm of professional hockey things began to change, and in a very vast way.  During his first professional year with the Adirondack Red Wings of the AHL he sated the team was amongst the toughest of any team, in any league throughout the world.  The experience of playing with this team set up the sort of grinding, tough nosed player that the forward would become known as for the entirety of his NHL career.
Moving forward McCarty continues to talk about the experiences of each season, in terms of on-ice performance, dealing with management, and best of all dealing with teammates.  Throughout the book he describes real life experiences with people throughout the organization that made him loved being a professional hockey player, but nothing made him love the game more than being around the ocker room.  To that extent one will see in the book that he is a sort of adrenaline junkie, brought on by the love of the masculinity that one experiences in a sporting locker room.
"Every day,  (Slava) Kozlov would walk into the dressing room and I would say, 'Good morning, Koz.' 'F**k you Mac,'he would reply. That's the NHL version of love and affection.  Every retired player tells the same story: they miss the dressing room camaraderie more than they miss the on-ice competition.  what I miss is being around the guys.  In all the years I played, I don't think there was a single teammate that caused me any long-term anger. (p.43)"
Darren McCarty's Off Ice Struggles
As a lifelong hockey player, who made their money based on the act of violently pummeling people, and taking hits to his own head, few would expect Darren McCarty to have no effects from his career. After all he was a fighter by nature, and it is impossible to see how anyone that made a living off of hitting people would not take home a few headaches and be a little anger.  For those that may think he has post traumatic stress disorder, anger issues, or both and a boatload of other issues, McCarty is here to tell you that you are right, and by a long shot.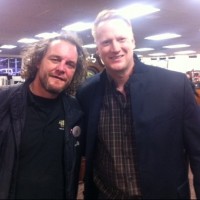 "After I quit, my life became a week-long party.  At the time, I was living in a townhouse in Troy, Michigan.  My neighbors didn't much like me beause my lifestyle wasn't suitable for family viewing.  They didn't like the hours I kept. (p.186)"
Possibly most comforting of all about the book is the way that McCarty describes the way that his hard partying lifestyle effected his relationship with his wife Sheryl and the rest of his family.  Whether it be the time she walks in with him and another junkie taking narcotics, her finding out about his numerous affairs, or dealing with him losing all of the money and fame, there is something surreal about the story that McCarty tells in the book.
Should I Buy the Book or Not?
At the end of the day My Last Fight: The True Story of a Hockey Rock Star is a must read book for anyone who is interested in hockey, substance abuse issues, or any combinations of the two.  Darren McCarty–in conjunction with Kevin Allen– takes a very human and real look into the struggles that are associated with being a famous hockey player that has very private issues.  Whether you like McCarty, the Red Wings or fighting in hockey at all, this is a book that will make you reconsider your perceptions of people and truly make you think about life.  To that extent, I would say everyone with a few bucks to spare should go out and purchase this book.