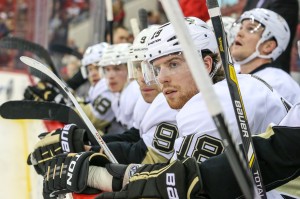 James Neal is the best left wing playing in the league. He's the newest forward to hit elite sniper status in the NHL with 14 goals in 21 games this season. This includes a hat-trick and the first five-point game of his career against the Columbus Blue Jackets on Sunday. There's no questions Neal is playing the best hockey of his career.
Of the current players in the league, Neal has to be considered the top goal-scorer only behind Alex Ovechkin of the Washington Capitals. Ovechkin is scoring 0.75 goals per game with 30 goals in 40 games. Neal is cashing in at 0.66 goals per contest. This season, the only player better in this category is Alex Steen. While Steen deserves all of the credit in the world, this is the first season he's been known to light the lamp on a regular basis.
People tend to forget Neal's rough start when he first arrived to the Pittsburgh Penguins from the Dallas Stars. Neal tallied a single goal in his first 20 games with the Pens to end the 2010-11 campaign. To make matters worse, he didn't contribute in other ways. He finished with one goal and five assists in his first year with the Pens. Neal's lone bright spot was the overtime goal he scored against the Tampa Bay Lightning in the first round of the playoffs.
Since that miserable first impression, Neal's game has risen to world class status. The following season he scored 40 goals and ended the campaign with 81 points in 80 games. Neal found chemistry with center Evgeni Malkin and gave the organization more than they ever could've bargained for in 2011-12.
Neal's goal-per-game averages have improved each season. In the lockout year, he was on pace to score 43 goals if the NHL would've played an 82-game season. This year, Neal missed the beginning of the season with an injury and was suspended five games for his knee to Brad Marchand's head. Neal has only played in 21 of the Pens' 41 contests, but if he stays healthy for the remainder of the year, he's on pace to eclipse his career high in goals with 42.
Neal critics have complained that he is only effective when Malkin is playing by his side. This season has proved otherwise. He's been just as efficient while Malkin has been side-lined with an injury as he's been with Malkin by his side.
Neal used to be a winger who needed the puck fed to him in the scoring areas. This was how he was successful when he first arrived on the scene. But this year Neal has shown his savvy ability to skate with and possess the puck on a regular basis. His offensive-zone cycling and puck-carrying skills have mightily improved. This is apparent even when he isn't placed on the left-wing of Sidney Crosby's line.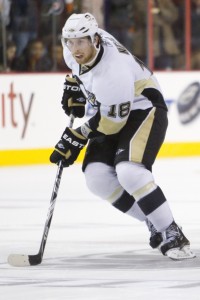 Due to the development of these skills, Neal is also on pace to set a career high in assists (48). His current point scoring clip has him averaging 1.43 points per game. That's better than Crosby's point-per-game average (1.41), the leading point scorer in the league.
Alex Steen has the next best points-per-game average by a left wing averaging 1.08 points-per-game. Right now, Chris Kunitz boasts the highest point total for a left-winger in the league with 42 in 41 games. Neal already has 30 points in 21 games.
Given how much Neal has improved in a few short years, there's a possibility that his point-per-game average increases even more this year. Neal has a well established chemistry with Malkin and the two haven't played much together this season. Neal will get the opportunity to play with Malkin very soon as Malkin is expected to return any day now.
The argument can be made that Ovechkin or Steen are better left-wingers than Neal. But analyzing Neal's all-around game versus the other two players, there's no argument right now. Ovechkin is a one-dimensional goal-scorer and needs to learn to pass the puck more often. Although Steen has maintained a great scoring clip throughout the season, he's slowed down a bit. Any general manager would choose Neal over Steen if granted the choice.
One of the most noticeable things about Neal this season has been his ability to set up more goals for his teammates. Neal is as unique as they come. Watch him skate with the puck, he loves to push it to space and go get it no matter where he is on the ice. There's no one in the league who has a wrist shot like Neal. His release is a quick as any, and his puck velocity is as heavy as they come. James Neal is the best all-around left-wing in hockey.