Sometimes in hockey, a change in scenery is just the thing a player needs to kick-start their career.  It's a fresh start and a new beginning.  For Nick Foligno, his new beginning was the birth of his rise to NHL stardom.
Nick Foligno's career started when the Ottawa Senators made him their 1st round selection, 28th overall, in the 2006 entry draft.  After signing his entry-level deal, he split time with Ottawa and their AHL affiliate Binghamton.
Foligno then appeared in 45 games in 2007-2008, scoring 6 goals.  Ottawa made the playoffs that season, only to be swept by the Pittsburgh Penguins.  Foligno scored a goal in that series, which ultimately was the only point he scored.
He then followed up his rookie season by scoring 17 goals and 32 points in 81 games.  Although the Senators struggled and missed the playoffs, the future seemed bright for Foligno.  It was the coming years that would prove to be his most difficult.
More Blue Jackets Posts:
[catlist name=columbus-blue-jackets numberposts=3 excludeposts=this]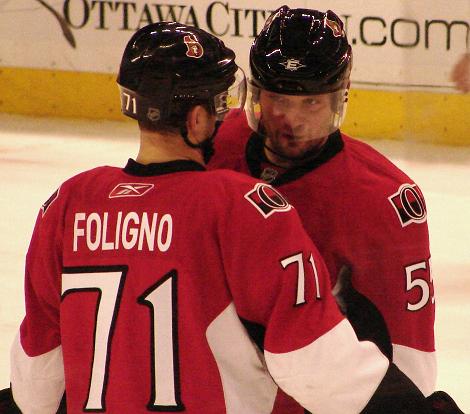 Foligno's Challenges Begin
During the summer of 2009, his mother Janis, unfortunately lost her battle to breast cancer.  Then in the 2009-2010 season, Foligno had to miss 21 games, thanks in large part to a broken leg he suffered.  He was limited to 9 goals in 61 games played that season.  And once again, the Senators were eliminated by the Penguins in the playoffs.
Hoping to regain momentum that was started the previous season, Foligno came out the next 2 seasons scoring 34 and 47 points, while playing all 82 games in both seasons.  It seemed like Foligno was about to break out.  However, the Senators had a problem at the end of the 2011-2012 season.  They were lacking defensemen.
As a result of free agency, Ottawa needed to acquire a defenseman.  So on July 1st, 2012, Foligno was traded to the Blue Jackets for Marc Methot.  Columbus was hoping that Foligno was about to have his breakout season.  It didn't quite happen that way, at least to start.
In the shortened 2012-2013 season, he scored just 6 goals and 19 points.  Then Foligno's world would change forever.  His daughter Milana was born in October 2013.  Unfortunately the next day, it was discovered that blood was not pumping properly through Milana's heart.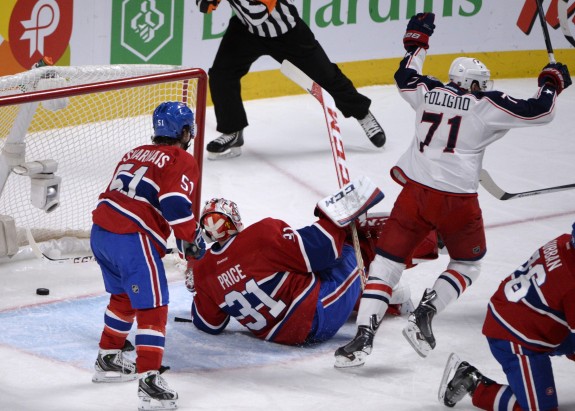 After lots of discussion, it was determined that an experimental surgery was needed.  Nick and his family flew up to Boston so that the surgery could be performed.  On November 8th, 2013, Milana had 7 hours of surgery.  The Blue Jackets were in Boston 6 days later.  So what does Foligno do?  He scores a goal against the Bruins.  It was at this point that Foligno realized a lot of things.
"It really made me grow up," Foligno told the Columbus Dispatch.  When I'm at the rink, I'm a player and a teammate.  When I'm at home, I'm a father and husband.  I've really learned to put the two in separate places, and it's helped."
His maturity has brought him to a whole new level.
Foligno finished the 2013-2014 season with a career high 18 goals.  His most memorable goal of that season was in Game 4 of the Penguins series, in which he scored in overtime, giving the Blue Jackets their 1st home playoff win in franchise history.
After completing his 1st ever hat trick Saturday against the Penguins, he now has 30 goals this season.  He was also nominated by the Columbus chapter of the PHWA for the Masterton trophy.  What a way to cap an All-Star season.
Nick Foligno's story is amazing on so many levels.  He has had to overcome many obstacles, including losing his mother at an earlier age, and overcoming the challenges of his daughter's health.  With the help and support of his family, friends, and strangers just wondering how Milana was doing, Foligno has been able to overcome the difficult moments, and has become a stronger and better person.  His star is shining brightly in Columbus.  They are a perfect match for each other.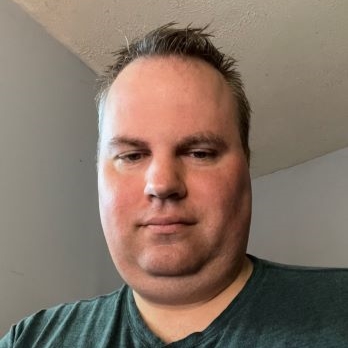 I am a fully credentialed writer who covers the Columbus Blue Jackets, Cleveland Monsters and Erie Otters as well as the Ontario Hockey League and NHL Draft. The 2021-22 season will mark eight seasons with the Hockey Writers. I am also the site's Credentials Manager.