While it seemed like an insignificant American Hockey League trade at the time, the deal that brought Nicolas Deslauriers to the Montreal Canadiens has blossomed into one of Marc Bergevin's most effective moves as general manager.
On Tuesday before the game against the San Jose Sharks, Deslauriers was presented the Molson Cup, awarded monthly to the player who earned the most three-star nominations during that time. In the final month of 2017, Deslauriers recorded four goals and seven points in 11 games.
Deslauriers' Long Road to Montreal
Drafted by the Los Angeles Kings 84th overall in the 2009 Entry Draft, Deslauriers was traded to the Buffalo Sabres on May 31, 2011. After spending four years in the AHL, he earned a full-time spot in the NHL during the 2014-15 season. Bouncing in and out of the Sabres' lineup, Deslauriers scored 12 goals and 30 points in 211 games.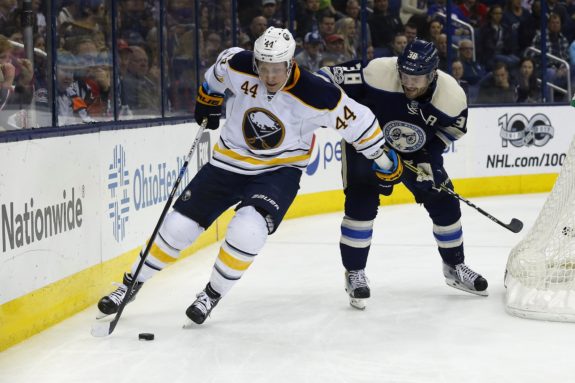 Then on opening day of the 2017-18 season, after being sent down to the Rochester Americans, Buffalo's AHL affiliate, he was traded to Montreal in exchange for defenceman Zach Redmond. From there, Deslauriers spent 14 games with the Laval Rocket, tallying three goals and five points, before being recalled and making his Canadiens debut on Nov. 16 against the Arizona Coyotes.
Related: Gallagher Leads Canadiens as Unlikely All-Star Option
So far, the 26-year old forward has made the best of his opportunity with the team he cheered for growing up, and the move to Montreal has rejuvenated his career. It was a long road for Deslauriers, but according to him, it was all worth it considering where he is now.
"This year's trade really boosted my career," said Deslauriers. "With my age and the experience I've gained, I think I'm in my prime. I've had a lot of ups and downs, but the trade really helped me."
Earning His Opportunity With the Canadiens
Since being called up to the NHL, Deslauriers has found chemistry on the Canadiens' fourth-line, spending the majority of his playing time alongside Daniel Carr and Byron Froese. At times, they have looked more like a first line, specifically against the Vancouver Canucks on Dec. 19, when the trio combined for three goals and seven points, with Deslauriers picking up two goals and one assist. The strong play of the line has been a bright spot in a year where very little has gone right for the Canadiens, and Deslauriers has played a huge part in its success.
"I'm proud of my game," said Deslauriers. "I know I can always give a little bit more, whether it be on offence or on defense, but I'm happy.
"I think everyone around the league knows I'm a physical player. I just need to prove every night that I can be an effective player. Having that sort of identity on a fourth line is big. You want to be able to kill penalties but also bring energy whether we've been scored on, or just scored," added Deslauriers.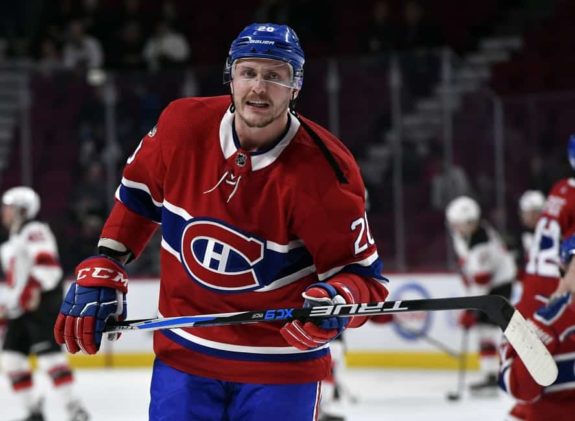 Prior to his arrival in Montreal, Deslauriers was known mostly as grinder with the ability to be an enforcer if need be. Since a fight with Arizona's Zac Rinaldo in his Canadiens debut, he has been anything but the player with such a reputation.
Averaging 10:48 of ice time in 20 games this season, Deslauriers has 1.11 goals per 60 minutes (G/60), 25 shots on goal with a shooting percentage of 16 percent, a PDO (shooting percentage + save percentage) of 111.5, and has been on the ice for 32 high-danger scoring chances while only accumulating four penalty minutes since his fight versus Rinaldo.
Check out all of our Canadiens coverage on our Habs Page
It's hard not to like what Deslauriers brings to the table for the Canadiens. The Lasalle native is a ferocious forechecker, illustrated by his league-leading 54 hits in December. Coupled with unrelenting effort and drive, Deslauriers is making a strong case to earn a hefty raise from the $775,000 salary that he's making this season, and should force the hand of Bergevin (or whoever the general manager is this offseason) for an extension with the team this summer. For now, though, Deslauriers remains focused on the task at hand: helping Montreal get back into a playoff race with 41 games left to play.
"I just need to continue what I do and not force plays," said Deslauriers. "[If I do that], everything will go well."