On Monday, the Russian Ice Hockey Federation announced that Tampa Bay Lightning defenseman Nikita Nesterov will replace Slava Voynov on Team Russia's roster at this year's World Cup of Hockey tournament. The announcement came just hours after the Federation publicly acknowledged Voynov's ineligibility at the event for the first time.
Congrats, Nikita!#Bolts defenseman Nikita Nesterov has been added to Team Russia's #WCH2016 roster. pic.twitter.com/aIIOwqylYS

— Tampa Bay Lightning (@TBLightning) July 18, 2016
The Russian Ice Hockey Federation released the following statement on its official website:
"Russian national team defenseman Vyacheslav Voynov will not take part in the World Cup of Hockey. This is down to not having enough time to sort out the issues at hand surrounding his NHL disqualification. The Russian Ice Hockey Federation did everything possible in order to fix the situation, but the NHL has its own procedures and time-frames. The RIHF respects the World Cup of Hockey organisers' decision, and has been forced into replacing Vyacheslav.
Tampa Bay Lightning defenseman Nikita Nesterov will take his place.
The RIHF would like to point out that Vyacheslav Voynov remains one of the country's top defensemen, and is a candidate for other international tournaments. Not long ago, Vyacheslav and wife Marta Varlamov got married. The Russian Ice Hockey Federation wishes both happiness in their lives together!"
Nesterov, 23, has played parts of two seasons with the Lightning after being drafted by the team with the 148th overall pick in the 2011 NHL Entry Draft- the same draft that the Lightning also landed Vladislav Namestnikov (27th) and Nikita Kucherov (58th). Nesterov will be joining Lightning teammates Namestnikov, Kucherov and goaltender Andrei Vasilevskiy, all of whom were previously named to Team Russia when the final roster was released back in May.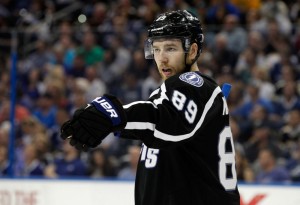 The World Cup tournament will mark Nesterov's fifth opportunity to represent his country, having previously played for Team Russia at the Under-18 World Junior Championships (2010, 2011) and World Junior Championships (2012, 2013). In 28 career international games, Nesterov has compiled six goals, 15 points and 66 penalty minutes.
Nesterov is currently a restricted free agent with the Lightning. However, Lightning GM Steve Yzerman has previously stated the team's intention to re-sign him.