The AHL season is underway and Nikita Soshnikov is showing his worth playing for the Toronto Marlies. The young Russian is not only developing, but also playing in roles he's unfamiliar with while he adapts to a new country and a new environment. In this translated interview, originally appearing on the Russian website Russia-hockey.ru, Toronto Maple Leafs prospect Nikita Soshnikov talked about his role in the team, discussed his production, and confirmed that he is not interested in getting back to Russia.
* For the original Russia-hockey.ru article, click here.
– Nikita, in the AHL you have thus far five goals and seven points in 15 games, you are plus-3 and had 34 shots on goal [Note: this interview has originally been taken in mid November]. In Russia maybe we were expecting better stats from you.
– Generally speaking, I am just getting acquainted with North American hockey. I think I looked good in the training camp and in the pre-season, Leafs coaches and managers praised me. Other young players didn't make the team as well, the roster was completed mostly with veteran players on one-deal contracts. I went to the AHL in the mood to work. Frankly speaking, I was perfectly ready to get demoted, here [in the AHL] there is a very good level, and hockey is different from Europe. All the expectations were met. There is a huge competition here in the AHL, there are many drafted players who use the AHL as a springboard to the NHL. Including using the AHL as a springboard to a new level in their play and a new level of contracts. This is huge stimuli for any career, this is why the competition is so tight.
– How is your adaptation going?
– Here it's another language, another kind of hockey. Sometimes I want to keep the puck, not play in such a North-South way, but here it's not possible. It's very important to follow the plan and never lose the puck. A very interesting experience.
– You're playing in the fourth line, maybe this is why your stats aren't all that great.
– Yes, now I'm playing mostly on the fourth line. But of course a good player needs to score points in any situation. I have to work harder, show what I'm worth and do the best to get a chance.
– You also don't play with the man advantage.
– True. But I regularly kill penalties (laughs). That's interesting as well.
– I think that your old coaches in Russia would be shocked to know that you don't play powerplays, but is more specializing in penalty killing.
– I never played penalty killing. In Atlanta or in my home town Nizhny Tagil, this is the first time I play this role. And I like it.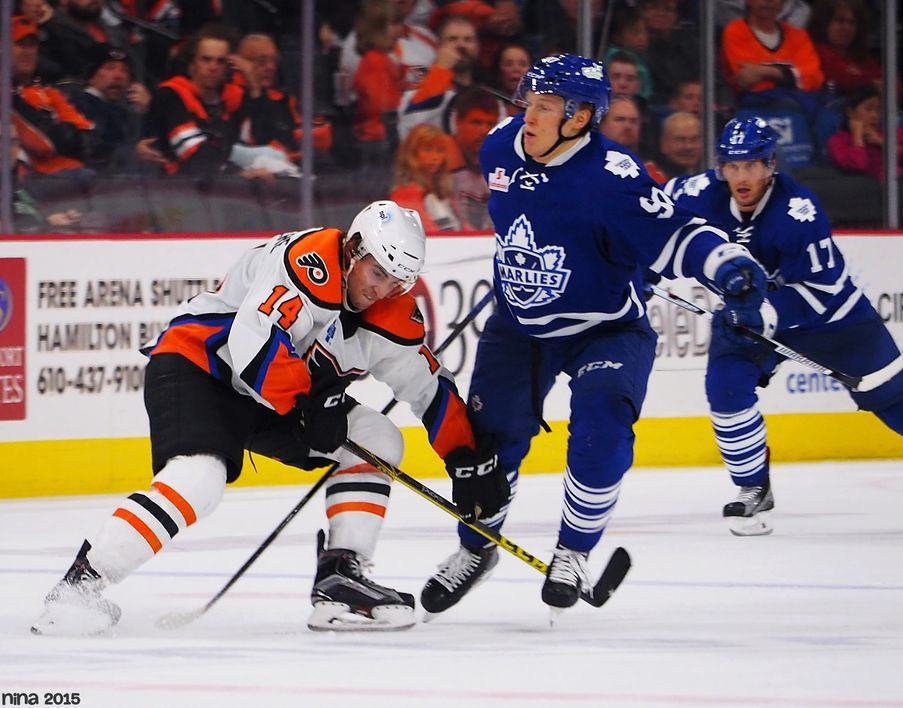 – Everyone has a chance, I have to do my best to get deserve it. To speak the truth thus far we had only one call up to the NHL, because of Fraser's injury. There are limited chances to move up and down between the two Toronto teams.
– Who are the best players for the Marlies? Judging by stats William Nylander is doing great.
– You're right, Nylander is a very talented player. He was drafted high, therefore the team is very high on him. He already spent one season in the AHL, he's fully adapted, he plays a lot, plays the powerplays. A great player.
– Do you follow the big club while playing in the AHL?
– Of course. The whole team does. We were worried when Babcock's team started the regular season in such a bad way, but as you can see things are very different now. The team started gaining points. I think that in the next 10 games they will show if they are going to really be a Stanley Cup contender. We're hoping for the best and will keep on working hard.
– Can you try comparing the AHL and the KHL?
– It's a hard thing. After all the ice surfaces are different. In North America they are even smaller than the rinks where Jokerit or Medvescak play. Here there almost no corners and pretty much all offensive plays end with a shot on goal. Sometimes you want to keep the puck and be more creative, but the small ice surface doesn't allow you to play that way. This is why to compare hockey in the AHL and KHL.
– Where is the game faster?
– I'd say in the AHL, but on the other hand in Russia the game is more thoughtful, there are more combinations and passes.
– What team do you think will win between last year's Atlant and this year's Toronto Marlies?
– Once again, I think that a lot of things depend on the rink size. I think that in Russia Atlant would win, while here in Toronto things would be different. The Marlies are amongst the top teams in the league. But I don't think there is much sense in comparing teams in different continents.
– Is there anything else you noticed in the AHL?
– Here people pays a lot of attention to stats. And of course I'm not talking about basic stuff like goals or points. I noticed that during the intermissions coaches and players get to the computer to check stuff like "giveaways". This is one of the worst words here. In no case you can allow yourself to lose the puck on the opposition zone or even worse in your team's. You would have an immediate counterattack.
http://gty.im/495310292
– Is it different in Russia?
– In the KHL there are more risky plays, and the counted stats are usually goals, assists, and points.
– If the Leafs will keep you in the AHL, do you plan to get back?
– No, I am not going to change my mind. I'll do whatever I can to get my chance to play in the NHL. I think that I'm adapting well to North American hockey, and I am not having any giveaway (laughs). This season I'll think to the NHL only.