At the onset of the shortened season, the defensive corps of the Detroit Red Wings was a big question mark. Many were skeptical of a defensive lineup that had no "superstar" to bolster its ranks. Nick Lidstrom hung up the skates and the prime free agent targets went elsewhere. In the midst of all this was Niklas Kronwall, the heir apparent to lead the top Detroit defensive pairing.
Known around the NHL for his tooth rattling hits, Detroit needed a big season of both play and leadership from Kronwall to be successful. Leadership was exactly what Kronwall, an alternate captain of the Red Wings, delivered throughout the season. He played well on the powerplay, and consistently  shut down opponent's top pairing alongside the much improved Jonathan Ericsson.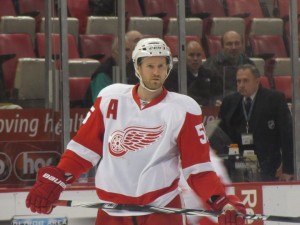 When Kris Letang, P.K. Subban, and Ryan Suter were announced as finalists for the Norris Trophy as the NHL's best defenseman, Niklas Kronwall may be feeling little bit jilted, and for good reason.  This season, Kronwall built himself a resume worthy of a Norris nod, in both statistics and intangibles.
First, a look at a few of Kronwall's notable statistics:
29 points

48 games played (full season)

44 player infraction minutes
Kronwall's 29 points are a few less than what the three finalists produced (Suter had the fewest with 32, and Subban and Letang each had 38). While his production may not have been up to par with the top three vote-getters for the Norris Trophy. Kronwall's role for the Red Wings this season was not to score goals. His job was to contain major offensive threats and make the first pass out of the zone cleanly.
Also of note is the fact the Kronwall was in the lineup for all 48 games in a season that saw Subban and Letang absent for six and thirteen respectively. What's more is that Kronwall showed more discipline than Subban, who had 57 PIM. That's ninth amongst all active defensemen.
Kronwall was much more responsible with the puck than two of the three finalists. Kronwall's 21 giveaways are considerably less than the 34 from Letang and the whopping 42 from Subban. Only Suter had Kronwall beat, with a very respectable 19. However, Kronwall has Suter tied on turnover +/-, illustrating that Kronwall created more takeaways than Suter.
When push comes to shove, Kronwall may not have put as many in the back of the net, but his all around play this season was outstanding and should have garnered more attention and votes.
Life after Lidstrom and those hits
Additionally, Kronwall's role in this "transition" year cannot be overlooked when considering Norris Trophy candidates. Kronwall has stepped into a very visible leadership role that puts him on the ice more than any other Red Wing player. While there is a bit of a learning curve amongst some of the younger Red Wing defensemen, Kronwall is setting a great example by putting himself in positions to make a difference when the game is on the line.
The final intangible that Kronwall has on his side is that famous ability to deliver hits that change to course of a game and swing the momentum to Detroit's side. Fans have coined the term "being Kronwalled" to describe his big hits.
The most beautiful part about his hits is that they do not earn him suspensions or fines. In each of the hits in the video, note the crowd reaction and energy that each one generates.
When was the last time you heard of anyone "being Sutered?"
Anyone?
That's what I thought.