The Bruins and Rangers will take to the ice for Game 3 tonight at Madison Square Garden. Equally important will be the men skating beside them – tonight's referees: Dan O'Rourke and Kevin Pollock.
O'Rourke and Pollock are coming off Game 1 of Red Wings/Blackhawks, a game Chicago won 4-1. Calls were right down the middle, with each team picking up five minor penalties in the game. Four of those penalties were a pair of matching minors each to Jusitn Abdelkader and Dave Bolland as they got masty midway through the game.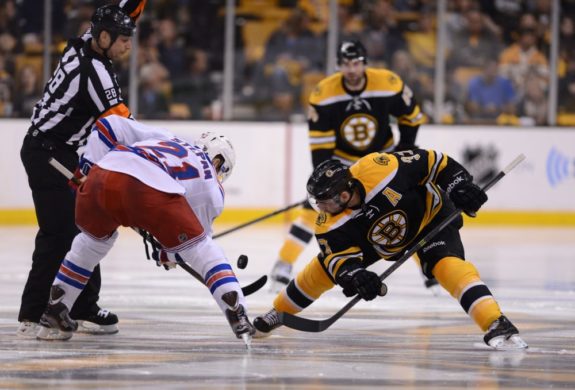 Dan O'Rourke #9
O'Rourke, a Calgary native, has refereed 597 NHL games, including the past two Stanley Cup Finals. He's averaged 8.2 minors per game in the regular season, dropping to 7.1 in the seven playoff games he's officiated this year. Of course, his number would be even lower if not for the 15-minutes he doled out to the Senators' Eric Gryba after his infamous hit on Montreal's Lars Eller in Game 1 of their first-round matchup.
The Rangers are 4-0 in games officiated by O'Rourke this year, including regular season and playoff games. He worked the Rangers' 4-3 win at home and their 5-0 Game 7 series-clinching win in Washington. The Bruins have fared a bit worse, posting a 1-4 record in O-Rourke-officiated games, including two playoff losses to the Leafs.
While the Rangers seem to have done well under O'Rourke's occasionally-watchful eye, some are less appreciative of his efforts. His reputation for non-calls tends to frustrate fans, but he does seem to call games evenly – even if he may show a slight bit of home bias. In seven playoff games, he's called 22 penalties for the home team and 25 for road teams (excluding game misconducts and automatic puck-over-glass penalties). Sens blogger Travis Yost is certainly not a fan:
I'm not particularly sure how he's still working professional hockey games at this point, and his incredible inability to pin down a correct call has become a staple of his craft. I very rarely criticize officials in these post-game entries because of how prone the position is to human error, so understand that if I'm making a point about a referee, it's likely heinous. The good thing is I've got track record here — that's easily verifiable.
In addition to the non-calls, O'Rourke is also good for the occasional 'phantom' call. His biggest gaffe this season could have been this Blue Jackets goal that was waved off due to interference with Crawford. Note, there's not actually any interference.
Kevin Pollock #33
Pollock is a thirteen-year veteran with 816 regular season games under his belt, along with 123 postseason appearances.  The Ontario native is a little quicker on the whistle than his counterpart. He averaged 8.8 penalties per game in the regular season. Unlike the majority of referees who make fewer calls in the playoffs, Pollock has held steady, continuing to average 8.8 penalties per game.
The Rangers are undefeated in Pollock-run games, going 2-0 in the regular season. Boston's also had success, with a 2-1 record when Pollock's in the stripes. Like O'Rourke, Pollock also calls a close game, with home teams penalized 21 times and road teams picking up 19 calls in the postseason. Only one of his five postseason games had a team with more than a one-penalty discrepancy.
Rangers fans may best remember Pollock for his non-call on the dangerous hit by Patrick Kaleta on Brad Richards. Brooksie sure does.
Kevin Pollock, referee 10 feet away from Kaleta/Richards, did not signal for penalty on play. NHL should convene hearing on that as well.

— Larry Brooks (@NYP_Brooksie) March 4, 2013
What Does It Mean?
This postseason the Rangers are a perfect 3-0 at home. Their penalty killers have gone 5-for-5. That's right, they've only had to kill of five penalties in those three home games. Overall, they're 17-for-21 (81.0%). Boston's power play (4-for-25, 16%) has been effective on the road (2-for-10, 20%), so the Rangers will need to shut down any opportunities. Of course, continuing to stay out of the penalty box at MSG would be the best way to limit the Bruins' chances. The Rangers are the second-least penalized team still in the playoffs, with only 6.8 PIM per game. Boston is the fourth-highest team left at 9.9 PIM per game.
We all know about the Rangers' terrible power play. The good news? It's better at home. They've gone 2-for-15 (13.3%) in New York. Boston's penalty kill is slightly worse on the road, dropping from 82.8% overall to 80.0% away from the TD Garden.  Given the history of these officials – and of the playoffs in general – each team will get an equal number of chances. Expect a handful of missed calls and a possible make-up call or two. (Yes, we know they aren't supposed to exist, but even Kerry Fraser admits they do…)
Neither team will have much of an edge in the penalty column. It will be up to their respective special teams units to convert the chances they do get. In the playoffs, the Rangers are 2-0 when they score a power play goal. Tonight, the Blueshirts need to find their way on the board. Score first, and score on the power play, and they have a shot.