In an era consumed with Facebook, Twitter and hoards of media anxious to be the first to report, well, just about anything, it's easy to get caught up in the moment and blow things out of proportion.  Case in point, the Pittsburgh Penguins' last minute collapse against the Ottawa Senators on Sunday night.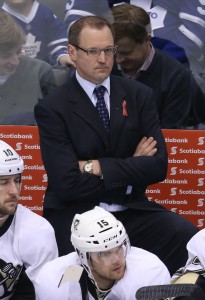 After all, the Pens were 29 seconds away from enjoying a 3-0 stranglehold on the series before Evgeni Malkin and Kris Letang inexplicably allowed Daniel Alfredsson to swoop in on Tomas Vokoun, collect a perfectly placed pass from Milan Michalek and knot the score at one.  What's more, THW's Tannor Torrao explains that Dan Bylsma's mismanagement of a late power play situation essentially turned what should have been a sure victory and commanding series lead into a heartbreaking double overtime loss that sets up a critical Game 4 on Wednesday night.
Take a look at some of the social media that resulted from Game 3.  Sounds like the sky is falling in Pittsburgh.  End of the road.  The Penguins are done.
Not all fans and members of the media are that glum about their club's outlook but most pundits recognize that Pittsburgh has made things more difficult on themselves than need be:
"Look, no one should expect perfection, but these Penguins aren't collectively cramping in the brain for the first time this postseason. They all knew what was on the line. Bylsma knew what was on the line…It's given new life to an opponent and a goaltender that had been all but vanquished. It's made it hard. Harder than necessary." – Dejan Kovacevic, Pittsburgh Tribune-Review
But what effect, if any, will Game 3 ultimately have on the outcome of this series?  Will it prove to be the turning point that Ottawa needs to act as a springboard to the Conference Final or will it simply serve to prolong the Senators' season?
Obviously, time will tell.  Something that people seem to be forgetting, however, is that the Pittsburgh Penguins are still enjoying a 2-1 edge in the series; they still hold home ice advantage; and they still have plenty going for them.
Tomas Vokoun
Unless it's Marc-Andre Fleury imploding in net, Pittsburgh's goaltending performances tend to be overshadowed by the club's explosive firepower.  But Tomas Vokoun deserves a great deal of credit for his performance to this point in the playoffs.  Though his game was a bit shaky early in his postseason relief appearance, Vokoun has gotten stronger with each game:
""I think it was Tomas' best game. He wasn't busy maybe through the first half of the game with the number of shots – 13 or 14 – but they had a couple of great flurries, a couple of good chances. (Erik) Karlsson a couple times sneaking on the backdoor in the offensive zone, he had a couple big saves there. Strong around the net." – Dan Bylsma, on Vokoun's Game 3 performance
Indeed, Tomas' 46 save performance was nothing short of magnificent. He gave his club every chance to pull out a victory and certainly deserved better than his fate Sunday night.  Nevertheless, his 1.61 GAA (fourth in the postseason) and 9.49 save percentage (second in the playoffs) seem to have solidified a position of weakness for this Pittsburgh squad.
Offensive Depth
Despite only managing to score once in nearly five periods Sunday night, the Penguins possess arguably the most firepower in the league.  Indeed, their 34 goals in nine games are tops in the playoffs to this point and their 27.0% power play efficiency leads all clubs still alive in the tournament.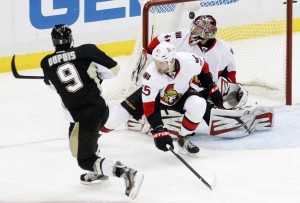 So what makes their attack so lethal?  Well, one key is their depth.  Everyone knows Evgeni Malkin and Sidney Crosby will put up points but Pittsburgh dresses seven of the top seventeen scorers in the playoffs, five of whom are averaging at least a point a game.  Crosby and Pascal Dupuis are tied for the league lead in goals (6) and Paul Martin and Kris Letang are both a point behind Boston's Zdeno Chara for the league's lead in scoring among defensemen.
Simply put, the Penguins can score from anywhere.  They come in waves and, as a result, it's nearly impossible to shut everyone down.  And if the stars don't produce, depth players like Tyler Kennedy or Brenden Morrow are ready to step up.  Even Brooks Orpik got into the act, enabling Pittsburgh to escape a first round scare against the Islanders.
All this talent will make it tough to keep the Penguins off the board for long.  Yes, Ottawa surrendered just one goal Sunday night but don't count on them being able to pull that off consistently.  Even if Craig Anderson has found his game, the Penguins have too much depth and talent to be held down for long.
Evgeni Malkin
Evgeni Malkin?  One of the goats from Game 3?  Yup.  Did you see him in overtime?  Geno was a legitimate threat every time he touched the puck.  In fact, he nearly scored what would have been arguably his greatest goal to this point in his career, an accomplishment that would be no small feat.
And that's the great thing about Malkin.  Yes, he can have defensive lapses but they almost always serve as motivation for the reigning MVP.  Sunday night, he knew he made a mistake at the end of regulation in Game 3 and was determined to atone for it.  Though he came up just short in that contest, don't be surprised if Malkin comes out flying and has a huge game on Wednesday to make up for his mistake.
While Pittsburgh suffered an incredibly tough defeat in Game 3, all is not lost for the East's top seed.  Ultimately, it was just one game.  Could it turn the series around in Ottawa's favor?  Absolutely.  But this Pittsburgh club is a resilient, loaded team.  And, until they lose home ice advantage, they're still in the driver's seat.
Sean Griffin is a lead writer for the Pittsburgh Penguins at The Hockey Writers. He can be contacted at psgrif27@gmail.com.