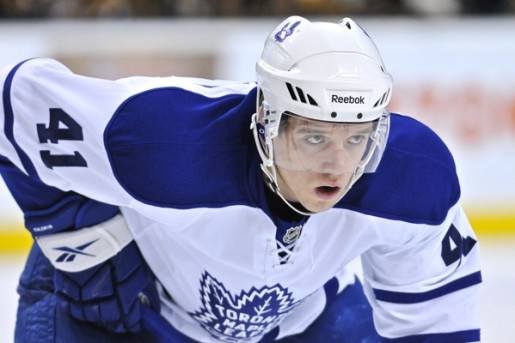 A Nikolai Kulemin trade is something that has been much discussed not only among fans of the Toronto Maple Leafs, but among NHL fans all across the world. There are varying opinions on the subject; some say he is worthless to the Maple Leafs and they should sell him off for more valuable assets as the stretch run approaches while others claim he is a key player to a team that is in the thick of what is sure to be a heated battle for one of the final playoff spots in the Eastern Conference.
No matter what your opinion is, the reality remains that the possibility of Kulemin being shipped out of town is very real. That's not because Kulemin is Kulemin, but rather because almost no player is safe when the trade deadline rolls around. This year it is April 3, less than two weeks away.
The driving force behind the trade rumours seems to be that the Maple Leafs have an abundance of forwards who are capable or who, at the current time, seem to be capable of holding down top-six positions up front. Included are Matt Frattin and Joffrey Lupul, both of whom recently returned from injury, creating a logjam of forwards in Toronto.
Kulemin has fallen victim to these rumours mainly because of his inability to produce offensively, something that puts the spotlight on you if you were known as a scorer in the past.
From Jets Nation, on Kulemin:
First, his best scoring season came in 2010/11 with a high shooting percentage and a fair amount of powerplay time on the second unit (ranking 6th among forwards on the team). His quality of competition was the lowest he'd faced since his rookie season, and his corsi relative to the rest of his team (corsi on – corsi off) was excellent in tandem. The next year (2011/12), his shooting % dropped, his ice time dropped, and his powerplay time dried up. It's hard to tell if the coach benched him for not scoring, or he stopped scoring because of a new assignment.
Now into a shortened 2012-2013 campaign, Kulemin's ice time has increased from 15:13 to 16:53 per game. Those 16:53 put him fourth among Leaf forwards, although his minutes are expected to drop now that Lupul and Frattin are back in the lineup. Also inflating those minutes is the penalty kill time he receives, 2:08 per game, meaning that mixed with the 37 seconds of power play time he averages brings his even strength ice time – a better indicator than overall ice time per game – down to a somewhat discouraging 14:07.
What does this tell us? Well we already knew that Kulemin was a solid defensive forward but this only further extends that point. His shorthanded ice time per game is second among Leaf forwards as he plays on the top unit. This doesn't mean that he isn't capable of scoring, though; he does have the ability to drive the net and find the back of it.
That said (and shown), the reality is that Kulemin doesn't score all that often. His three goals would put him on pace for a little over ten goals and 46 points during an 82-game season. Fortunately for the Leafs, a 30-goal season from Kulemin back in 2010-2011 may allow them to drive up the asking price.
His defensive abilities and importance to the penalty kill are mostly what the Maple Leafs pay for in the $2.6 million they will give him by the end this season and the $3 million next season, along with a little bit of the already limited offence that he provides. That $2.8 million cap hit is a friendly one for a player like Kulemin. General manager Dave Nonis has larger contracts he needs to get off the Leafs' books before worrying about Kulemin's.
There haven't been any players involved in trades lately that would immediately strike you as being a comparable to Kulemin other than perhaps Alexei Ponikarovsky moving from Winnipeg to New Jersey. The Devils sent a seventh round pick in 2014 and a fourth round pick in 2013 to the Jets in exchange for Ponikarovsky, a return that would still seem a little less than market value for Kulemin.
In reality, we can't expect Kulemin to fetch the Leafs much more than a second round pick and an B-level prospect in a trade unless packaged with draft picks or another player. He needs to play on the first line to reach his current offensive potential, which is probably now 20-25 goals, or on the third line to reach his full defensive potential. There is no middle ground with Kulemin's playing time and few teams, if any, would be willing to pay a big price to acquire him in hopes that he would produce heavily on their top line.
His contract, the fact that the Maple Leafs will need a defensive forward or two as they gear up for a playoff push and the less than enticing return are enough reason to hold on to Nikolai Kulemin. If something that makes sense for the Maple Leafs presents itself during the off-season, go for it. Until then, it would only be right to hold onto him.