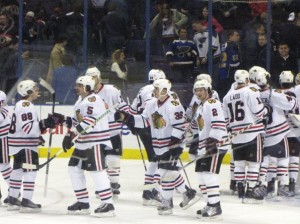 The Chicago Blackhawks did not acquire Jarome Iginla, and that's no problem for them. The Blackhawks would not have the cap to re-sign him so giving up prospects and a 1st round pick would be foolish. When Sharp and Hossa are 100% the Blackhawks will already have a deep enough top 6 especially on the wings and not chasing Iginla allows them to focus on what they really could add on the deadline, a 3rd line centre.
The Blackhawks have a cap hit of 66.4 million this season and  head into next season have 59.1 M in salary committed with an expected cap hit of 64.3 next year. The Blackhawks should look to add an inexpensive 3rd line centre to improve depth heading into the 2013 playoffs.
When you look at the Blackhawks roster it is very strong but could benefit greatly from the addition of a third line centre, and unless you are Nashville it shouldn't cost you a first round pick. Here are a few options of centres the Blackhawks could add by the trade deadline:
Jochen Hecht – Buffalo Sabres
The long-time Buffalo Sabre is an unrestricted free agent at seasons end, has clearly regressed from his days as a consistent 40-50 point getter. Hecht plays a solid two way game and is versatile to line up on centre or wing. His offense has all but dried up (2 goals in 31 games) but a change of scenery from Buffalo, a shot at a Stanley Cup, and a higher quality roster should help reignite him if acquired.
Despite a recent surge, Buffalo remains 12th in the East and 5 points out of 8th. Hecht should come cheap as his lack of production and UFA status both work in Chicago's favour should they choose to pursue him.
Roman Cervenka – Calgary Flames
While he is in his rookie season, he is 27 years old and an unrestricted free agent in July. Cervenka is solidly built and is an intriguing option because he has top 6 Forward potential so in case of an injury he could pinch into the top 6 if needed. Cervenka is in his first year of NHL action but is hardly a rookie, playing his last two seasons in the KHL, totaling 100 points in 105 games.
Cervenka has 5 goals and 6 assists for 11 points in 27 games and has shown flashes of being an NHL top 6 forward but has yet to display the consistency night in and night out to stay there. Calgary has shown they are committing to the full rebuild by trading the face of the franchise, Jarome Iginla. Chicago may be able to negotiate a favourable trade from GM Jay Feaster.
Nick Spaling – Nashville Predators
Nick Spaling is headed for restricted free agency and is in his 3rd full season in the NHL. Anyone who has seen Spaling play knows he is a better than average penalty killer. At 6 ft 1 and 198lbs he is not the largest player but has a low centre of balance that makes him hard to knock off the puck and likes to throw the body from time to time.
At 24 years old he still has time to improve on the offensive side of the game but has carved a niche out for himself as a solid 2 way player who can play 10-15 minutes a night consistently.
Some other centres available such as Derek Roy and Michael Handzus are reportedly on the market. Derek Roy comes with a high asking price from Dallas and given his size he would fit as a 2nd line centre opposed to a grinding 3rd line centre. Michael Handzus has size and shutdown capabilities but has lost one step too many and would be seen more as a liability to Chicago's current lineup than an addition.
In not landing Jarome Iginla Chicago has kept their prospect cupboard full and with a  top six that has all stars like Toews, Sharp, Hossa and Kane adding another top 6 player was not a necessity for Chicago. Adding another centre that can play solid minutes and help out on the forecheck and penalty kill can go a long way in a tight checking 7 game series. Management has confidence in this groups ability to go all the way and no major additions, just minor tweaks should be enough to get Chicago another Stanley Cup.