Noah Hanifin, Can He Read Through Your Offense?
by Eldon MacDonald (edited by @ChrisRalphTHW)
NHL Draft War Room: Noah Hanifin – Ranked #4 (Mar/15 Rankings)
Hashtag: #TheGameReader
Team: 7, Boston College, Hockey East
Position: Defense
Shoots: Left
Height: 6'3
Weight: 205 lb.
Born: Norwood, MA, 25-Jan-97
Twitter: @NHanifin
Stats 
Other Rankings
From THW's Draft War Room: Noah Hanifin – The Game Reader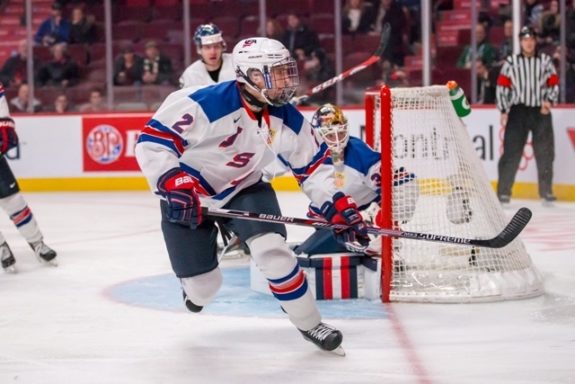 Eldon MacDonald, THW:  A few words on Noah Hanifin:
The Game Reader: Noah Hanifin has all the sexy tools that scouts want to see in a defensive prospect – scintillating skating, size, passing, stickhandling, shot. However, it is Noah's ability to read the play both defensively and offensively that sets him above the pack. He has that Kenny Rogers approach to the game – he knows when to hold 'em and he knows when to fold 'em. In other words, plays the game right like Kenny Rogers would want him to. The team that drafts Noah will be happy that they did.
Five Reasons Noah Hanifin Will Be The First Defenseman Chosen in 2015
Size – Currently at 6'3, 205, Noah has that NHL size.
Speed – Add elite level speed to size and you start to get the scouts drooling.
Breakout – Now use that size and speed to institute a breakout that inmates can only dream about. Alternatively, use a nice simple breakout pass and let the forwards do the heavy lifting.
Shot – So what do you do after your breakout – use your big shot, of course, especially if it appears like it is coming from a cannon like Noah's.
Defensive reads – However, for all the sexy stuff – the size, the speed, the breakout, the shot, it is the defensive reads, the defensive zone awareness and the defensive zone acumen that make Noah Hanifin that special defenseman who will likely be the first of his position to be chosen in the 2015 NHL draft.
http://t.co/XjymQcv3NG
#4 Noah Hanifin @NHanifin
2015 – 16GP 2G 12A 14PTS. Physically and mentally beyond peers. Elite two-way intelligence

— ISS Hockey (@ISShockey) March 8, 2015
Offense
Skating – Best skating defenseman in the draft.
Shooting – Hard, heavy, a cannonade.
Passing – Makes the team better by controlling the play through his adept, confident passes.
Stickhandling – Has the ability and confidence to carry the puck on his stick and is not afraid to utilize his puck skills.
Vision – On "D" or on "O", Noah excels like an Amazon Kindle in reading the play to choose and then execute the right play.
Defense
Defensive reads – Has the vision to see the play to make and the physical skills to make the play happen.
Mobility – Mobile, fluid, seemingly flawless.
Positional capability – He knows what to do, what position to take, what gap control to use. It is a big-time strength to his game.
Active stick – Has the reach, the active stick and the instinct to use both to make life difficult for opposition forwards.
Big body presence – While Noah is not a big hitter per se he uses his size to ensure that he has the positional advantage in most situations. He is rarely overmatched.
Awards and Achievements
2014 – World U17 Hockey Challenge – Gold Medal with Team USA as Team Captain
2014 – U18 Worlds – Gold Medal with Team USA
Noah Hanifin has been a huge standout at the U18s this yr. Almost as good a tourney as Jones at same age, better than Trouba & Eichel.

— Corey Pronman (@coreypronman) April 22, 2014
Improvements to make:  There are no real gaping holes in Noah Hanifin's game. However, there are two questions that scouts have which may have an impact on Noah's draft position:
Is his offense really high–end? In other words, does he have the offensive ability to be a high-end power play quarterback in the NHL? There are many decent power play quarterbacks in the NHL, there are few high-end ones.
Does he have enough big nasty to be that high-end difference maker on defense? Noah has the physical tools to be the difference maker on defense but he has not shown the big nasty to date that have made players like Chris Pronger or Scott Stevens the defensive-game difference makers that they were? The NCAA, probably for the better, is trying to reduce this part of the game from their players.
NHL Projection: Noah will likely be that minute eating, top pairing defenseman who plays against the opposition's finest as well as on the PK and power play. A good comparison would be Ryan McDonagh, the Captain of the New York Rangers. It is worth noting that it took Ryan 6 years (2007 to the 2013-14 season) to reach close to his potential. Since Noah is a little bigger, I expect him to reduce that time to five years if not better.
Draft placement: Noah will most likely be the first defenseman taken in the draft. Most rankings have him in the 3 to 6 zone. Where he goes in that range is most likely to be as much a testimony of the needs of the drafting team rather than the talents of this 2015 draft eligible prospect.
Editor's Notes: The Next Great American Defenseman?
I still recall one of the first full games I watched Hanifin play. It was video from afar, but there was no doubting his scintillating skating ability in that World U17 Hockey Challenge gold medal win for USA. I thought this was the best skating blueliner I've ever seen at that age group.
When one talks about the greatest American defensemen of all time, Brian Leetch and Chris Chelios quickly emerge to the top of the heap. Hanifin does not (at least yet) possess Leetch's offensive acumen nor Chelios' grit and relentlessness. He's a different type of defenseman but if he continues evolve with the tremendous skill-set he possesses, he could reach a stratospheric level and eventually enter the conversation of the best American defenseman of all time. Fellow American blueliner and first year draft eligible Zach Werenski may have something to say about that.
"@shnarped: @Buccigross That sweet Noah Hanifin goal from tonight. https://t.co/ZZ9fqo82QP" @13Mike31 might get to see this in EDM…

— whyhockey (@whyhockey) March 14, 2015
Quotable
Interviews
Profiles
My buddy @ShawnTHW is pumping out the prospect profiles for #THW, next up get to know Noah Hanfin: http://t.co/CifhWk1eLk #NHLDraft2015 –DR

— The Hockey Writers (@TheHockeyWriter) March 19, 2015
Profile 1: NHL.com – Mike G. Morreale – 12-Feb-15
Videos
Chris is THW's senior draft/prospect analyst and a Managing Editor. Watch for "The Next Ones" Prospect Profile series, exclusive rankings, mock drafts, as well as the annual THW NHL Entry Draft Guide. Follow @ChrisRalphYQ on Twitter as he infiltrates, dissects and analyzes all happenings of hockey prospects and the NHL entry draft. Email: cralph[at]thehockeywriters[dot]com