If there is one thing that the NHL media loves to do (other than talk about the Maple Leafs collapse) it's to predict the future. The playoff seeds haven't even been solidified but that hasn't stopped pundits from chiming in with who they think will win which series or which player will be the deciding factor if they go up against team X.
This is also the case for the NHL player awards that will be dished out in the coming months. Predictions have been streaming in since the end of February and all of them want the same thing; to say that they were right. This is especially true for the James Norris Memorial Trophy. Article after article has been written about who the front-runner is or who deserves it. In reality it's just a guess. Nothing less, nothing more, but is there a way to predict who is on the Norris shortlist? There definitely is, and you might be surprised to find out how it can be done.
A Silly Little Number goes a Long Way
The inherent problem with trying to predict a winner is that the process is completely subjective. The actual definition of the Norris states that it should be given to the defenseman who demonstrated through the season the greatest all-around ability in the position. That's a very broad set of criteria and certainly allows the voter to dictate what they think 'all-around ability' actually means. With so many different opinions floating around the hockey world you'd expect there to be a hint of randomness to the voting process, but you'd be wrong.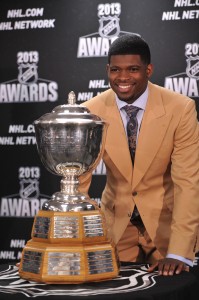 It turns out that the voters are pretty uniformed when it comes to valuing defensemen. In fact, they have been so consistent with their voting that you can essentially narrow down the contender's list without actually watching a single NHL game. All that you really need to know is that the Norris trophy hinges on one magical number; 50. If a blueliner can crack the 50 point total then they've won half the battle where the Norris trophy is concerned.
Don't believe me? Well here is what history has to say about the subject. In the Norris' 59-year history only 15 players have raised the trophy despite failing to accumulate less than 50 points in their winning season. 11 of those 15 winning seasons occurred within the first 14 years of the trophies existence when the NHL only consisted of the 'Original Six' and each team only played 70 regular season games.
Since the NHL expanded in 1967 there have only been four winners who didn't reach the 50 point plateau. The first, surprisingly enough, was Bobby Orr who only managed to scrounge up 31 points (though he only played in 46 games) during his first Norris winning season in 1967-68. The next two were produced by the 'Secretary of Defense' Rod Langway who only put up 32 and 33 points when he won back-to-back Norris' in 1983 and 1984. The last season to witness the accomplishment was the lockout shortened 2012-13 season in which P.K. Subban put up 38 points in 42 games.
Stat Sheet Supremacy is a Must
In reality that 50 point benchmark is rudimentary. It's highly unlikely that any voter sifts through the stat sheet and only cherry-picks defenseman who have cleared the mark. But there is a clear and obvious pattern that has emerged from all of this data; scoring matters to voters. That pattern grows a lot stronger when you start to look outside of the point total.
Note: For the sake of keeping all of the following statistics legitimate I have removed all of the lockout shortened seasons. Sorry Subban.
Here is the offensive production of the previous ten winners:
| | | | | | |
| --- | --- | --- | --- | --- | --- |
| Year | Winner | Points | Points per Game Average | Goals | Defensive Scoring Rank |
| 2011-12 | Erik Karlsson | 78 | 0.95 | 19 | 1 |
| 2010-11 | Nicklas Lidstrom | 62 | 0.76 | 16 | 2 |
| 2009-10 | Duncan Keith | 69 | 0.84 | 14 | 2 |
| 2008-09 | Zdeno Chara | 50 | 0.63 | 19 | 12 |
| 2007-08 | Nicklas Lidstrom | 69 | 0.91 | 10 | 1 |
| 2006-07 | Nicklas Lidstrom | 62 | 0.78 | 13 | 5 |
| 2005-06 | Nicklas Lidstrom | 80 | 1.00 | 16 | 1 |
| 2003-04 | Scott Niedermayer | 54 | 0.67 | 14 | 2 |
| 2002-03 | Nicklas Lidstrom | 62 | 0.76 | 18 | 3 |
| 2001-02 | Nicklas Lidstrom | 59 | 0.76 | 9 | 1 |
There are a few interesting pieces of data that we can find in this table, but the one to focus on is Zdeno Chara's 2008-09 Norris winning campaign. We can come to the conclusion that it was the worst offensive season produced by a winner over the past 10 seasons, but exactly how much worse? If you take into account his point total (50) and point per game average (.63) it doesn't appear to be much different than Scott Niedermayer's 2003-04 season. What changes the perspective is how they produced offensively when compared to other blueliners during their winning season. While Chara finished 12th in the defensive scoring, Niedermayer finished 2nd.
This is where Chara's win becomes an anomaly compared to the others. The second worst finish for a blueliner was Nicklas Lidstrom who was fifth in defensive scoring in 2006-07. To find another Norris winner who was outside of the top five in scoring you have to go back to the 1997-98 season when Rob Blake won the trophy while finishing 8th in defensive scoring. In fact, only three defenseman have won the Norris while finishing outside of the top five in scoring over the past 20 full-length seasons (Chara, Blake and Chelios in 1992-93). In that same time span 12 Norris winners finished in the top two in scoring.
Conclusion
So here is what the data suggests: clearing the 50 point hurdle is rudimentary but still pretty dang important, and finishing in the top five in defensive scoring has a heavy impact as well. By knowing these things we should be able to weed out the true contenders from the pretenders. Instead, what really happens is that we begin to see just how shallow this line of thinking actually is.
Here are a list of Norris contenders who have failed to reach 50 points or are not currently in the top five of defensive scoring this season: Alex Pietrangelo, Zdeno Chara, Ryan Suter, Ryan McDonagh, Andrei Markov, Drew Doughty, Jay Bouwmeester, Matt Niskanen and Oliver Ekman-Larsson.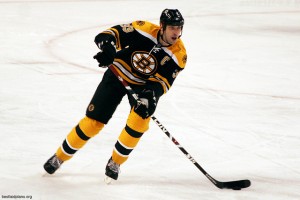 According to the pattern of criteria that history has given us, those eight defenseman should be nowhere near the Norris trophy. In that batch of players we have one of the most dominant d-men in the game (Zdeno Chara), someone who is on the verge of averaging the most ice-time per game in over a decade (Suter) and the best defenseman from Sochi (Doughty). The idea of arbitrarily eliminating these elite defensemen is certifiably insane, but it happens every year, and it doesn't look like it's going to change anytime soon.
This doesn't necessarily mean that a defenseman's offensive production is the lone representation of his Norris legitimacy. Chara is receiving plenty of Norris support despite having just 37 points this season. That can largely be attributed to the fact that he is one of the best shutdown defensemen in the game. Meanwhile Erik Karlsson is leading defensemen in scoring with 72 points but is largely considered a longshot due to his team's lack of success. There are plenty of elements that go into deciding who should raise the Norris. But, if history has taught us anything, there is one thing that appears to matter the most to the average voter. Is that fair? It's up to you to decide.