Teuvo Teravainen was all the rage in Chicago mere weeks ago, with Blackhawks fans eager to declare him the solution to a multi-year roster hole at the second line center position. What was noisy excitement then, however, has morphed into pervasive silence today.
Teravainen has played in only three NHL games since coming to North America in March from the Finnish Elite League. His last on-ice action came on March 30th against the Pittsburgh Penguins, the same game which saw the Blackhawks lose Jonathan Toews — their only center of considerable quality other than Teravainen — for the remainder of the regular season.
Toews' injury slashed the team's depth down the middle, already the weakest point of Chicago's roster even with him healthy. One might presume that the time was ripe for Teravainen to take the reigns and make a lasting impact, but he hasn't been given the chance and was just sent down to the Rockford IceHogs. There is a very sensible reason why.
Teuvo Teravainen and the Entry-Level Contract Dilemma
In a situation not dissimilar to Patrick Kane's in 2007-08 (whose up-and-down NHL career is detailed here), the 10-game mark is an important number for Teravainen. If he plays in a combined 10 or more NHL games during the 2013-14 season and playoffs, a year gets chopped off his entry-level contract (ELC). This is important for salary cap-related reasons; a player of Teravainen's ilk will almost certainly have earned a sizable raise after his first several years in the NHL. A three-year ELC versus what would in effect be a two year ELC is consequently extremely attractive for a high-spending team, especially one with as dicey a cap future as the Blackhawks.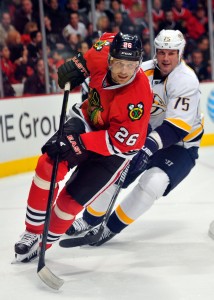 Whether or not Teravainen would get to hit that pivotal 10-game point was left completely up to him. Chicago is plainly in "win-now" mode, with most of its key players in or at the tail end of their primes. Accordingly, if Teravainen showed that he could raise the team's Stanley Cup chances this season with some degree of significance, it seems reasonable to suspect that the Blackhawks would have been happy to make him a regular going into the playoffs, burning the year off his ELC in the process.
Of course, nothing of the sort has transpired. Teravainen acquitted himself fairly well on the ice in his three games, but didn't do nearly enough to force his way onto the permanent roster. The young Finn seemed overly cognizant of his defensive responsibilities, and was mostly a non-factor on offense as a result.
Teravainen didn't look out of place with the Blackhawks, but that is hardly enough to justify making him a fixture in light of the ELC benefits associated with taking a more patient approach. It appears as if the organization agrees, having kept Teravainen out of the lineup thus far in April and sending him down to Rockford on Thursday. Some have posited that perhaps Chicago is "saving" his remaining games for the first round, but this would be senseless. Throwing an undersized rookie with only three games of NHL experience into the proverbial playoff fire would be as bizarre as it would be foolish.
Now that he has been sent to the AHL, it seems all but assured that the Blackhawks have elected to take the safe, big-picture route with Teuvo Teravainen. This decision could very well mean the difference between being able to keep or being forced to let go of a Brent Seabrook or Patrick Sharp-caliber player three years down the line.
Money rules the day. An extra year of Teravainen on the cheap will prove incredibly valuable for Chicago.
Follow Sean Sarcu on Twitter or add him to your network on Google.
Sean covers the Chicago Blackhawks for The Hockey Writers and Rant Sports. Follow him on Twitter: @seansarcu.