The road ahead was shaping up to be a very bright one. And, in the long term, that road still shines with a fantastic future, but, in terms of the current season and it's following post-season, that future looks very dim indeed. With Ben Bishop out with a wrist injury, the Lightning may not even make it past the first round of the playoffs against the Montreal Canadiens.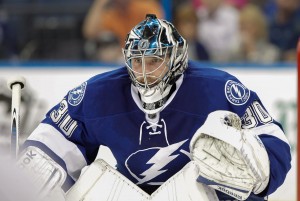 Back in the fall of 2013, Bishop hurt his wrist during practice. This seemed not to really trouble him much for a little while, but then, before the Sochi break, his play slipped as a result of the injury. During the break, it was revealed that Bishop might have to get surgery this summer on his wrist, but also reassured Lightning fans that he could still play.
And he did. Though his stats show a slight decline in play quality, Bishop was still offering some very solid goaltending compared to many of his peers. However, on December 8th, while attempting to make a save on a high shot by the Maple Leafs, Bishop fell on his glove hand, causing his injury to flare up again.   Though the injury looks serious, there's still a chance that Bishop will play at some point in the first round of the playoffs.
Lindback Vs. Price.
Though Lindback jumped in after Bishop was injured in the first period and led the team to victory with a shutout, his performance this season has not been up to expectations. When compared to Carey Price's performance this season, particularly the last several weeks or so, the outlook for Lindback's future also looks dismal. But, there's still hope.
That hope resides in the hands of Tampa Bay's ability to score. With the way that the Lightning have been playing, scoring three or more goals in most games, there's a possibility that the Lightning can come out on top. If Ondrej Palat, Steven Stamkos, and Ryan Callahan continue playing the way they have been, then their chances of eliminating the Canadiens and making it to the next round are a little brighter.
But, the Lightning's hope rests mostly with the defense. Lately, Victor Hedman has been playing the kind of hockey his team needs. Radko Gudas, if he can stay out of the penalty box, can easily topple enemy shooters and snipers with one of his vicious hits. If Tampa Bay defense can simply seal up any holes, then Lindback can be an effective goalie.
However, Lindback's play is not consistent. He does not play solid goaltending for long stretches of time. So, in the present, Lindback offers plenty of hope if he's depended upon for being the Lightning's go-to man in front of the twine in the first few games of the post-season. But, if Lindback does happen to help push his team past the first round, there's a chance the workload may be too much for him.
It's the sort of workload Ben Bishop strives under, so let's hope that he heals under pressure as well.
I, William Gilbert, am from Bradenton, Florida and currently attend Florida State University. My major is Creative Writing but I spend most my time watching hockey and obsessing over Ben Bishop.