There's an old saying by philosopher Friedrich Nietzsche, "What doesn't kill us, makes us better." Adversity is what makes hockey a great sport. Saturday night's game between the Nebraska-Omaha and North Dakota had many twists and turns.
First, Nebraska-Omaha head coach Dean Blais was tossed from the game by NCHC official Andy Thiessen for not putting a player in the penalty box after his team took an unsportsmanlike penalty.  No one really knows what was said, but the Mavericks ended up with an unsportsmanlike bench penalty.
"We dealt with some adversity at the start of the game," UNO Maverick forward Josh Archibald said. "With (Dean) Blais getting kicked out of the game, our team battled back and good things happen when you battle back. We're lucky to come out on top tonight."
"I don't really know how we got the two-minute unsportsmanlike penalty for the bench minor to start things off. I just don't think that coach agreed with it, and a lot of the guys on the bench didn't agree with it. He (coach Blais) just kept saying 'no' to the ref, and I guess he got thrown for that."
Incidentally, the head coach's ejection seemed to motivate the Mavericks.
"If he (coach Blais) is going to do stuff for like that for us, we're going to battle for him any day."
Archibald was voted the game's first star by the media and he would go on to score a natural hat trick and add an assist for the four-point night.
Maverick goal waived off
With 8.2 seconds remaining in the second period, UNO forward Brock Montpetit appeared to score a goal off of a spinorama move. Here's the problem, the Maverick forward plowed into UND goalie Clarke Saunders while shooting the puck, pushing him into the left goal post. When the play was over, the puck was in the UND net. Initially, the on-ice officials ruled it a good goal. After further  review, the refs ruled no goal due to goalie interference.
In the end it really didn't matter all that much, because the Mavericks still ended up winning the game 6-3. Checking the NCAA rule book, I believe the refs made the correct call.
Disallowed goal, NCAA rule 83.6 – If an attacking player interferes with the goalkeeper in the crease physically or visually, preventing the goalkeeper from defending the goal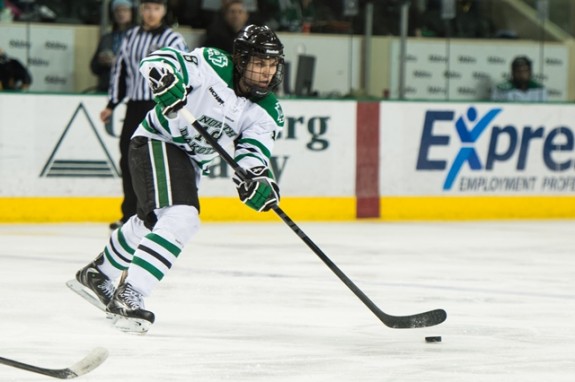 UND's power-play struggles
The UND hockey team is experiencing serious issues with their power-play. For the weekend, UND went 0-for-10 on the power-play.  In the last nine games, UND is 3-for-38 (7.9%) on the power-play.
You can bet, that the power-play will get extensive work this week in practice.
"It's hard for us, we're trying hard not to get frustrated," senior defenseman Dillon Simpson said.  "But again tonight, we didn't have the tenacity on pucks.  It's an ongoing thing. We got to simplify and need to get more pucks to the net. But at the end of the day, we didn't play hard enough, I thought and hard enough on pucks throughout our power-plays."
UND blows a two-goal lead
Coming into the game, UND had been on a roll winning seven straight games at home, and owned a 5-1-1 record during the New Year. So, when UND took a two-goal lead it looked good for the home team. The last time UND blew a two-goal lead was January 30, 2012, against Denver (4-2 loss).
"We were poor defensively, head coach Dave Hakstol said. "In all aspects without the puck tonight – we were poor."
Tale of two Clarke Saunders
Coming to Saturday's game, Clarke Saunders has been rock solid in net, posting a 2-1-0 record, with a 2.03 goals against average and a 933 save percentage. In Friday night's game against Nebraska-Omaha, Saunders was very good, stopping 31-of-33 shots in route to a 4-2 victory.
What a difference a night makes.
In Saturday's game against the Mavericks, Saunders gave up six goals on 35 shots (.829). On Saturday nights, Saunders is 0-2-0 with a 4.81 goals against average and a .849 save percentage. That being said, you can't fault the goalie alone. Defensemen were flat footed and caught out of position all night long.  The power-play was a major factor in Saturday's poor play.
"We weren't sharp on our power-play opportunities," Hakstol said.
With four weeks left in the season, there seems to be a feeling that the UND  hockey team let one slip away last night. With the loss, UND now falls from first place to tied for third place in the NCHC Standings. No need to panic, there's eight games left to make up ground.