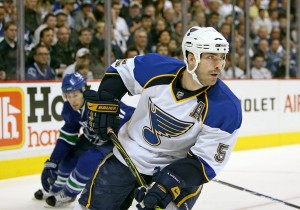 "Here stands baseballs perfect warrior.  Here stands baseballs perfect knight."
Most people in St. Louis know this quote. This is the inscription from baseball commissioner Ford C. Frick, in 1963, on the statue of the great Stan "the Man" Musial outside Busch Stadium.  While no one in the St. Louis sports world will ever come close to the "Man" and his accolades, one player on the St. Louis Blues certainly is their perfect warrior, their perfect knight.  His name is Barret Jackman.  Jackman just surpassed 700 games wearing the Blue Note.  Only 3 others have managed to do that.  Two are Hall of Famers, Brett Hull and Bernie Federko.  The other is Brian Sutter, who when he retired may have been the greatest Blues captain and contributed over 300 goals in his 779 games.  He may not have the gaudy numbers.  He may never be an all-star, and will never grace the Hockey Hall of Fame.  What he does do is serve and protect, not only his goal but also his teammates.  He is the foot soldier that all winning teams need.  While he will never be mistaken for the the Blues power trio of Kevin Shattenkirk, Alex Pietrangelo, or Jay Bouwmeester, Jackman certainly knows his role and performs it to a tee.  Apparently he is doing something right as he now stands as not only the longest tenured Blue but the longest tenured professional athlete in St. Louis.  Still at times he is much maligned by Blues fans so let's figure out why.
Too Much Too Soon
Jackman came to the Blues as the 17th overall pick in the 1999 NHL Draft.  He went on to win the Calder Trophy as rookie of the year in the 2002-2003 season.  Although his point total was modest at just 3 goals and 16 assists, he managed to play all 82 games while amassing 190 penalty minutes.  His most impressive stat from his inaugural season was his plus 23 in the plus/minus category.  He was aided by being paired with Al Macinnis.  The Hall of Fame defenseman was second on the team in scoring that year with 16 goals and 52 assists.  Somewhere along the way Jackman was wrongly perceived as an offensive defenseman and as we all know perception is reality.  But the reality of it all was Jackman was that stay at home defenseman that allowed Macinnis to traverse into the offensive zone while sometimes shirking his defensive duties.  That's a lot of pressure to put on a rookie, but not only did Jackman survive, he thrived.  This prosperity early on put unreal expectations on Jackman.
Rule Changes After Lockout
Barret Jackman second season was cut to 15 games because of injury and his would be 3rd was completely abolished by the strike of 2004-2005.  The NHL, in an effort to draw fans back to the game in 2005-2006, instituted some rule changes.  These changes were mostly on the defensive side of the puck and were brought in to open up the games offensively.  More goals equals more highlights.  More highlights beget more fans.  The changes enhanced the game for the more skilled players but for players like Jackman the rules hindered their game.  Gone was the clutching and grabbing to slow players down.  Gone was the hooking and stick work to impede the progress of on coming forwards.  Jackman seemed to have a difficult time adjusting and Blues fans were quick to point this out.  What started out as a promising career appeared to be going Nine Inch Nails, on a Downward Spiral.
http://youtu.be/0HqlMJO48eM
Better Team Equals Better Jackman
The Blues as a whole have been an improving team from the start of the decade.  Not surprisingly the play of Barret Jackman has congruently improved.  Since the 2009-10 season Jackman has a been a plus player amassing a plus 52 through 57 games this season.  While the offensive stats are never going to wow anyone the key is keeping the puck out of your net and in the opponents and that's what is happening with Jackman on the ice.  No longer are you hearing how he is too slow for the league.  The shouts of "Jackman you are like a pylon out there" seemed to have quieted down.  The one song that remains the same is Barret Jackman and his willingness to stand up for his teammates.  With a defense loaded with offensive talent there is a need for the rugged, agitating defenseman.  That need is filled by the likes of Jackman and the burly Roman Polak.  It is a job they do very well.  It is a job Barret Jackman has been doing for 700 games.