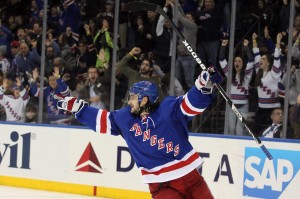 New York Rangers winger Mats Zuccarello exemplifies what it means to be a playmaker. Currently playing on the Rangers' third line alongside Derick Brassard and Benoit Pouliot, Zuccarello is quickly becoming a fan favorite amongst the Blueshirt faithful. Just listen to the crowd at Madison Square Garden every time Zuccarello's name is announced and you will hear a resounding "zuuuuc" coming from the stands as fans serenade the forward. He is the leading scorer on the Rangers with 43 points, leading his team in the categories of assists and power play points.
Zuccarello is not your average hockey player in the sense that he is not the 6-foot-tall, Canadian, first round draft pick that we are so accustomed to seeing skate in the NHL. Instead, he is 5'7", Norwegian, and entered the league after signing with the Rangers as an undrafted free agent at the age of 22. He played professionally in both Norway and Sweden before coming to New York in the summer of 2010.
What differentiates Zuccarello from other players across the National Hockey League is not his stature or nationality, but his versatility and his unprecedented hockey sense. He has an innate ability to see the whole ice when he plays, using his speed and soft hands to create space for his teammates. He is hockey smart, a playmaker who is always cognizant of where his teammates are before successfully finding them with precisely placed passes made through a web of outstretched sticks and bodies.
Zuccarello produces points not only for himself, but his teammates as well. In order to fully appreciate Mats Zuccarello's playmaking abilities, let's take a look at a few numbers.
Zuccarello's impressive feat
First, let's look at the league's leading goal scorer. Alex Ovechkin has scored 40 goals so far this season. On those 40 goals, 12 different Capitals have picked up at least one assist (either primary or secondary) while helping their captain score. Another goal scorer, Phil Kessel, has 31 goals on the season, with 13 different Maple Leafs picking up a point after assisting on at least one of his 31 tallies. Finally, league leading point-getter Sidney Crosby has 28 goals on the season, with 15 different Penguins credited with an assist after contributing on at least one of his goals.
Now let's look again at Zuccarello, who has 15 goals on the season. He has scored far fewer goals than the league leaders, but has had a staggering amount of different teammates pass him the puck before scoring. A total of 14 different Rangers have picked up at least one primary or secondary assist on a Zuccarello goal. That's one less player than Crosby, who has near twice as many goals and is playing on a Penguins team that has seen a multitude of different players penciled in and out of the lineup due to injuries.
Zuccarello's numbers are impressive in that he has helped 14 different players pick up at least one point over the course of the 15 goals he has scored. In fact, 7 different players were credited with an assist through his first 4 goals of the season. When looking at the numbers behind the goals of Ovechkin, Kessel, and Crosby in relation to the numbers behind the goals of Zuccarello, we see that it isn't always the number of goals scored that can make a player great, but the way in which he scores them.
ZUUUUUUUUUUUUUUCC #NYR

— New York Rangers (@NYRangers) January 18, 2014
Picking up points
The Rangers lineup has stayed relatively healthy throughout the season compared to other clubs like Pittsburgh and Detroit, meaning that Zuccarello has seen ice time with nearly all members of a healthy Rangers team at one point or another. The fact that Zuccarello has had so many different players assist on his goals is a testament to his ability to create chemistry with any teammate he finds himself on the ice with at any given time. The numbers reflect how he has bounced around the lineup throughout the season, playing with different linemates and playing with varying teammates on the power play (though only 4 of his 15 goals have been scored with a man advantage). Whenever he is on the ice, Zuccarello has managed to stay productive, no matter who he is playing with.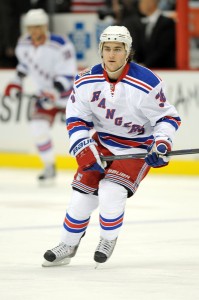 Even Zuccarello's 28 assists this season illustrate his knack for playing to his teammates strengths. 19 of his 28 assists are primary assists, while 9 are secondary. He has assisted on goals scored by 11 different Rangers, picking up the primary assist at least once for each of the 11 players. This means that Zuccarello was the last to touch to puck before setting up 11 different teammates for goals. Newly acquired blueliner Kevin Klein is the only Rangers defenseman who has not picked up a point with some help from Zuccarello.
In total, he has helped 15 different teammates pick up at least one point this season, as he has either assisted on one of their goals or scored after getting the puck from them.
Helping his team win, one play at a time
It is evident that Zuccarello is both a playmaker and a team player. After a slow start to his season in which he failed to record a point in his first 7 games, Zuccarello has proven himself to be an integral part of the Rangers lineup. He is one of the biggest reasons why the Rangers find themselves sitting in second place in the Metropolitan Division. Since he scored his first goal this season, he has not gone more than 4 games without recording a point. He is currently riding a 6 game point streak, the longest of such in his National Hockey League career. Over those six games he has tallied 2 goals and 6 assists, with both goals coming in the Rangers' 7-3 win over the New Jersey Devils in the outdoor game played at Yankee Stadium on Jan. 26, where he scored the game winner.
Zuccarello is as versatile a player as they come, making the most of his time on ice regardless of who he is playing with. He creates his own chemistry, he makes his teammates better players, and his exceptional hockey sense is reflected not only in the plays that he makes on the ice, but in his teammates' continued success when playing with him.