The 2014 American Hockey League All-Star game is just a few days away– just enough time to clear the air on a common misperception: There is a lazy tendency to call American Hockey League President and CEO David Andrews the "Gary Bettman of the AHL" by virtue of their positions atop the two primary hockey circuits in North America.
This could be further from the truth, but not by much. An easy way to tell the two apart is by comparing their backgrounds.
VITALS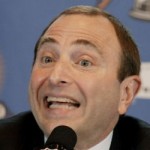 Gary Bettman
Born: United States
Hockey background: None
All-conference MVP goaltender, Dalhousie University (Halifax) and University of British Columbia, 1960's
Four years of pro hockey in Holland
Member, Canadian Amateur Hockey Association Developmental Council
Hockey development coordinator, province of British Columbia 1975-80
Assistant coach, Victoria Cougars (WHL), 1981
Head coach and director of hockey operations, Victoria Cougars (WHL) 1982-84
Head coach, Canadian National U-18 Team, 1982
Edmonton Oilers Director of AHL Operations (Cape Breton Oilers) 1988-94
2005 Inductee, British Columbia Hockey Hall of Fame
2006 Inductee, Nova Scotia Sport Hall of Fame
2010 Recipient, Lester Patrick Trophy
It should be noted that while an assistant coach with the Victoria Cougars, the team won the Ed Chynoweth Cup, and while an executive with the Cape Breton Oilers, the team won the Calder Cup.
Former @UBCMHKY goalie and current AHL Pres/CEO David Andrews is proud to support the effort to #SaveUBCHockey pic.twitter.com/7UIxxViuMy

— AHL (@TheAHL) January 23, 2014
ADDITIONAL LINKS:
Again, the notion that Andrews is somehow the Bettman of the AHL could be further from the truth, but not by much. On that note, Andrews can present the Calder Cup to the winning team every year without the chorus of boos that follow Bettman everywhere he goes.