Vancouver's 3-1 loss to the Toronto Maple Leafs in the last regular season game before the Sochi Olympic break couldn't come at a better time. Since he was announced as one of Team Canada's starters, Roberto Luongo has been reeling from the lack of support in front of current team, and his losing funk could spell a potential disaster for Team Canada in the next couple of weeks.
After his return from suspension, it has been very clear to John Tortorella that he still has plenty of work to do. Thanks to their seven-game losing streak, the Canucks are sitting at the lowly 9th place, just out of the final playoff spot. The effort has been there some nights, but the goals and end results haven't been coming. The Canucks simply don't have the manpower and scoring prowess to compete against the Anaheim, St. Louis and Chicago powerhouses. Losing some key players like Roberto Luongo, Alex Burrows, Kevin Bieksa, Mike Santorelli and Captain Henrik Sedin to injuries throughout the first half of the season didn't help either.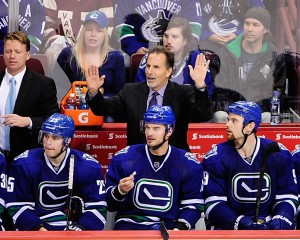 Like Roger Neilson, perhaps Torts should be waving the white flag right about now. But he should start waving it in the direction of GM Mike Gillis. Other than a recent trade that sent 4th liner Dale Weise to the Montreal Canadiens for defenceman Raphael Diaz, there hasn't been much of a change for a slumping roster.
At the Olympic break, the NHL trade rumour is somewhat ramping up. Should Gillis take a serious look at his roster and consider what the team needs? Offensive scoring? Solid defence? Special teams power play effectiveness? Intimidation? Or all of the above. Luongo and Eddie Lack are doing all they can to protect the net. But it's the team in front of them that has to support them, and for Gillis, he needs to fix this problem fast.
Trade Rumors at the Olympic Break
(Notice that all except one of these players are forwards, and they could be what Vancouver desperately needs)
Thomas Vanek, Mike Cammaleri, Ryan Callahan, Steve Ott, Matt Moulson, Sam Gagner, Chris Stewart, David Legwand, and Ryan Miller (only goalie trade bait)
Who could be a good fit for Vancouver? Perhaps Steve Ott could be the catapult for the Canucks to start intimidating and hitting their opponents. Isn't that Zack Kassian's job?
Speaking of others who aren't doing their jobs, Vancouver may have to trade away players that aren't contributing on the score sheet. Namely, Burrows who hasn't score a single goal this season. David Booth also comes to mind having scored only five goals so far. Andrew Alberts may be running out of time, having only played ten games in his fifth year with the Canucks.
Canucks at the Olympics
While the Canucks go into the Olympic break pondering their lacklustre season so far, here are some past and present Canucks that will be making the push for Gold in Sochi. They are:
Dan Hamhuis from Smithers, BC (was controversially picked over Chicago's Brent Seabrook)
Roberto Luongo from Montreal, Quebec (but he's really from Miami. Who are we kidding?)
Ryan Kesler from Livonia, MI (wants the Gold that he lost to Team Canada in Vancouver 2010)
Daniel Sedin from Ornskoldsvik, Sweden (needs to score badly)
Henrik Sedin from Ornskoldsvik, Sweden (needs to recover from his injury very quickly)
Yannick Weber from Morges, Switzerland (he once dated Swiss goalie Florence Schelling who got peppered with 69 shots in a 5-0 loss to Team Canada)
Petr Nedved from Liberec, Czech Republic (2nd overall draft pick in 1990, first Olympian to represent two countries in men's hockey)