The Detroit Red Wings have found themselves in an alright position going into the Olympic break. Here's a look some things worth noting.
Current Standing: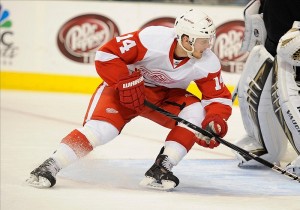 In the second wild card spot, six points behind the Maple Leafs with two games in hand for the first wild card. In spite of all the injuries, the Wings have managed to put themselves in a decent spot at the break.
Of Note:
The Red Wings are sending ten players to Sochi to compete in the Olympics. Travelling across the world and putting yourself at risk for injury while other teams have considerably more of their players at home resting might not bode well for a Detroit squad looking to make a big push in their final 24 games. On the other hand, playing in a highly emotional setting such as the one we'll see these next few weeks could light a fire under some of the guys. At least they won't be rusty.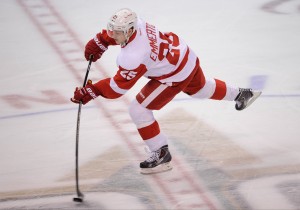 Getting The Extra Point:
Since losing the Winter Classic, the Wings are 3-1 in the shootout, boosting their overall record this year to 4-8 in games that are decided after overtime. There was really no reason for them to have been so bad, and they left a lot of points out there, but it's good that they're turning things around.
Last Night:
The Red Wings looked like they were going to get at least a point in their last game before the break but a late third period goal by Alex Killorn gave the Lightning a 3-2 lead before Ondrej Palat added an empty netter. The Wings have lost all four games against Tampa Bay this season (two of those came in regulation) and won't face the Bolts again until the 30th of March. Given that this is a divisional rival, those losses hurt. The game at the end of March could have a big impact on the playoff race.
Also From Last Night:
The end result wasn't what Wings fans wanted, but that backhand goal by Thomas Jurco was.
Disgusting. That shot was so vulgar, it is now leading the polls for Toronto's mayoral election.
For a team that's constantly written off as too old, the Wings have some good young players. Gustav Nyquist, Tomas Tatar, Justin Abdelkader, Joakim Andersson, Danny Dekeyser, Riley Sheahan, Brian Lashoff, and Luke Glendening and Jurco are all under 27 years of age. Jurco will join Tatar in Sochi playing for Slovakia. They just missed out on a medal last Olympics and are always a good dark horse pick to medal.
More Goals Please:
Through 58 games, Detroit has scored 151 goals, which out of all teams currently in a playoff position, is better than only the Montreal Canadiens. Their current pace would have them finish with 213 goals on the season, shy of the 230 Ken Holland once marked as the number a team would need to be a lock for a playoff spot. That was, however, back when the Wings were in a much tougher Western Conference. Holland will probably look to make a move before the trade deadline to bring in some scoring help, but he has stated that he won't be giving away players he thinks will be a part of the future.
Coming Up:
The Olympic break of course. After that, the Wings will play two games in two nights on the road in Montreal and then Ottawa. These are two big divisional games against a team above and right below them in the standings.
Last Time This Happened:
The last time the NHL took an Olympic break, the Wings ended up winning 16 of their last 21 games, losing only three in regulation. Doing that again could get them some extra home playoff games, which could go a long way towards another potential cup run. Having said that…
Home Not So Sweet:
The Red Wings are currently sporting an 11-11-8 record at the Joe/Big House. While that's .500 hockey according thanks to the loser point, they've still lost more games than they've won at home. That needs to change.