The University of North Dakota Hockey team started out the season red-hot, going on a 5-0-0 run, then their schedule got tougher. They had four games on the road against Minnesota-Duluth and the Minnesota Gophers. When the Fighting Hawks returned home they owned a 0-3-1 road record in those four games.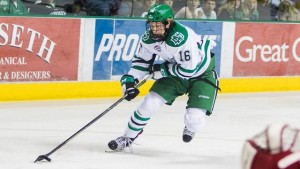 It didn't get any easier once the Hawks returned home. The Pioneers skated into Engelstad Arena and took four of six conference points from their arch rival. After last weekend's series, the Hawks find themselves in a six-game slump they haven't seen since the 2002-03 season (Feb 8 – March 2, 2003) when they went 0-5-2. There's a sense of urgency going into this weekend's series with the St. Cloud State Huskies.
"I think there's an urgency every time we play in a game that we come off a loss," coach Berry said. "Our group is a very upbeat group, and very task-orientated with what we have to do. (In the past six games) things haven't come easy for us, right now. Our guys have stayed together, they've worked extremely hard in practice.
"Again, we're going to pull out of this, it's just a matter of time and we're going to do this. Our group has the mentality to do this. There is a little bit of disappointment with the past six games. There's an urgency and there's a commitment here, too."
As I mentioned earlier in the week, the Fighting Hawks haven't played all that bad, but they haven't done enough to push themselves over the top. Over the past three weeks, they're winless in six games at 0-4-2 (.166).
"When you look at the games, they've been one-goal games," coach Berry said. "Every game is different, whether  we're leading a game or chasing a game. There are ebbs and flows of games where we've got to take control of the game. There's only one game (in the past six) where we scored back-to-back goals.
"We've got to sustain (the momentum). When we score a goal, we've got to be the team that scores that next one and not let the other team score that next goal in a quick amount of time. I think it's a concerted effort of the small details within a game that leads to a win."
Players Aren't Panicking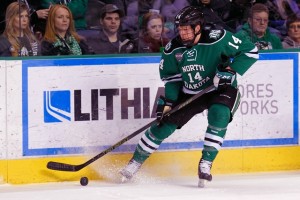 Last season, UND lost a grand total of six games. So far, this season, they've have lost four times in 11 games. While I don't think anyone expected this team to only lose six games, the current players on this team haven't experienced a long winless streak like the current one.
Nonetheless, I don't think that anyone is panicking yet. The players and the coaching staff know what they've got to do. Now it's just a matter of them going out and executing the game plan. It's also a matter of confidence.
"Our confidence is growing within our team," junior forward Austin Poganski said. "We lacked a little confidence the last few weeks, but I think we're moving in the right direction. Our team is making progress and taking steps each game. I think we're playing well. We've got to put it all together and play a sixty-minute game."
The Fighting Hawks are saying all of the right things. They know what they have to do and they're not playing all that badly. They just need to play a 60-minute game and clean up a few minor mistakes that get magnified when a team is struggling for wins.
"I wouldn't say panic," Poganski said. "I would say more urgency. I wouldn't say desperation mode but we can't really afford too many mishaps. We've got to keep improving as a team and building as a team and just get a few wins."
Sophomore defenseman Christian Wolanin echoed his fellow teammate's comments.
"Saturday night's post-game losses are always a little bit edgy," Wolanin said. "We have a good staff, we have a good group of guys. We know what we need to do. Obviously, this is a little frustrating. But there's no panic. We know what we need to do to get back on track."