There are five games in the NHL on Friday and of those five games, three consist of some pretty big mismatches. This may be a good indicator of where to focus your fantasy team selections. All three teams who should be considered favorites are coming into the hometowns of the underdogs with losing streaks to snap. Chicago's is only one and they'll be taking on a Gaudreau less Flames squad
Yesterday's Games
Outside of Mitch Marner, I was at a complete and utter loss when it came to who I thought may contribute for fantasy on Thursday. Part of the issue was that the typical fantasy producers didn't produce and the players who did, in a lot of cases, were relative unknowns. Connor Brown led the way with four points, but prior to Thursday, had a total of three points in 16 games. After that, it was Jaden Schwartz, who had six points on the season. Anyone who might have selected Brown would have had a clear advantage.
Tonight's Games
Detroit Red Wings at Washington Capitals
New York Rangers at Columbus Blue Jackets
Pittsburgh Penguins at New York Islanders
Montreal Canadiens at Carolina Hurricanes
Chicago Blackhawks at Calgary Flames
Centers
Alex Galchenyuk ($7000)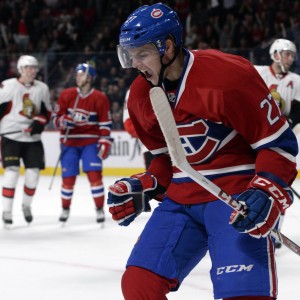 Even though the Canadiens have lost a couple in a row, Galchenyuk has stayed relatively hot. He's been a consistent fantasy point producer with three or more fantasy points in nine of his last ten games. He now leads the Canadiens with 18 points in 17 games and is scoring at a 1.06 point per game pace.
Nicklas Backstrom ($6500)
Is his five point game against the Peguins on Tuesday an anomaly or is this the start of Backstrom really breaking out for the Capitals? At his price tag, I'm willing to try him out and see if he can't repeat anything close to his previous game's performance. He'll be taking on a Red Wings team who is average to poor on defense. The Wings allow an average of 32.1 shots per game and that could be hazardous against a potent offense like Washington's.
Forwards
Cam Atkinson ($5300)
Atkinson has five points in his last two games. He's got fantasy points in bunches and his price tag has only slightly fluctuated, so he's worth looking at as the Blue Jackets take on the New York Rangers. Both teams are coming into this game with winning streaks and something has to give. Atkinson has 13 points in 14 games and two game-winning goals on the season. He's also got four power play goals and eight power play points.
Artemi Panarin ($7300)
Panarin has been eerily quiet over the last two games. He's gone pointless with only two shots on net. He's taking on a Calgary team where he and Patrick Kane are the two most skilled players on the ice and this could be a game where Panarin gets back on track.
Defense
Brent Seabrook ($4900)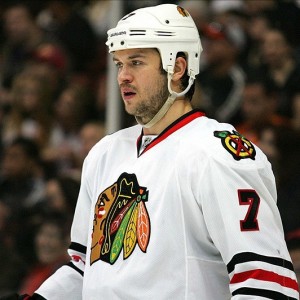 Seabrook's fantasy price is at its lowest point in 10 games and he's still producing better than average. He's out performed his fantasy projections in four of his last five games and he's now got 10 points in 17 games this season. He doesn't go long without getting a point and right now he's on a three-game pointless streak, so this may be a good time, against a weaker opponent where he puts his name up on the score sheet.
Goaltender
Corey Crawford ($8300)
Crawford is 8-4-2 with a .928 save percentage and a 2.18 goals against average. These numbers won't rank him among the top tier right now, but good enough to get a victory in Calgary and backstop the Blackhawks to halting the losses at one game.
The Flames rank 26th in goals per game, 24th in shots per game and 24th in power play goals. I would go so far as to say it's going to be an easier night for Crawford, but perhaps the odds are more in his favor than any other goaltender available in fantasy play on Friday.