Cassidy Tindall, a 13-year-old goaltender, just took the road trip of a lifetime.
Loaded up for the 15-hour car ride from Kenosha, WI to New Haven, CT were Cassidy, her parents, middle sister and 6-month-old niece. Their destination: a weekend of NWHL games.
From Kenosha
Cassidy skates for the U14 Maulers, a girls team in the Northern Illinois Hockey League. She talks about her team with palpable excitement.
It's her first year of girls hockey, and that is significant for her after years of co-ed play. She loves it, and that's not a unique feeling. Bullying that can result in injuries isn't a rare occurrence for girls playing co-ed hockey through the transition into a more physical game.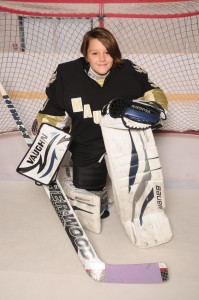 Her father, Eric, had seen it before and had reservations about whether playing co-ed at higher levels would be right for Cassidy. "Our friend's daughter ran into [difficulties skating co-ed] and she just stopped playing."
For Cassidy, the transition was important, as was hearing from someone who had been through the same obstacles. Having a role model she could relate to isn't something that's always been available to female hockey players.
She remembers seeing Boston Pride and Team USA forward Hilary Knight talk about the same challenges Cassidy encountered in the ESPN-W video "Knighter." "I understand what you've been through as a pee wee or squirt," Cassidy said, explaining the connection she felt to Knight, "because in my games I was singled out… I thought my team wouldn't treat me anything like this, but some teams were weird about girls playing co-ed."
"Weird" frequently meant bullying or targeting because she was one of the only girls on the ice.
"[Moving to a girls league] changed how I felt about hockey," she said.
To Connecticut
The Tindall's road trip took them first to New Haven where they saw New York Riveters visit the Connecticut Whale at Yale Ingalls Rink. The Tindalls then tailed the Whale to Stamford where they hosted the Buffalo Beauts at Chelsea Piers the following day.
"I was really excited when my parents told me we were going to see a couple NWHL games," she said. "We don't go on a lot of trips as a family."
The NWHL became a destination for Cassidy in many ways. It's the thing that her and her teammates aspire to. "We talk about it in the locker room a lot, or on sleepovers."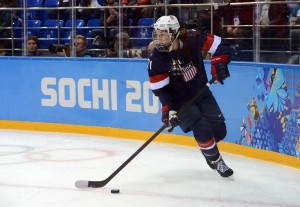 "[My teammates and I] have a group chat on all of our phones. I kept on taking pictures of the NWHL games and the score and sending them [to my teammates]. A lot of my teammates were really jealous," she laughs.
It was more than just a destination for the road trip though. Her favorite hockey player? It's not Carey Price or Jonathan Toews. It's Hilary Knight.
"Well, also Jessie Vetter," Cassidy adds, "but she doesn't play in the NWHL."
Talking to Cassidy via phone as their road trip came to a close, the excitement hadn't worn off.
"My goal in hockey is probably to be a goalie in the NWHL for the Boston Pride or Connecticut Whale," she says. "Well, I don't know. Any team I could get onto, I guess. That'd be awesome."
A year ago, she says, she just hoped to play for the University of Wisconsin Badgers, a team that is both close to home and the alma mater of Knight. Cassidy still wants to make it to the NCAA, but the option of playing professional hockey excites her and created a new target.
While issues of pay and providing equipment, battles between the CWHL and NWHL and other issues continue to get worked out in the two major North American women's leagues, the tangible results of what has been done so far are spreading fast.
Only a couple days removed from seeing the NWHL for the first time, Eric was struck by what the league is capable of. "It seems real small, but [it's] really powerful."
Dustin Nelson writes about news and the Minnesota Wild for The Hockey Writers.