Just as we all predicted during the off-season the NWHL's newest team – the Toronto Six – have locked up the top seed in the Isobel Cup Playoffs, which start on Feb. 4 on NBCSN. It has been truly remarkable to watch the expansion team rattle off four consecutive wins – beating Boston, Buffalo, Minnesota, and Connecticut in succession. By the way, three of those teams will be joining Toronto in the semifinals this upcoming Thursday.
In the day's opening game on Jan. 31, the Boston Pride staved off elimination with a 6-0 thumping of the Buffalo Beauts and set up a winner take all Game 3 on Feb. 1. After a goalless opening period, the Pride ripped off three goals in each of the final two periods and perhaps, grabbed the momentum in the series. The winner of Monday night's game will take on Toronto in the semifinals.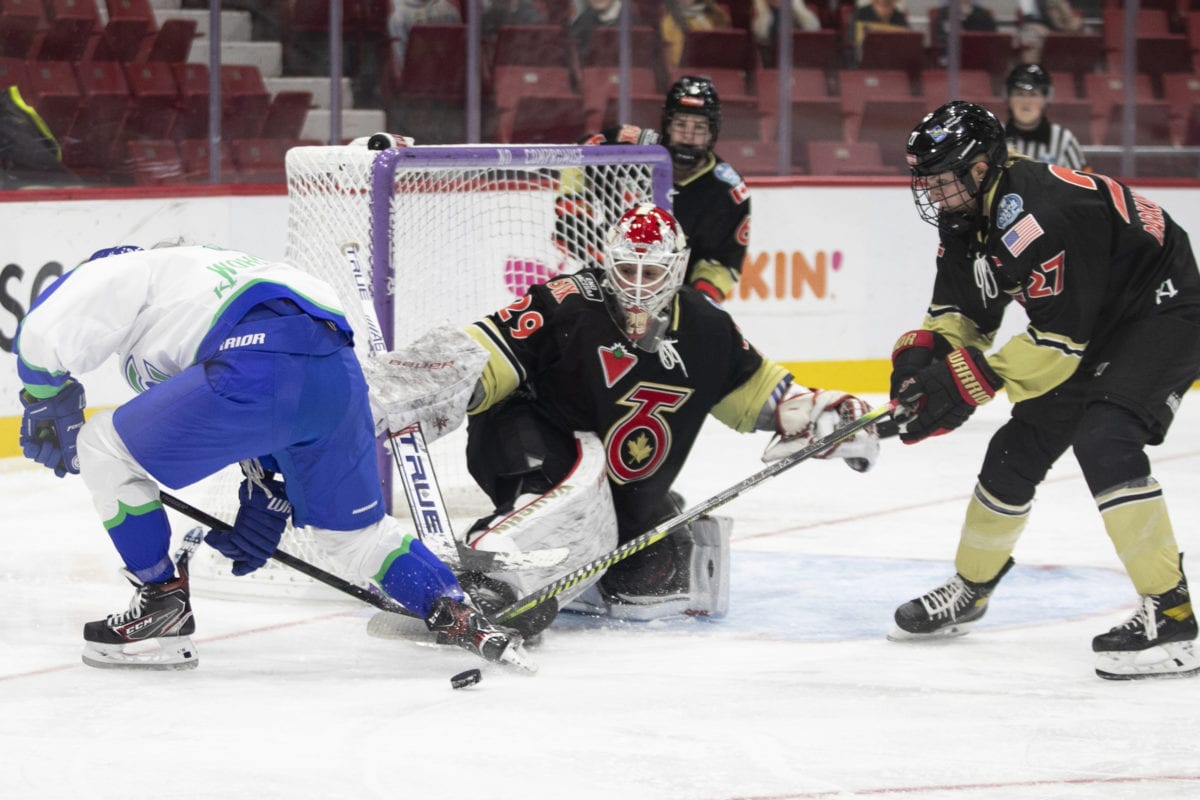 In the second game of the day, the Toronto Six secured that top spot in the standings after a 6-0 whitewashing of the Connecticut Whale. The game was tied 0-0 heading into the second period, and almost midway through regulation before the Six exploded for, yes six goals in a span of 19:20. The Whale were missing a few key players and it showed as the game wore on. Connecticut plays Minnesota on Feb. 1 and the winner of that game will become the second seed in their rematch on Thursday in the semifinals.
A Night of Firsts
Meghara McManus, drafted 29th overall by Boston in the 2020 NWHL Draft, scored her first NWHL goal in the third period against Buffalo.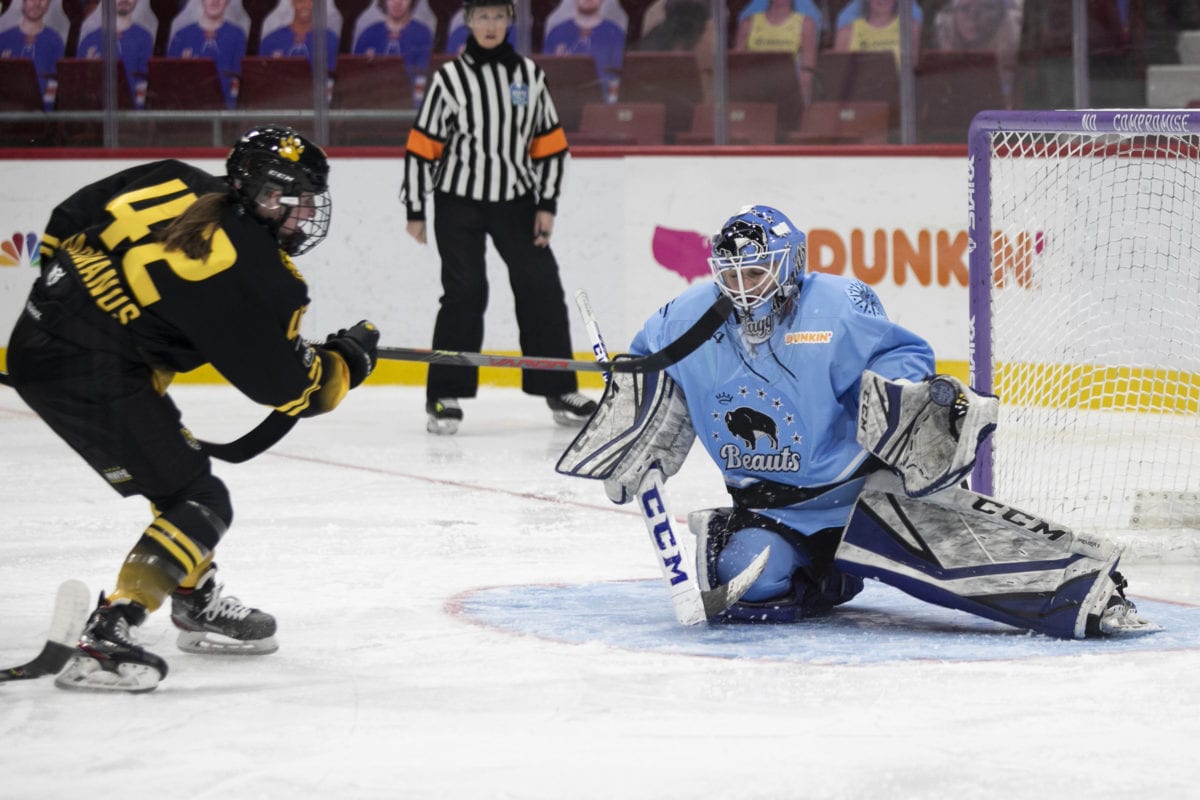 Goaltender Caty Flagg saw her first NWHL game action and played the final 17:23 for the Beauts, relieving Carly Jackson in the third period.
Boston became the first NWHL team to score six goals in regulation this season, a feat that was matched by Toronto three hours later.
Forward Maeve Reilly played in her first NWHL game after signing with Connecticut earlier in the day.
Amy Curlew, drafted eighth overall by Toronto in the 2020 NWHL Draft, scored the goal that finally broke the 0-0 tie – her first as a pro, which turned out to be the eventual game-winner.
Toronto's Mackenzie MacNeil netted her first NWHL goal early in the third period and she liked it so much she scored another one 2:37 later.
On MacNeil's first goal, Breanne Wilson-Bennett picked up her first NWHL assist.
Six rookie Taytum Clairmont recorded her first NWHL goal and assist in the third period, working some magic with Mikyla Grant-Mentis for two Toronto goals in a span of 23 seconds.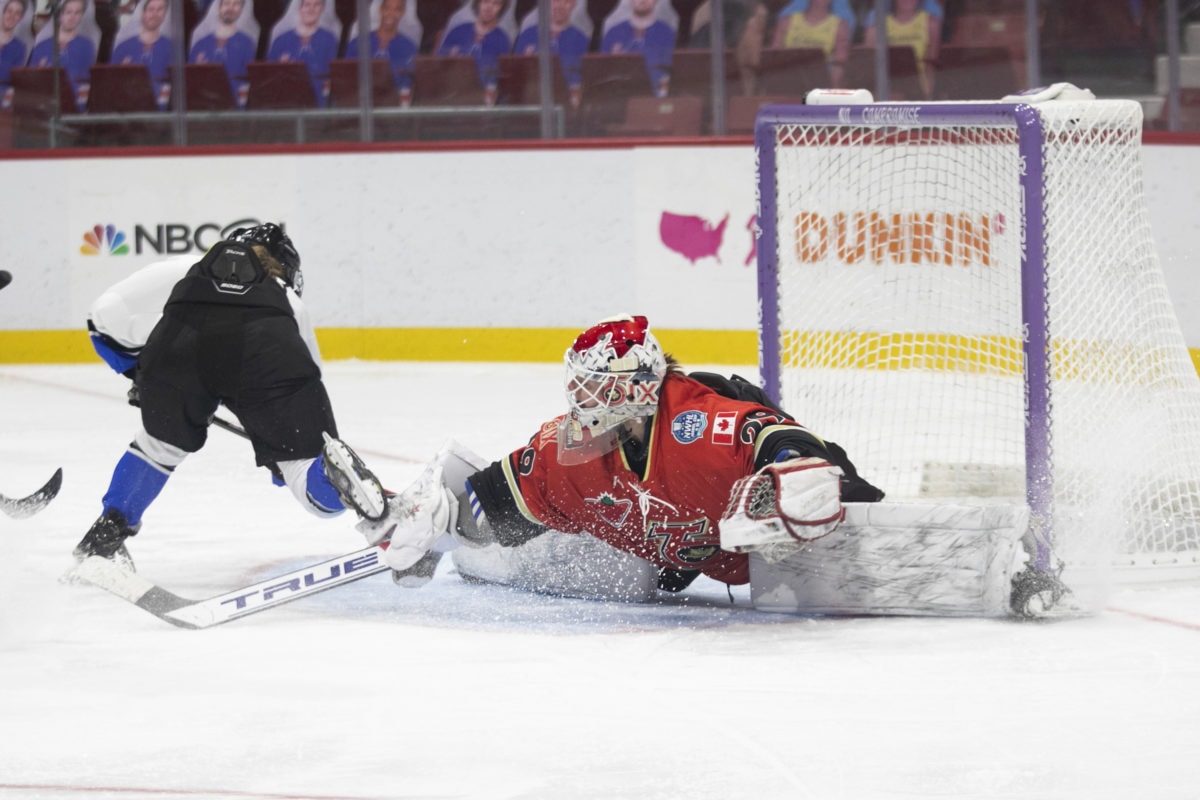 Goaltender Elanie Chuli picked up her first NWHL shutout with 25 saves and has now won four consecutive games.
Six Statement
The Toronto Six have announced their presence in the NWHL with authority and obviously are the hottest team in the league right now with four straight wins. As my longtime colleague, Marisa Ingemi pointed out near the end of the game, if the Six are going to win the 2021 Isobel Cup they will do so by winning six consecutive games – in season six.
Head Coach Digit Murphy has worked wonders in guiding her team to the top-seed in the playoffs. They are believing in one another and it is showing on the ice and on the scoresheet.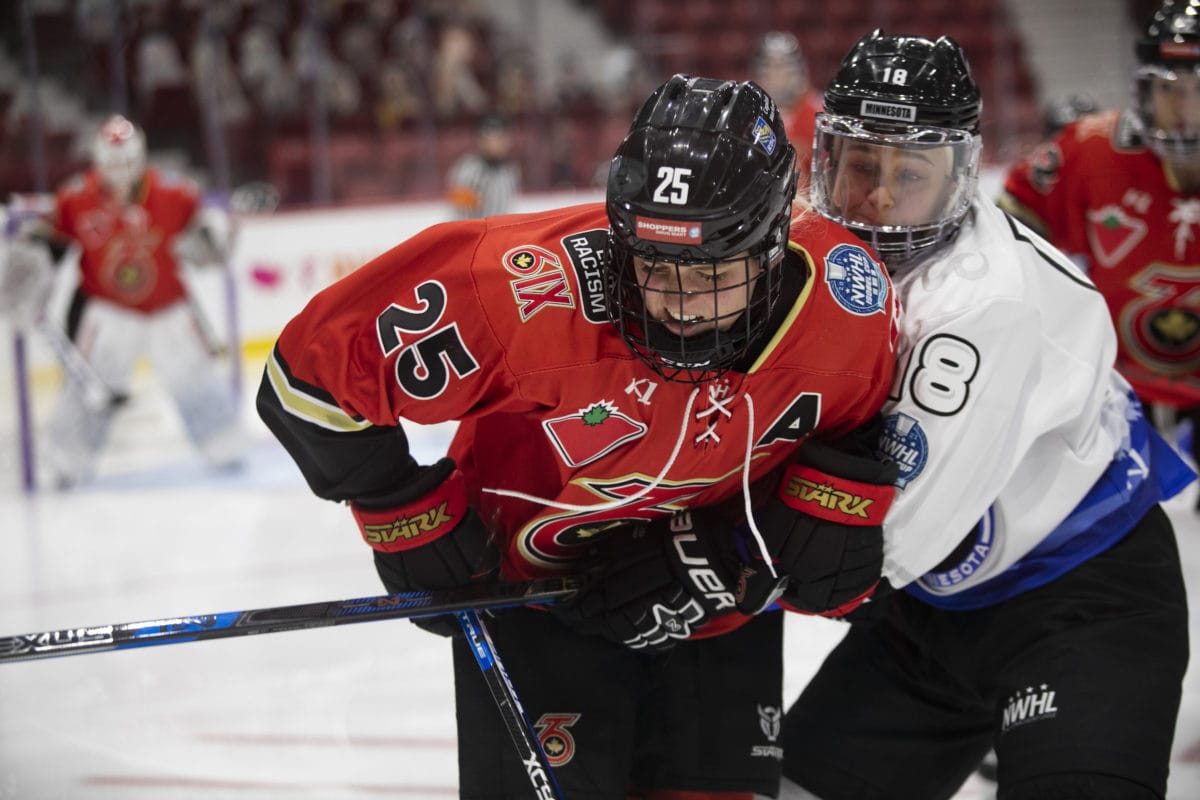 "These teams are all so strong. It's anyone's game. Puck luck happens. Hot goalies happen. All bets are off and it's a new tournament, that's how we're going to approach it. One game at a time. One period at a time. One shift at a time," said Murphy when asked if she could have ever envisioned this scenario when she was building this team.
"These kids were hand-picked to have that attitude when we play hockey. No prima donnas, no people that are more important than anyone else, and they care about the mission of the T6," added Murphy. "That's why I'm so proud of them."
In goal, Chuli has been a brick wall. She has given up just eight goals in her five starts (1.61 GAA) and stopped 117 of the 125 shots she has faced (.936 save percentage). The only team to beat her was the Metropolitan Riveters, in Toronto's first-ever game, and they aren't in Lake Placid anymore.
Of the 18 skaters they have in Lake Placid, 15 of them have recorded at least a point. Everyone in the lineup is contributing, led by the MVP-favorite Grant-Mentis who has a league-leading nine points (5g-4a) in six games. 
They've played (and won) the last two games with only five defenders and two of their top-five point-producers (Brooke Boquist, Emma Woods) also didn't play the past two games. 
Over the first six games in the Six's franchise history, they've scored a total of 21 goals, have a goal-differential of +7, and have accumulated 75 penalty minutes – both are tops in the league.
Quotes of the Day
"We were buzzing. Before the game, we looked at each other and said what little things can you do to hold yourself accountable tonight. We just wanted to focus on the basics, simple plays, having each other's backs, and keeping the energy up. The timing of McKenna's goal was huge, and we know that was a hump we were trying to get over since we've been here." – Pride captain Jillian Dempsey on what it took to win a must-win game.
Related: Kaleigh Fratkin: NWHL Pillar and Trailblazer
"She's the best defender in this league. No doubt. It's a privilege to play with her." – Mallory Souliotis on her defense partner Kaleigh Fratkin.
"Sammy is a dynamic player. I think the first couple of games she may have been gripping her stick a little too tight, but over the last three games she's been phenomenal. She scored a huge goal for us tonight. That's what we expect from her every night." – Pride head coach Paul Mara on rookie Sammy Davis.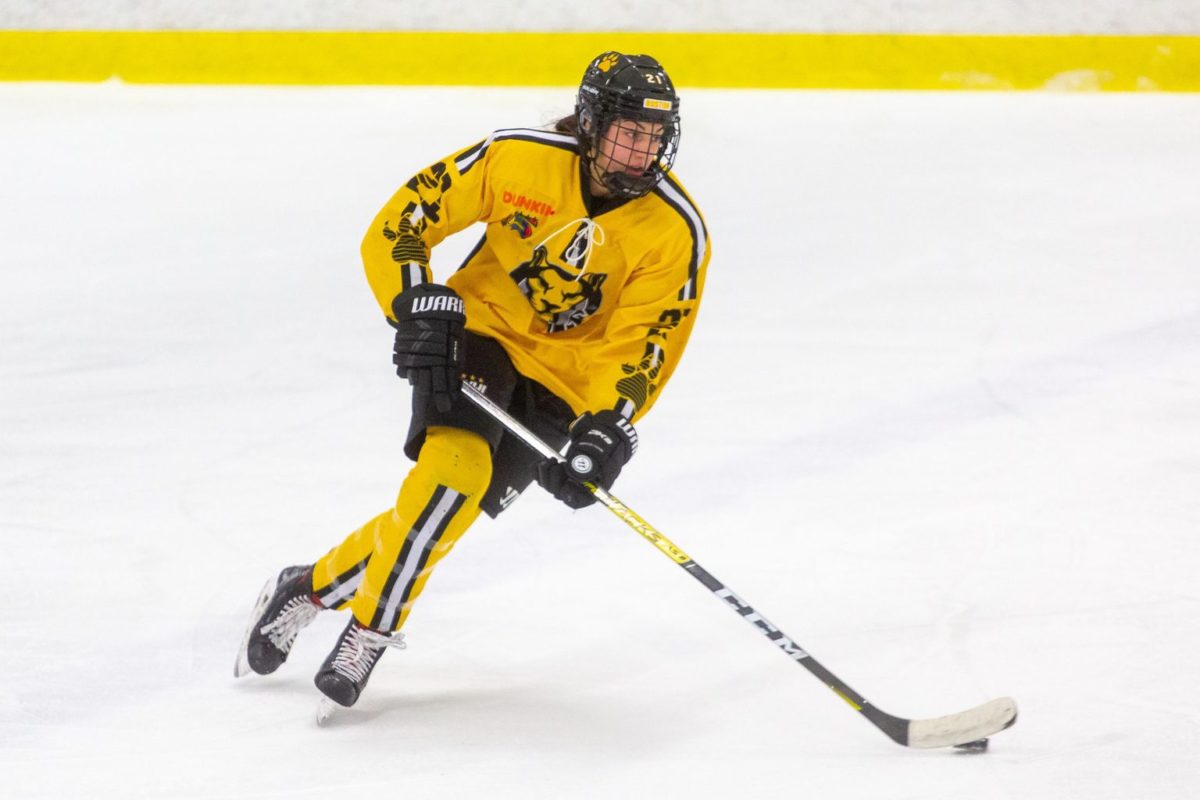 "I honestly didn't know if she saw me there but she is such a skilled player and I knew she could get it to me. She is just such a terrific player. She wins battles down low, she always making plays, I think she's really come into her own here in Lake Placid." – Souliotis on teammate Christina Putigna.
"Yesterday's game we ate the bear, and in today's game the bear ate us." Beauts head coach Pete Perram after his team's Game 2 loss that evened the best-of-3 series at one game apiece.
"Not really. Changing goalies is a complicated thing. It's almost done by intuition. It's just a feel for it." – Perram on if he considered resting his no. 1 goalie at the start of the third period trailing by three goals.
"I told them at the beginning of the game how proud I was of them. I feel like a proud parent." – Six head coach Digit Murphy.
"Buckey brings the fun out there and helps us stay loose." Taytum Clairmont on teammate Mikyla Grant-Mentis.
"I owe Buckey a pizza because I told her if she scored a goal (tonight) I'd buy her a pizza! We can do that in the pros, that's what's awesome. If I said that in college it'd be a violation." – Murphy on paying a debt to Grant-Mentis.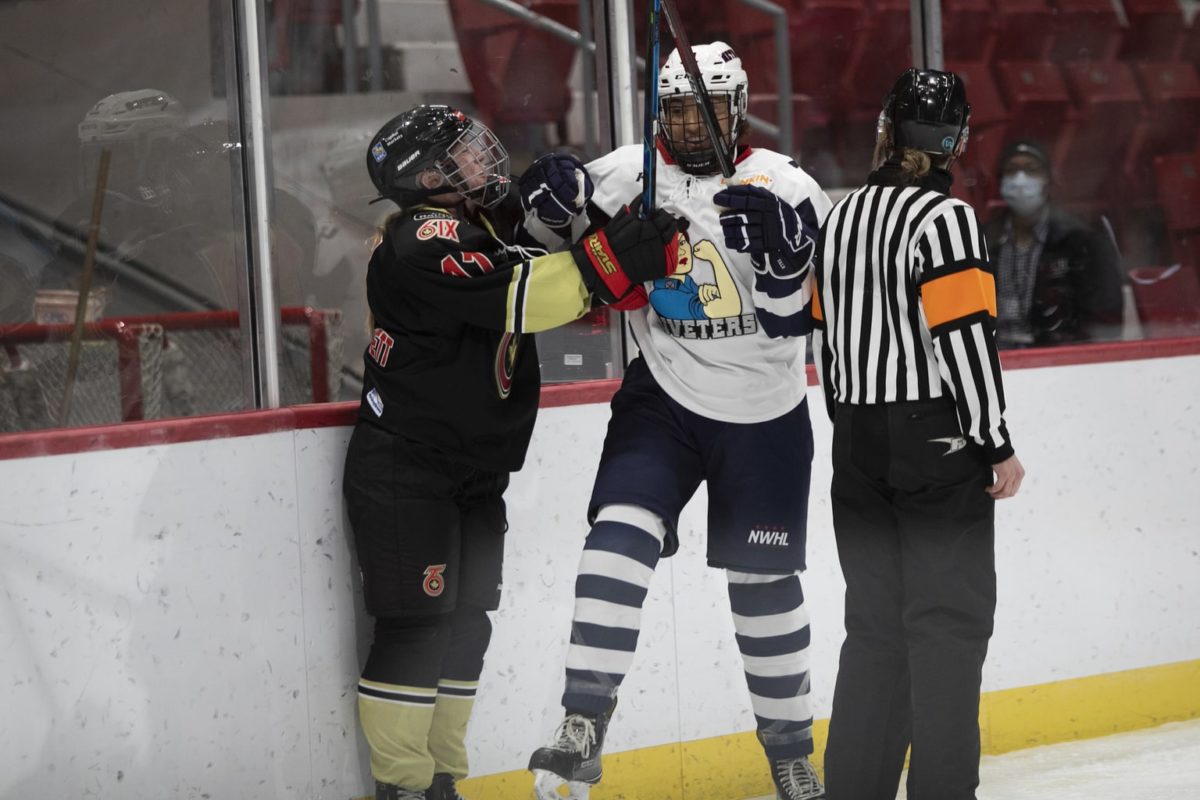 "Mac plays on the Love Line. I don't know if you guys know that. It's her, Brianne Wilson-Bennett, and Natalie Marcuzzi. They wear red (practice jerseys). We had split them up earlier this year and I didn't like it. So we put them back together and the love came back." – Coach Murphy on Mackenzie MacNeil. 
"I'm always getting told to shoot more." – MacNeil after scoring her first two NWHL goals for the Six.
"She's being evaluated by the staff and there is no update at the moment. We've heard good news and I think she'll be good to go moving forward." – Whale assistant coach Jamie Goldsmith on the status of Janine Weber who injured her right knee.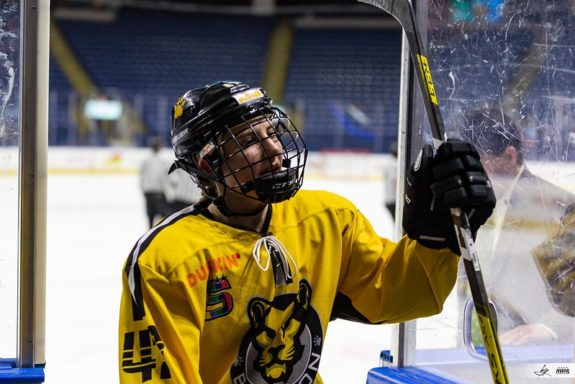 My 3-Stars of the Day
1) Mallory Souliotis (Pride) had the first two-goal game of her pro career to help Boston force a win-or-go-home Game 3 against Buffalo. She was the most noticeable player on the ice and had a game-high eight shots on goal.
2) Mackenzie MacNeil (Six) also had the first two-goal game of her career and her quick-strike goals (2:37 apart) early in the third period really changed the vibe of the game, turning it into a rout.
3) Christina Putigna (Pride) had three assists in the game, but it was her first two assists (both primary and precision passes) on Boston's first two goals that altered the trajectory of the game. She's been one of the best players in the league in Lake Placid so far.